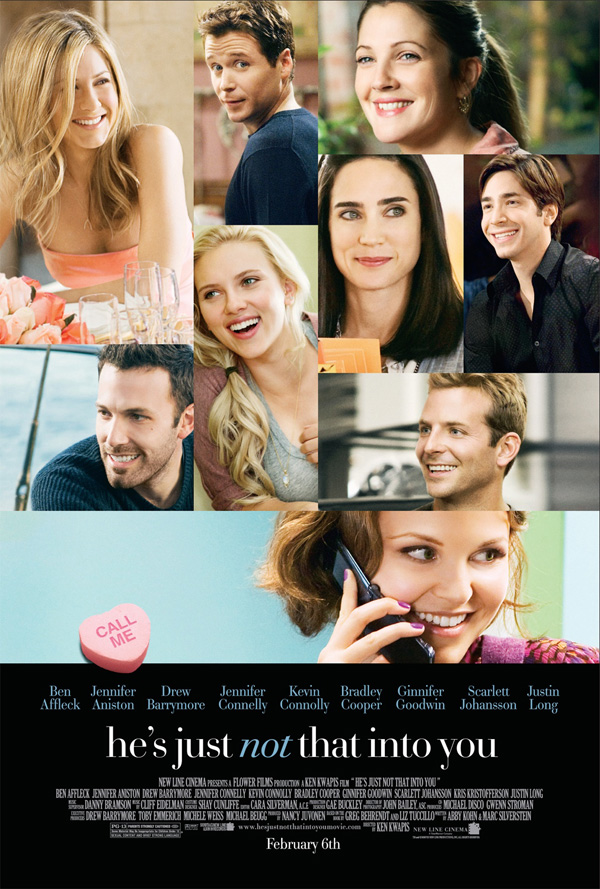 Ever since the movie and book, He's Just Not That into You has become popular, it has given women whole different perspective on dating.  In the movie,  Ben Affleck's character would not marry "Jennifer Aniston", "Bradley Cooper" wouldn't leave his wife for "Scarlett Johannson", and "Kevin Connolly"'s character was not texting or calling "Ginnifer Goodwin".   This was all because of one simple reason… they were just not that into them!  This of course gives women assuming that if a man is not texting or calling them the day after a date, they simply and automatically are not interested.
Of course, this is just a movie, but the whole premise of this film was to tell young women everywhere, 'if a guy is not calling you, he doesn't like you.'  There is nothing left to analyze!  So for girls across the country, if a guy does not text you the day after you meet we automatically begin to assume, 'well, he doesn't like me.  I'm not even going to make an effort or text him,' and we will simply forget him altogether.
With this in mind, I decided to take a poll and ask different men if this whole theory is true.  Are guys really that black and white?  He either likes you, or he doesn't?  Or is it more complicated than that?
According to my research, guys calling girls is a lot more complicated than we think.  Every man replied, "It's complicated," and "It depends on the situation".   One of the guys I talked to even said to me that he is constantly busy and wouldn't be able to have a relationship even if he tried which is why he wouldn't call a girl after meeting her.  To us girls, the "busy" excuse is the worst form of saying 'hey, I don't like you'.  But, according to this guy, it is a legitimate excuse.  Others said that there could be a million reasons why they didn't call a girl back.  Some guys told me that when they meet a girl they play what if.  They think, what if she doesn't like me?  What if I end up looking stupid so they avoid calling or texting her.  Someone else told me that they will text a girl occasionally (and not ask them out on dates) to not look so eager and to keep it casual.  Another man also said that he wouldn't call a girl if he was already seeing or interested in another woman beforehand.  Mostly, every guy stated in some form that every case is different and that not calling someone is not as black and white as relationships are portrayed in He's Just Not that Into You.
The second response I received was even though they liked the girl, they didn't call them because they felt like a relationship wouldn't work out due to different schedules, distance or assuming there was a lack of chemistry upon initially meeting.
Surprisingly, only four, yes four men told me that the reason why they wouldn't call a girl is because they were simply just not that into her.  Personally, I still believe in the he's just not that into you theory because I think that if a man wants to be with you, he'll do anything to be with you whether he's busy with work, school, friends… etc.  I'm sure if Megan Fox asked him on a date he wouldn't be too busy or not respond to a text.  The same goes for girls.  If Justin Timberlake asked women out on a date they definitely wouldn't beat around the bush.  However, according to the men I interviewed, they really were taken aback when I asked them how they felt about the whole he's just not that into you theory.  The men told me that every relationship, acquaintance and date is different and women should not automatically figure it's them.