What happens when one eats too many pink cupcakes?  Pinkalicious is of course the fictional character who stars in Elizabeth and Victoria Kann's New York Times best-selling children's picture books, Pinkalicious.  These extremely popular books have spawned not only an extremely successful series, but a musical.
The magic of Pinkalicious' imagination is at Broadway In Chicago at the Broadway Playhouse.  Emerald City Theater Company is putting on the production and is very excited about this Midwest premiere.  The play is directed and choreographed by Ernie Nolan and music and lyrics are by John Gregor.  Not only is Pinkalicious a first for Broadway In Chicago, they are also welcoming newcomer Mark Kosten.  Kosten plays Peter Pinkerton, Pinkalicious's broccoli-loving brother.  Kosten caught up with emme to discuss his breakout role in this for-kids-only production.
What do you get when you mix a lot of luck, talent and experience?  You get Mark Kosten, 20, who landed the role in Pinkalicious: The Musical on Broadway In Chicago.  The premise of the play is Pinkalicious turns pink from eating too many pink cupcakes.  Kosten plays Peter, Pinkalicious' broccoli-loving brother.  He helps Pinkalicious get back to her normal complexion by helping her eat green veggies.  The message of the play to eat healthy is just as sweet as Kosten himself.
Kosten started doing theater in seventh grade at Hester Junior High.  He played the part of Tevye in Fiddler on the Roof and was hooked ever since.  After attending East Leyden High School, he started pursuing theater more seriously.  He knew that performing was exactly what he wanted to do with his life.  "I just focused on having fun with whatever it is that I was working on.  As long as I remained happy while achieving these endeavors, I knew I would be successful in the best sense of the word," Kosten said.  This type of attitude is what landed him with Emerald City Theater and his role in Pinkalicious.  
Mark Kosten was at a callback for another role for another theater company when he stumbled upon his magical fate.  (A callback is when a director or casting director wants to see you again after your initial audition.  In short, it's a second audition).  He was singing a song and was feeling quite confident until his accompanist stopped playing the piano!  It turned out that the accompanist did not have the last page of sheet music.  Kosten was defeated and thought that he had blown the audition.  Luckily, the lost accompaniment was a blessing in disguise.  "It just so happened that the lady playing piano for me that night was the music director for Pinkalicious, Marta Johnson! About a month after that crazy callback, I received a message on Facebook from Ernie Nolan, the director of Pinkalicious, asking me to please audition for them.  I went in and sang for Ernie and Marta and got the job!" Kosten said.  Upon hearing the news, Kosten was "elated", but a little wary.  "It's always exciting when a part comes your way.  But then you have to land back on your feet and think, 'Okay, is this something I can do schedule wise? How will I get where I need to go every day?  Will I be happy?'  And once all signs pointed to yes, which did not take long to figure out, I was back to being extremely excited," Kosten said.  But this fairy-tale story certainly doesn't end here for the talented red-headed actor.
Kosten's describes his work schedule as very relaxed.  "Emerald City is a great company to work for," Kosten said.  "All the performances are at 10:00 in the morning at the Broadway Playhouse.  And we have shows every Friday and Saturday and we alternate a Thursday and Sunday performance every week.   Prior to opening we only had about three weeks of rehearsals."  Kosten is never stressed on set.  His favorite part of the play is when Peter is helping Pinkalicious (Lara Mainier) eat her veggies.  "The audience gets a big kick out of it.  Lara and I play off each other well," Kosten said.   Since Pinkalicious is a children's musical, the performers enjoy the kids' reactions to the characters and music.  Kosten feels that a younger audience tends to react more intensely than a roomful of adults.  The actor's friends and family have reacted to Pinkalicious in the same light.  "My family has just been amazing with everything," Kosten said.  "They are the most wonderful support group that I could ever ask for and they have always been helping me along the way."  They are not the only ones!  Pinkalicious has received excellent reviews.  Kosten has been described as "a very fine singer and actor," "hilarious" and "a name to watch."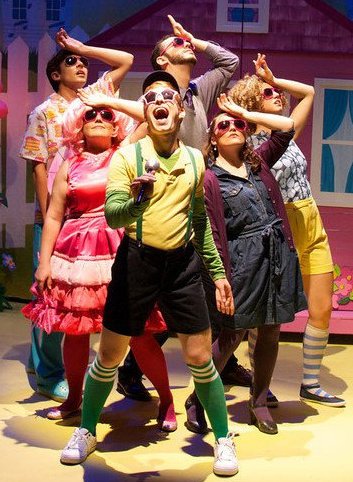 This is only the beginning to Kosten's theater career.  He would like to try pursue a Broadway career in New York somewhere down the road, but not right now.  "I really love Chicago," Kosten said.  "It has such wonderful opportunities and it is a beautiful place to live."  Kosten's advice to young performers is to just have fun.  "Go out there and do it!  All the other good things will follow you!"  Sounds like great advice from a rising star.
Tickets: $16‐$22, go to broadwayinchicago.com
Where:  Broadway Playhouse at Water Tower Place, 175 E. Chestnut Ave.
When:  July 8, 2011- Jan. 7, 2012