I am strong, I am woman!  One of the most memorable scenes during Sex and the City 2 was when Charlotte, Miranda, Samantha and Carrie sang karaoke in an Abu Dhabi bar.  But-surprise!- the scene was filmed in Brooklyn.  Luckily for belly dancer Marni Halasa, the New Yorker was chosen to dance in the scene.  What a fabulous experience… exclamation point!
emme:  Tell emme a little bit about yourself and your dancing.
I primarily have a background in figure skating, and am a professional figure skater (United States Figure Skating double gold medalist, figure skating coach in New York City). I am also am a professional belly dancer, been dancing for the past 9 years and also was in the movie Sex in the City 2. In addition, I am also an artistic inline skater, performing in all the New York City parades and recently won the 2011 Mermaid Parade, Best Motorized Float Category, skating on synthetic ice on a moving float.
(To make things even more confusing…I am also a former lawyer and reporter — got my Juris Doctor at University of Pittsburgh School of Law and Masters of Journalism at Columbia University's Graduate School of Journalism)….(and realized that dancing, teaching and performing is more fun!)
emme:  How did you become interested in belly dancing and Middle Eastern dancing?  
I became interested in belly dancing actually through my heritage, my father is Jordanian, my mother Filipino, and I grew up in a large extended family in Akron, Ohio, with many Jordanian uncles, aunts and cousins. At family gatherings, we all belly danced all the time to arabic music, so I was exposed to belly dance at a very young age. But it was a good friend of mine, Mimi Ishidate, a Japanese skater who was also a belly dancer that brought me to Amira Mor's class at Broadway Dance. It was there that Amira, a renowned Israeli belly dancer, invited me to be part of her belly dancing troupe that did shows all over the country. I loved the movement, the music, the beautiful costumes, the high athletic energy of belly dance. Amira was a major influence for me, she not only taught me to belly dance, but taught me to be an exciting performer. She also gave me rollerblading solos in her shows, which in turn helped me enhance and promote my rollerblading personas in the New York City parades.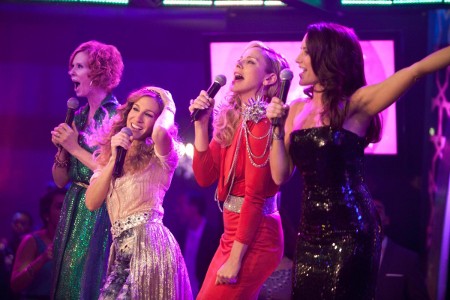 emme:  Describe the audition process for Sex and the City 2!  
Central Casting had called Amira for dancers, so she called me to be part of the audition and I have always been so thankful to her for that opportunity. We didn't have to do the first audition, but there were two other dance auditions as well as a "photo" audition.
So needless to say, the audition process was pretty nerve-wracking. It's a bit stressful when a famous Broadway choreographer teaches all this choreography in 15 minutes and then you're expected to dance on cue, judged by a quartet of Sex and the City 2 directors, including the big cheese, Michael Patrick King. It's definitely one of those moments where you have to step up to the plate, or else, you're out. Out of 30 dancers, they kept about 14. But I kept my cool and everything seemed to work itself out once I started to dance.
emme:  What were practices like when you were preparing for filming? Did you have to put in several long hours? 
Yes long hours! We filmed the scene in Brooklyn at Silver Cup Studios and with rehearsals, filmed for about 5 days in October 2009, very long days, a couple of days which ran into the late hours like 2am or even later.
Most of the dancers couldn't believe that we had to actually belly dance to a souped-up karaoke version of "I Am Woman" — totally not middle-eastern. But somehow it worked, with a fusion of jazz, hip hop, belly dancing and musical theater Broadway moves. The dance was sexy, fun and the directors really enjoyed it.
The belly dancers were really used only for the Abu Dhabi night club scene, which in actuality was probably only 3 to 4 minutes in the movie, but it took about 5 or 6 days to film that entire night club scene. What was nice was that the producers placed us basically in every scene, whether it was background or whether we were featured.
emme:  What did the day of filming consist of?  
Performing in the Abu Dhabi night club scene (filmed in Silver Star Studios in Brooklyn) was probably the most exciting experience ever since it was such a large production. I was in the scene with three dancers on the opposite stage facing Carrie, Charlotte, Miranda and Samantha singing "I am Woman." We did the take over and over for hours until 2:30 am, probably around 18 takes, and yes my feet hurt and I was exhausted, but I would have done that scene for the entire night. It was really exciting with the cameras, the night club scene, the extras, and the stars all present.
Director Michael Patrick King director also came up to us afterwards and said, "You guys killed that scene!" and claimed our "performance was really exciting to watch." That was definitely one of the highlights of the experience. What was also nice is that Kim Cattrall came up to us and thanked us each personally, and said how to added beauty and sparkle to the film…that was nice.
emme:  Don't leave out any details!  What were the ladies like?  Do they get along?
Kristin Davis, Sarah Jessica Parker, Kim Cattrall and Cynthia Nixon all seemed to get along fine. Despite all the rumors, I didn't really see any tension between them during my five days on the set. As for us, they were really way too focused to have much interaction with the dancers, but they did look at us between takes occasionally and smile. Several times, Kim looked up at me and attempted to shimmy her shoulders or hips, half-jokingly, asking if she was doing the movement correctly (not so much).  She was so nice!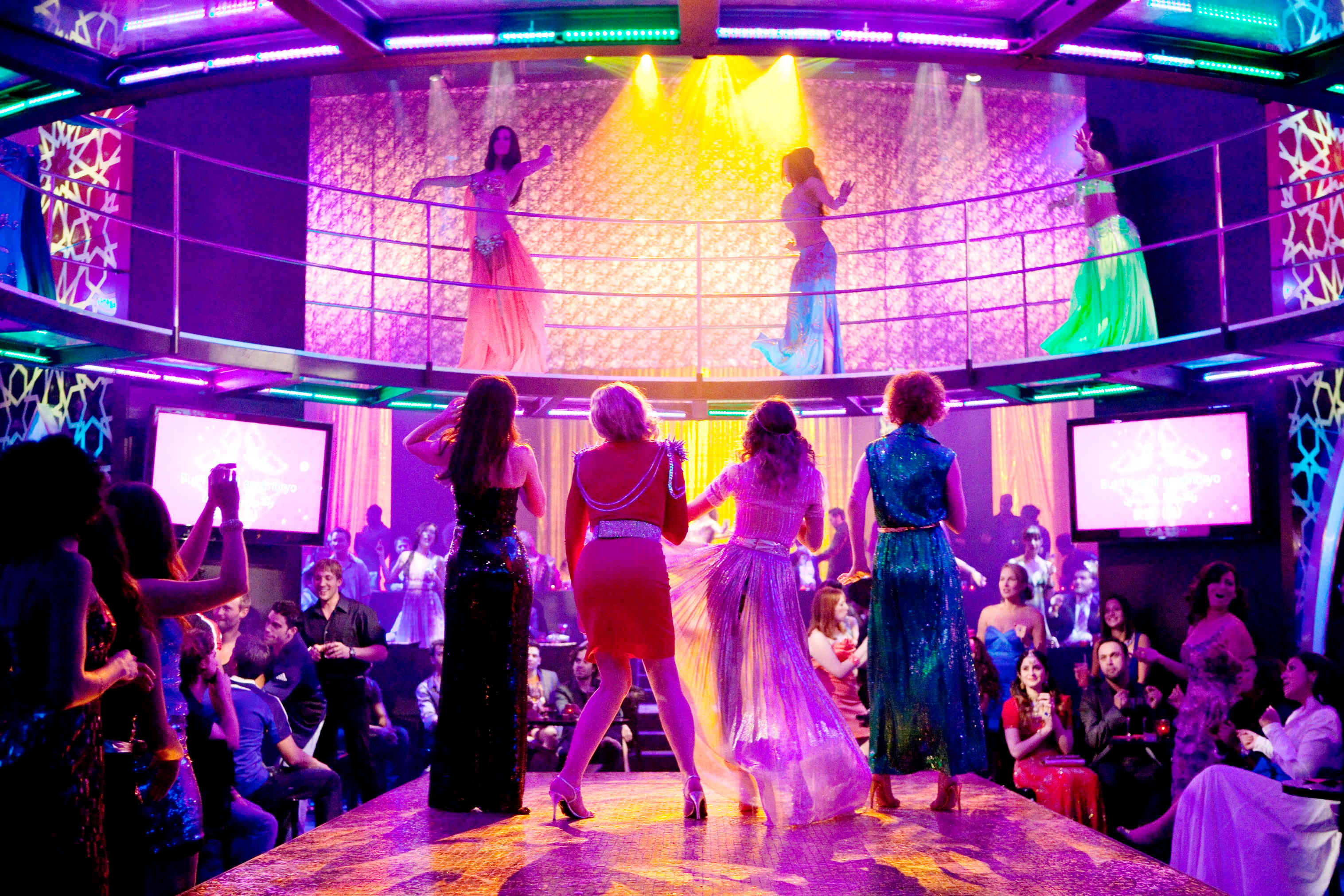 emme:  How exciting!  Such a Samantha thing to do! Haha… Tell us about the costume you had to wear. They were beautiful! Also, what was it like getting ready for filming? Did a makeup artist do your hair and makeup? 
My costume was my own, a spectacular gold and bronze beaded and sequined bra and hip scarf, and I wore that with a fuchsia and yellow tie dye skirt and veil. Yes, it was so nice to have so many hair and make up people around you, they all really knew how to make you look good…fast!
emme:  Is the backstage area a fashionistas heaven? I'm sure it is filled with shoes, purses, accessories, clothes…
The wardrobe area was AMAZING and I mean AMAZING. From the shoes to the dresses to the hats to the accessories. They had to fit everyone, and especially for the night club scene, so the SATC2 stars plus all the extras had to be dressed in sexy, cool, really unique pieces. A lot of Patricia Field, Anna Sui and other major designers… All the dancers were pretty much salivating at the clothes the extras got to wear!