Baked Apples With Caramel Yogurt
2 apples
1 cup plain yogurt
2 teaspoons brown sugar
Cinnamon, for dusting 
Core apples, and dust with cinnamon.  Bake at 400 degrees for 30 minutes.  Mix yogurt with brown sugar.  Top each apple with yogurt mixture.
Serves 2
Recipe:  Cosmopolitan
****
Pumpkin Oatmeal Cookies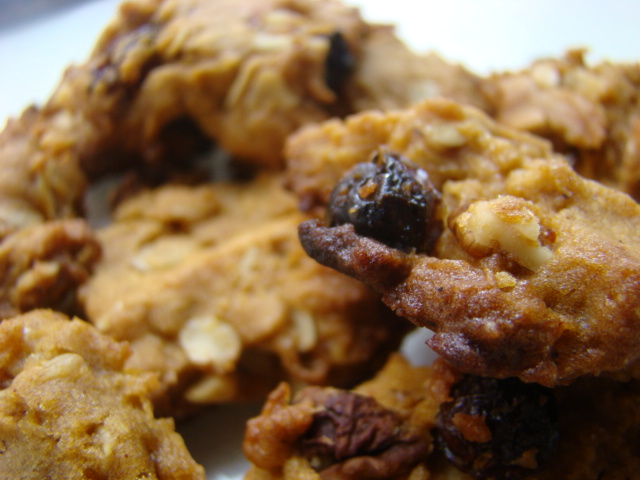 1 cup all-purpose flour
1 teaspoon ground cinnamon
1/2 teaspoon salt
1/2 teaspoon ground nutmeg
1/4 teaspoon baking soda
1 1/2 cups packed light brown sugar
1/2 cup (1 stick) butter, softened 
1 egg
1 teaspoon vanilla
1/2 cup solid-pack pumpkin
2 cups old- fashioned oats
1.  Preheat oven to 350 degrees F.  Line cookie sheets with parchment paper.
2.  Sift flour, cinnamon, salt nutmeg and baking soda into medium bowl.  Beat brown sugar and butter in large bowl with electric mixer at medium speed about 5 minutes or until light and fluffy.
3.  Beat in egg and vanilla.  Add pumpkin; beat at low-speed until blended.  Beat in flour mixture just until blended.  Add oats; mix well.  Drop dough by rounded tablespoonfuls 2 inches apart onto prepared cookie sheets.
4.  Bake 12 minutes or until golden brown.  Cool 1 minute on cookie sheets.  Remove wire racks; cool completely.
Makes about 2 dozen cookies
Recipe:  Halloween Food, Fun & Crafts