Autumn:  hayrides, pumpkins, hot apple cider and red, gold and orange leaves.  Now that this magical time of year is upon us, I decided to have an autumn themed dinner party for four guests.  So, come on in!  Join the party….
With a theme like autumn, I had to use fall flowers, leaves, and fruit.  For a tablecloth, I laid out chestnut colored linen.  The tablecloth's color pops and creates a great harvest look.
Place Setting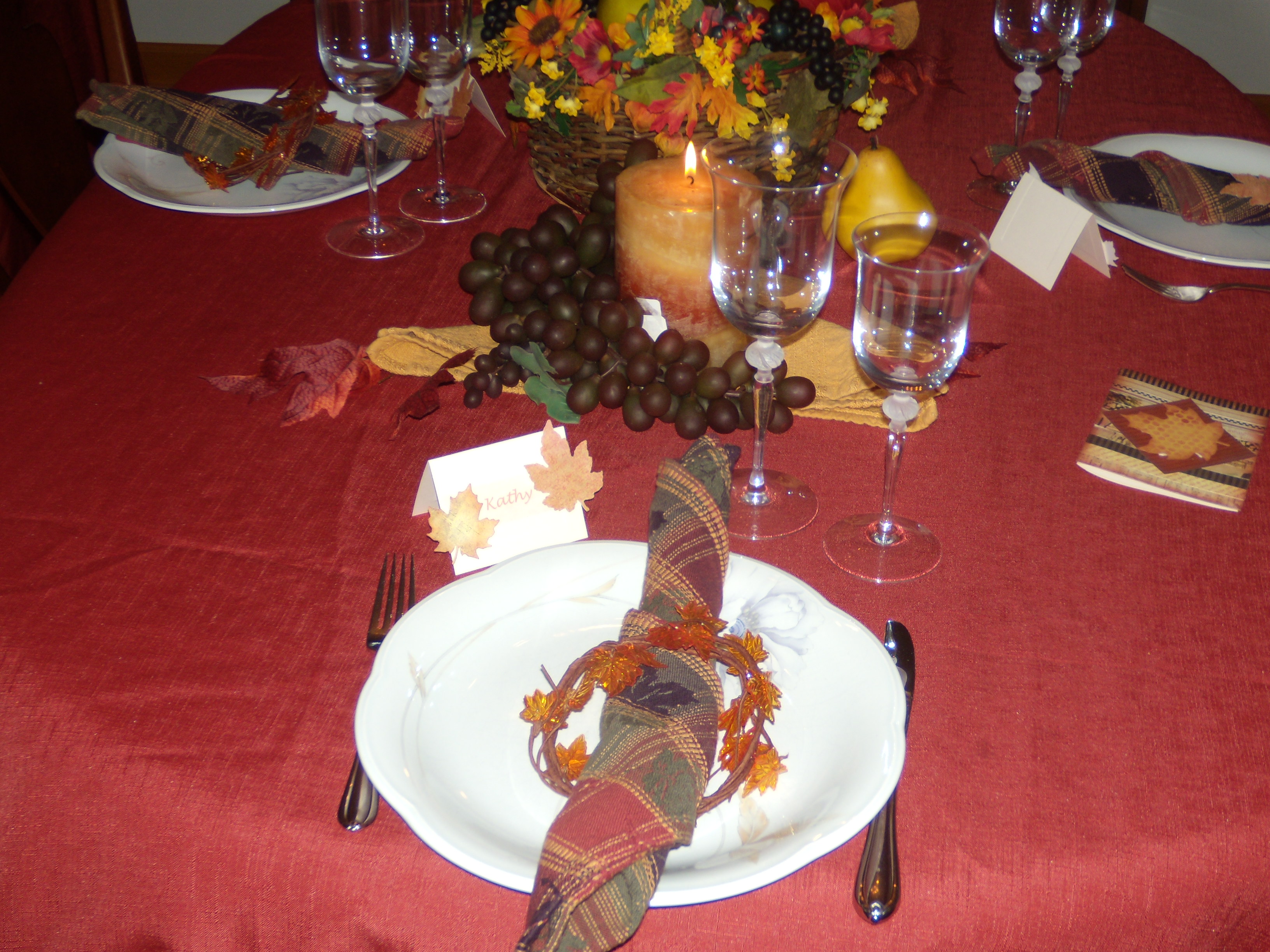 Since this is a dressy party, I laid out my best china.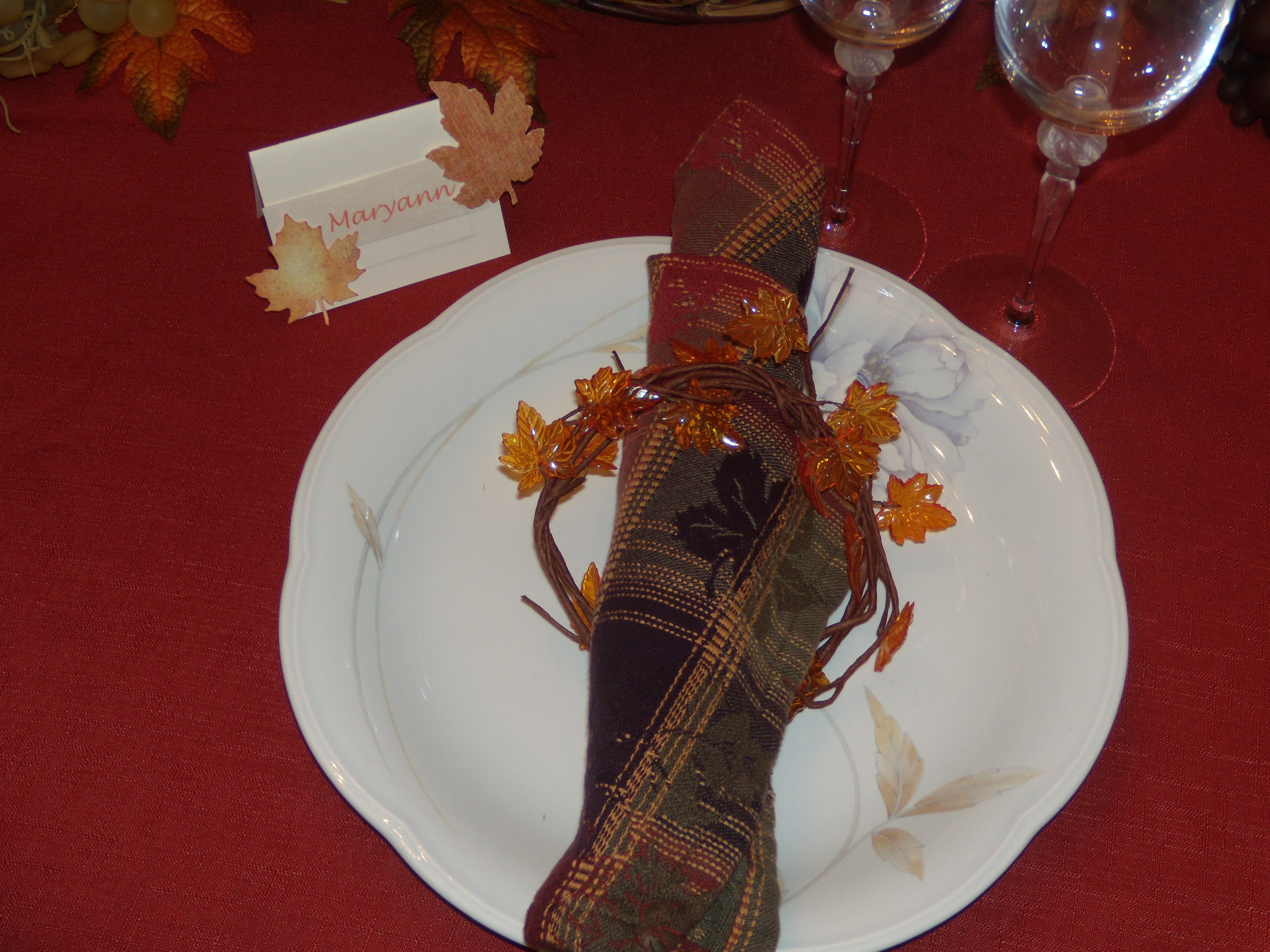 As for napkins, I used a leaf pattern cloth napkin which I wrapped in a homemade leaf decorated twig napkin holder.  My fancy stemware wine glasses and sterling flatware complete the table setting.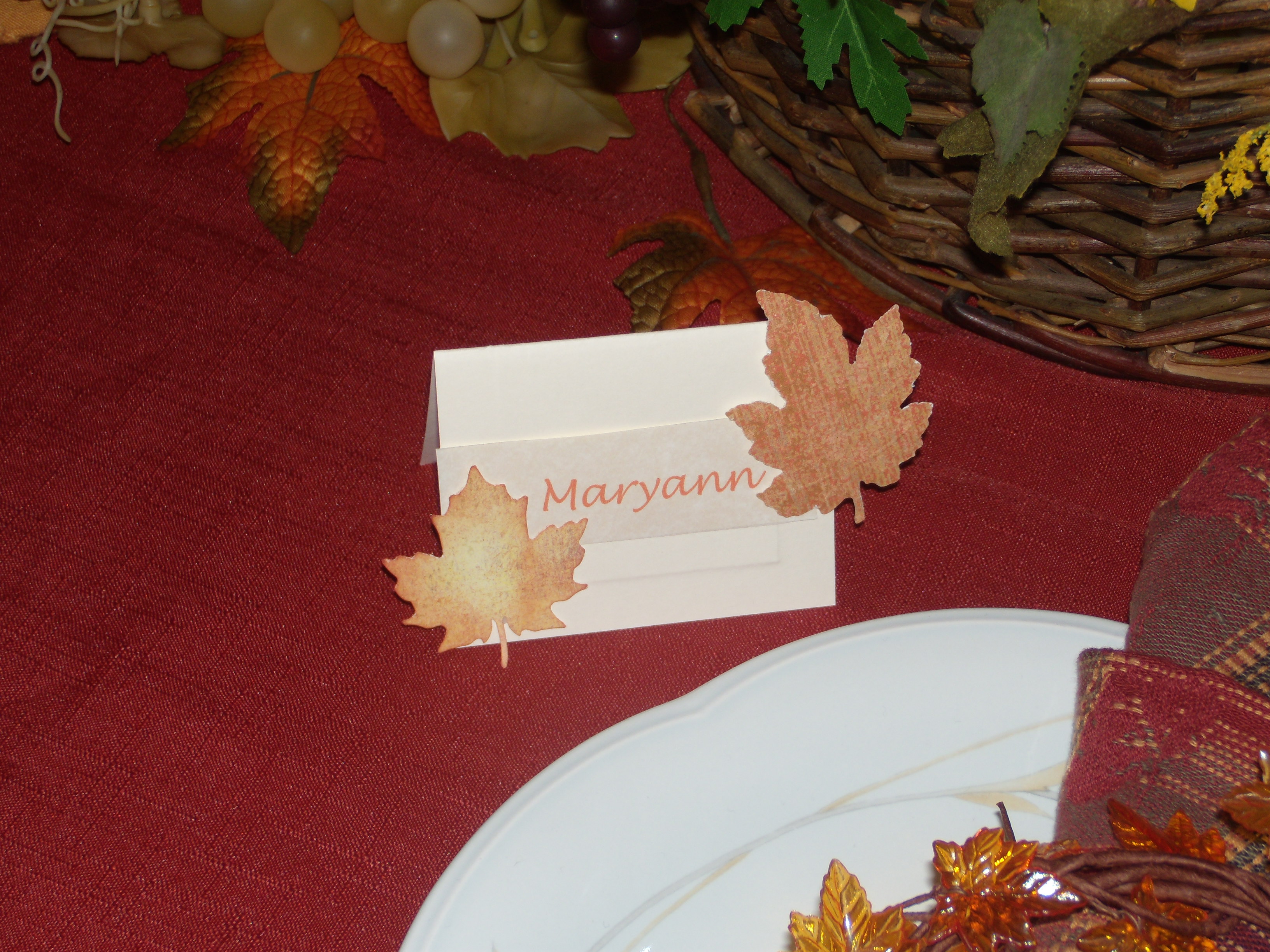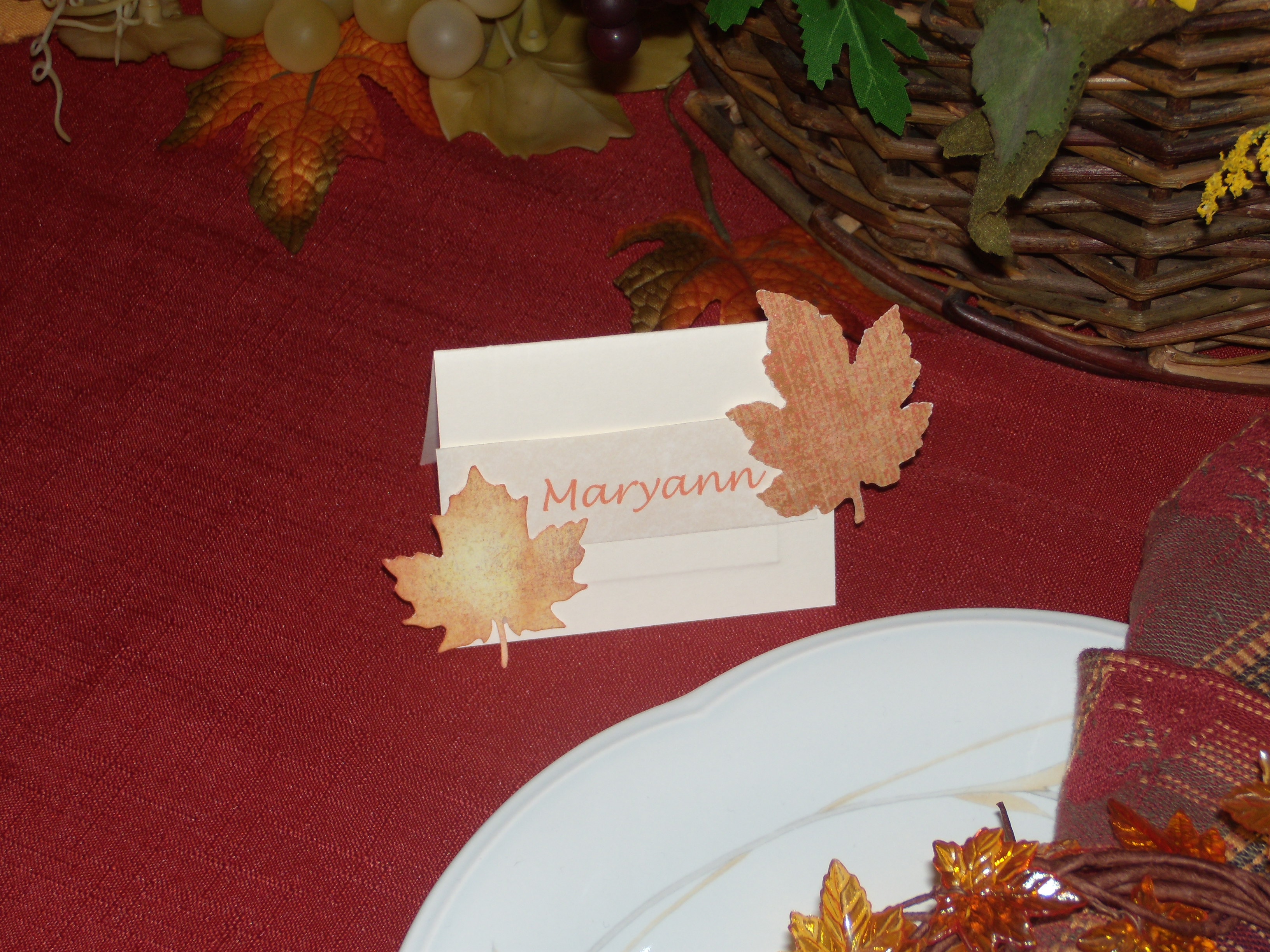 As for name tags, I wrote everyone's name in orange cursive (a great fall color) upon parchment paper.  I folded the parchment paper and glued everyone's name on them.  Next, fall leaves were cut out and were treated with an inked technique in brown, yellow and red tones.  This gives the leaves a fall glow.
Center Piece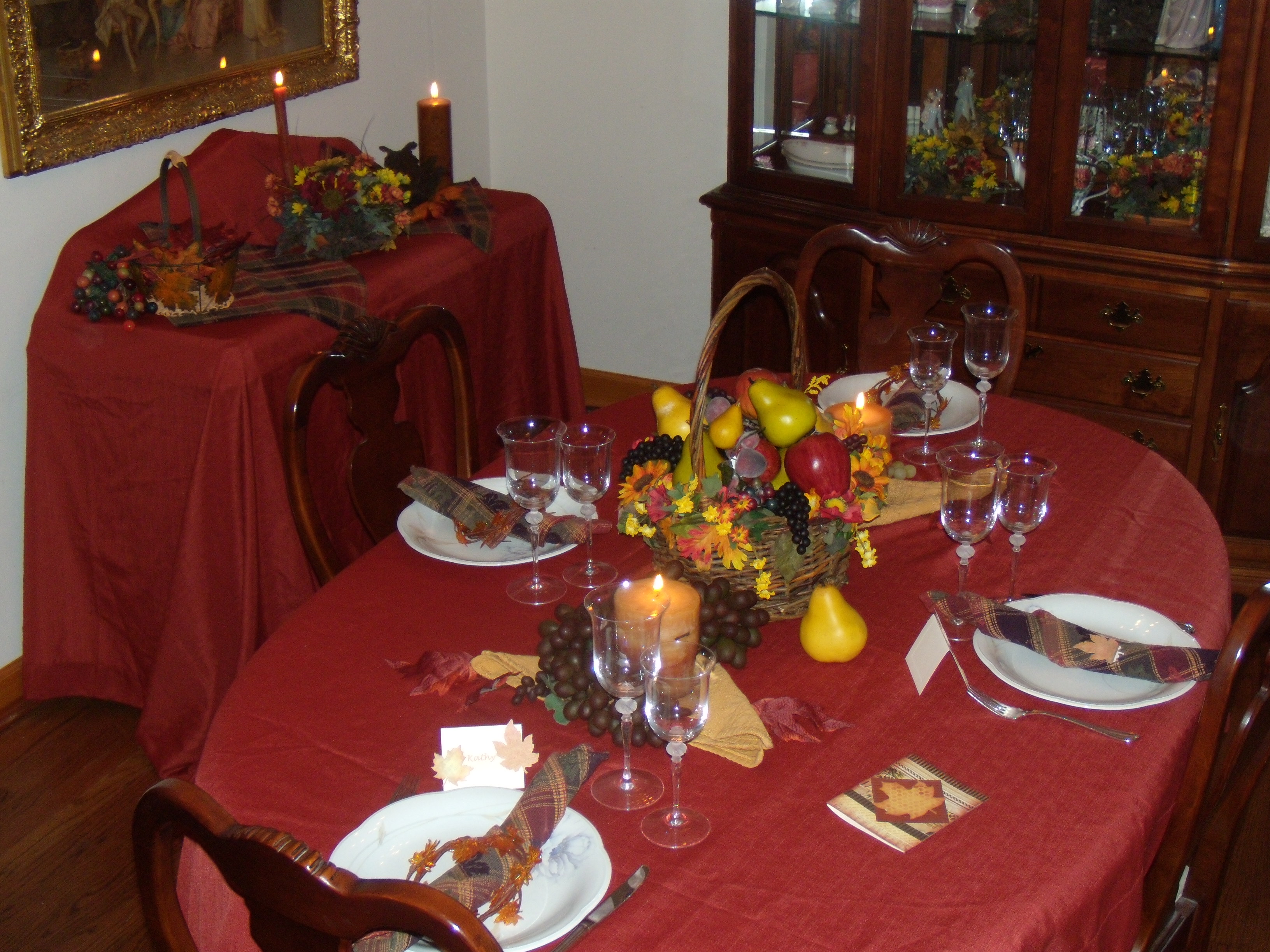 I took a woven flowered basket and filled it with fall fruit.  Next to the basket, I have two autumn scented candles on top of two mustard colored linen napkins.  To decorate the candles, I have grape vines with fall leaves which are draping the napkins.  The colors (browns, reds, yellows) and candle (autumn scent) is a feast for both the eyes and the nose.  Walking into this room, I feel as if I am in a cozy, rural cottage, in the midst of an autumn frenzy.
Wine Table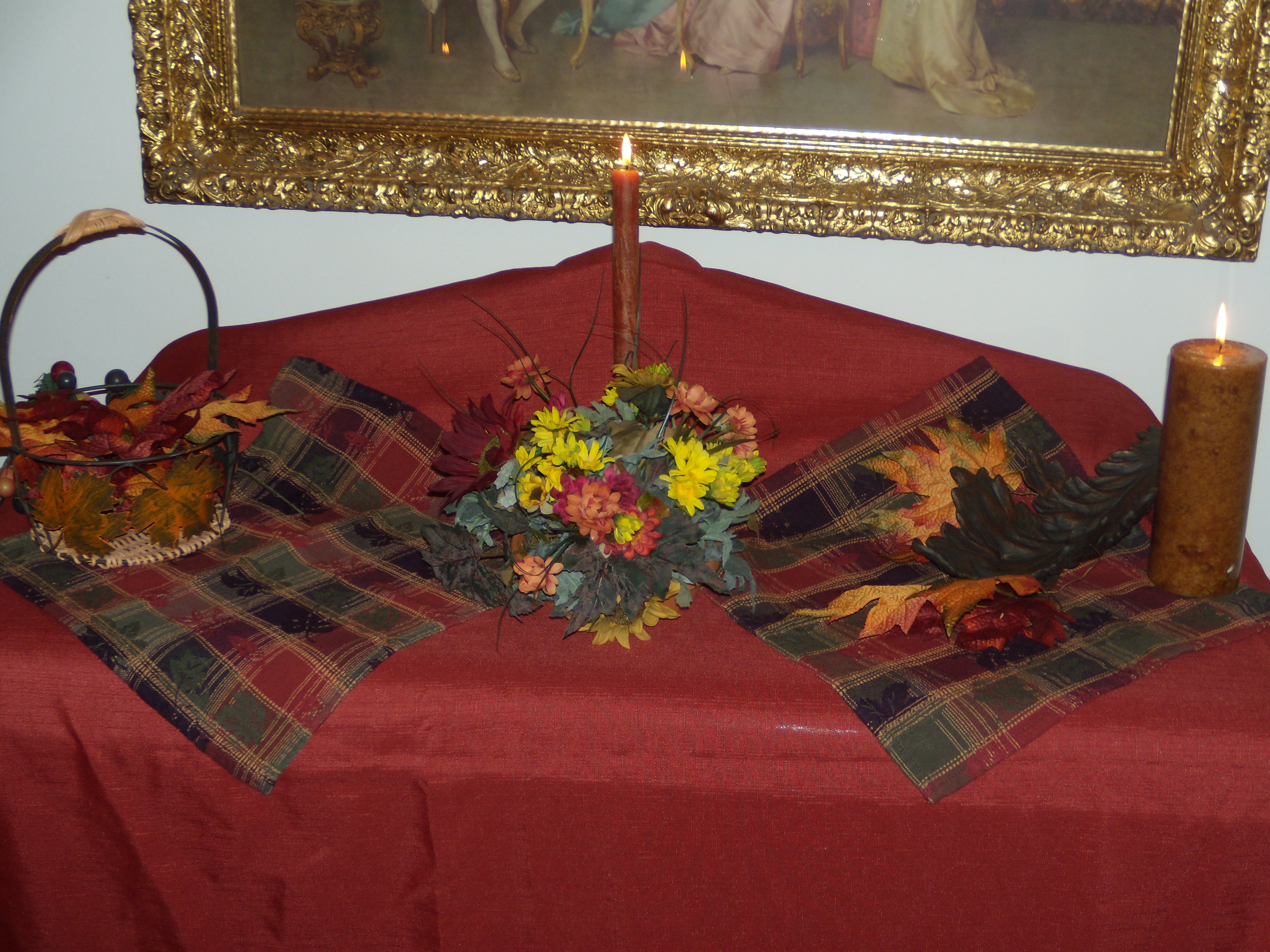 To display my wine for my autumn dinner party, I laid out another fall chestnut linen tablecloth.  Again, this is what gives the table a warm, fall feeling.  I dressed the tablecloth with two leaf pattern napkins.  Then, I filled a leaf woven basket with fall leaves and fall berries.  In the middle, I put an burnt orange candle along with a center piece filled with orange, yellow and red daisies.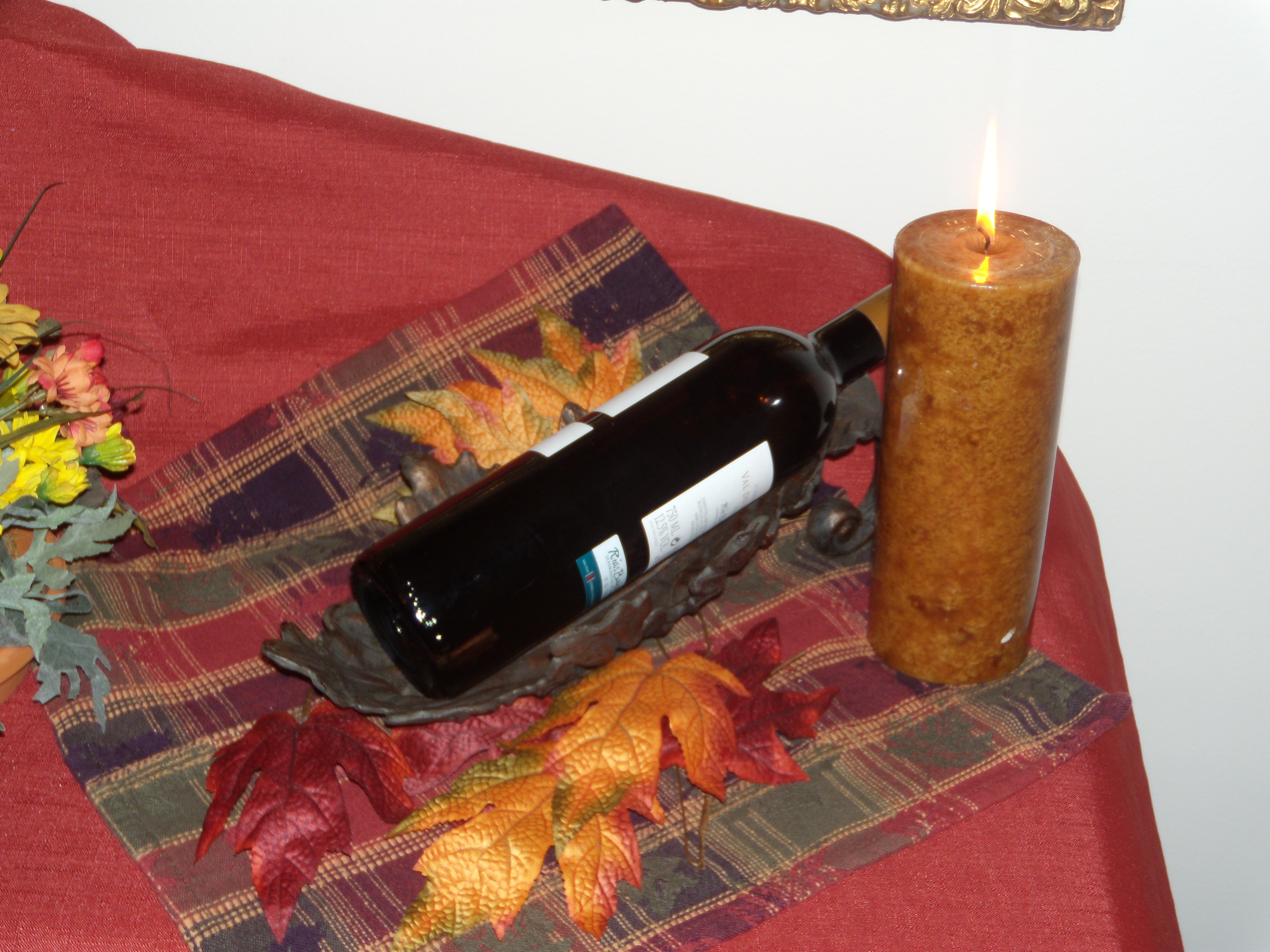 I displayed my wine in a beautiful, pewter leaf shaped wine holder with fall leaves cascading from underneath it.  And of course, an autumn scented candle.  The oranges, yellows and reds give the wine table that cozy feeling of autumn.
Invitation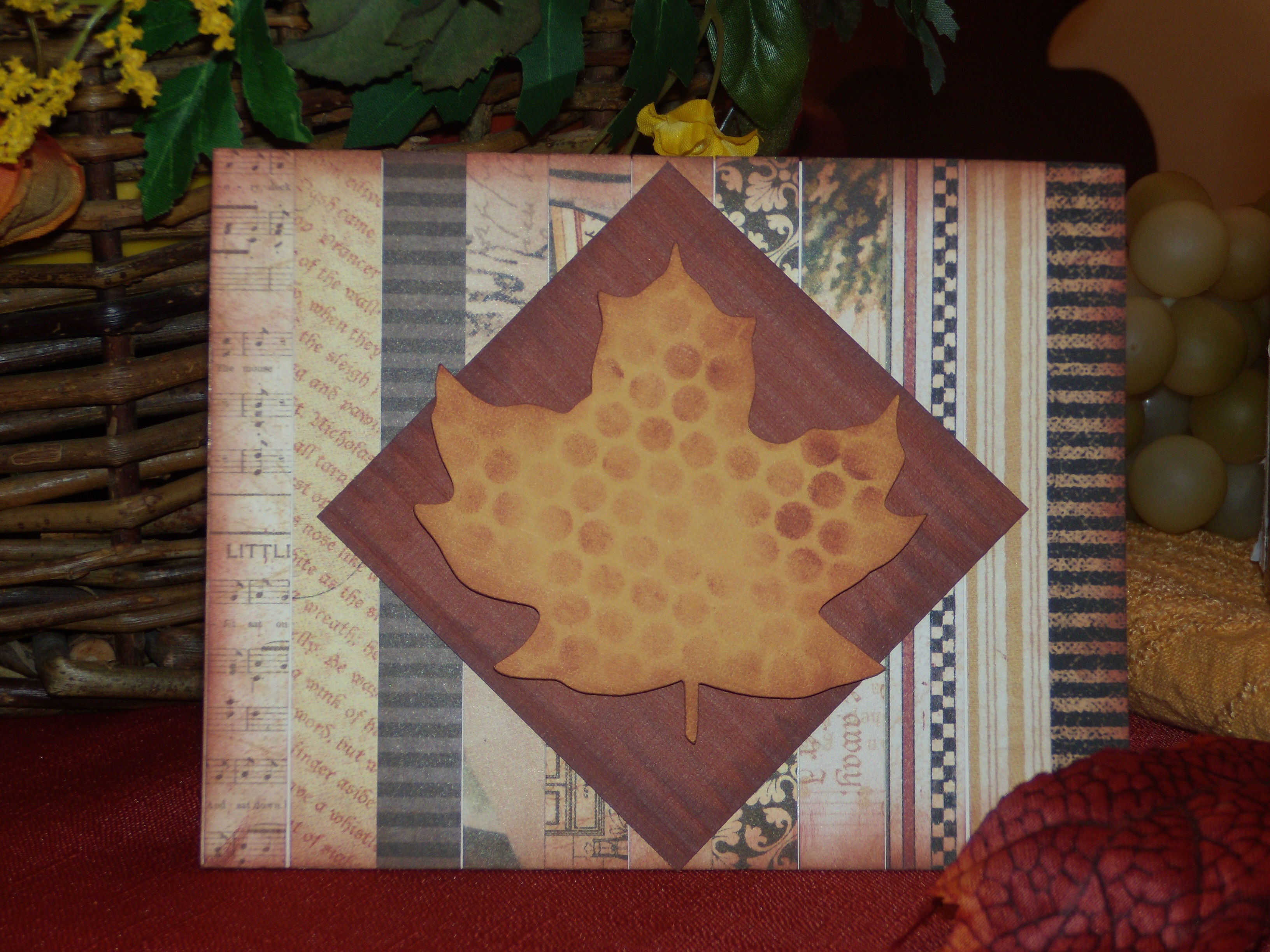 The invitation is a culmination of what my party will entail.  Each invitation is homemade with a lot of time and work put into it.  Several sheets of scrapbook paper were layered to go well together.  Then, the edges were inked with fall tones to give it a fall feel.  In the middle, a diamond scrapbooking sheet was cut to form a diamond.  A leaf stencil was cut and also inked in fall colors to complete the invitation.  The front of this invite is filled with autumn spirit and keeps our theme alive.  All of the colors in the invitation coordinate with the table setting and the name cards.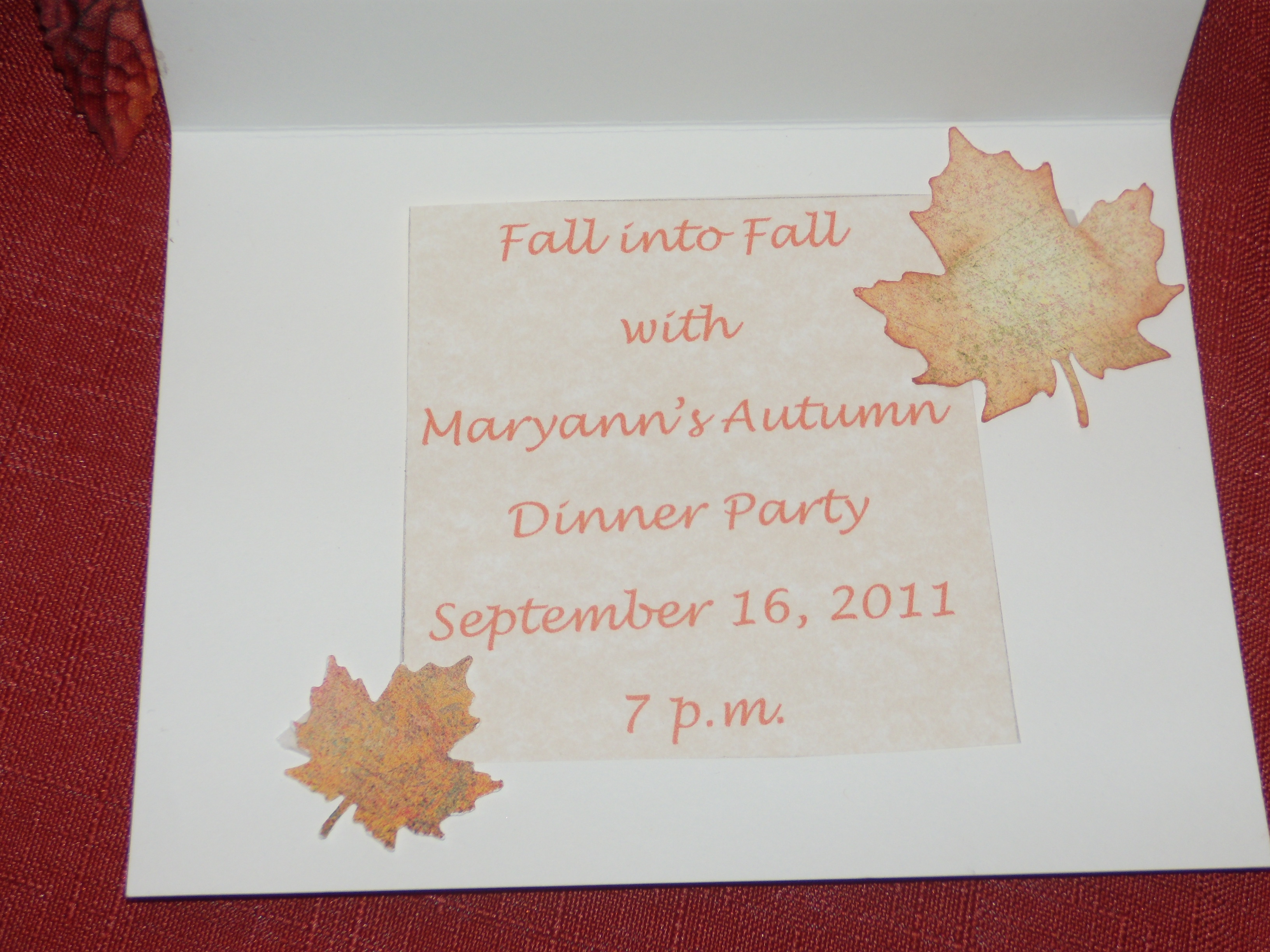 On the inside of the invitation, I typed what, when and where the dinner party would be held in burnt orange ink.  Again, smaller leaves were inked with red, orange and brown.  This decorates the inside of the invitation and creates a fall feel.
Menu
First Course
Butternut Squash Soup
Second Course
Pumpkin Ravioli in a Sage Butter Sauce with Prosciutto
Main Course
Rolled Stuffed Turkey Breast
Piped Candied Sweet Potatoes
Spinach & Arugula Salad
 with Cranberries in Raspberry Vinaigrette Dressing
Dessert
Baked Harvest Peaches in an Amaretto Drizzle
Baked Fall Apples
Recipes: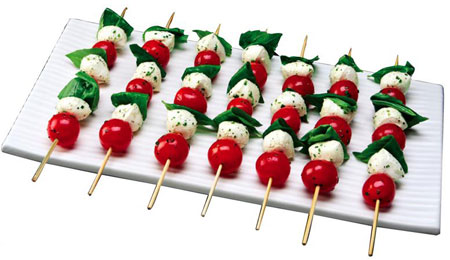 A simple yet tasty appetizer that will surely be an instant hit is the Cherry Tomato and Mozzarella Skewers.  The ingredients include:  Cherry Tomatoes, Small Mozzarella Cheese Balls, Extra Virgin Olive Oil which you sprinkle on the skewers along with chopped basil. You can also do this with cubed salami and provolone cheese on pretty skewers.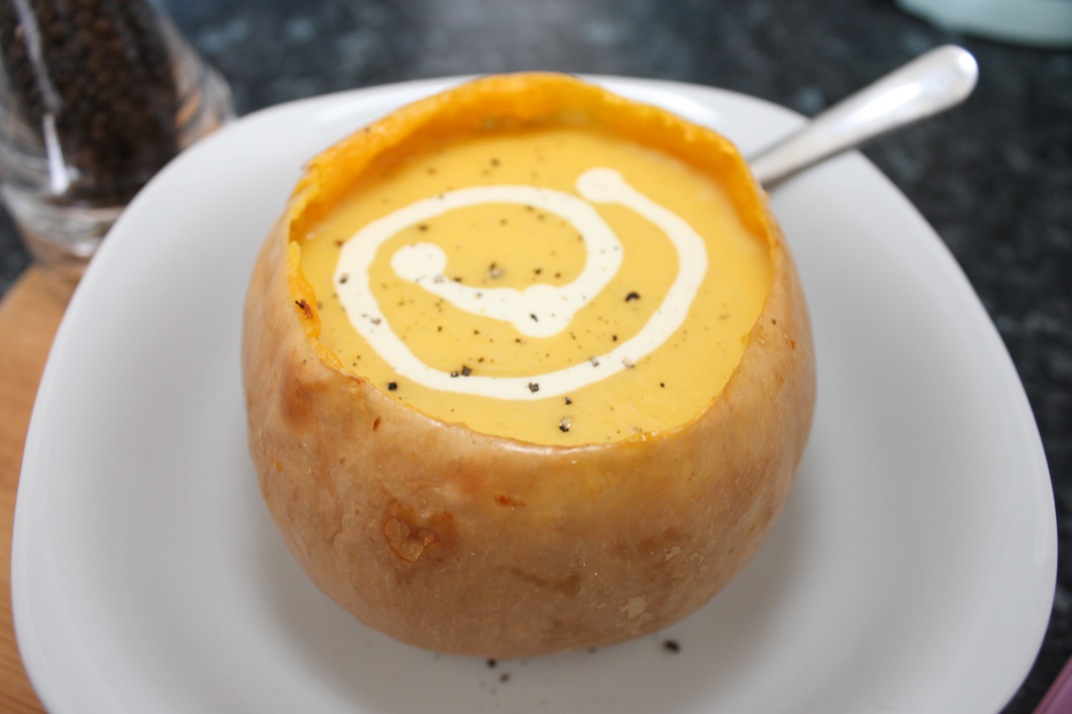 On a cool, fall evening the perfect first course for my autumn dinner party is Butternut Squash Soup.  To make it even more festive, I always serve it in a squash which is split in half and garnished with parsley and heavy cream.  The delicious recipe is as follows:
1 (2 to 3 pound) butternut squash, peeled and seeded
2 tablespoons of unsalted butter
1 medium onion (chopped)
6 cups of chicken stock
nutmeg and freshly grounded salt.
First, cut the squash into 1-inch chunks in large pot melt butter.  Add the squash and stock.  Bring to a simmer and cook until the squash is tender which will be about 15 to 20 minutes.  Remove the squash chunks with slotted spoon and place in a blender and puree.  Next, return the blended squash to the pot.  Stir and season with nutmeg, salt, and pepper and serve!  Dribble a teaspoon of heavy cream to serve.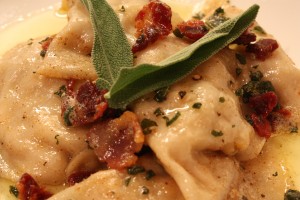 As part of the second course, Pumpkin Ravioli hits the spot.  They are warm, satisfying and delicious.  The Sage Butter Sauce with prosciutto is easy to prepare.  This recipe will be one that you make over and over!  For this dish you will need:
1 pound of fresh pumpkin ravioli
½ cup unsalted butter
6 fresh sage leaves
¼ teaspoon nutmeg (freshly grated)
½ cup of grated parmesan cheese
1/2 lb of Italian prosciutto chopped and cooked until crisp
The first thing you will need to do is bring a large pot of salted water to a boil.  Next, add fresh ravioli and cook for about 4 minutes or until they float to the top.  Remove ravioli from the water with a large slotted spoon and place in a platter.  Cover to keep warm.  In a small sauté pan, melt the stick of butter over low heat.  When the butter just begins to sizzle and brown, tear the fresh sage leaves into the pan and fry for 20-30 seconds.  Remove the butter sauce from the heat and grate in the nutmeg.  Pour the butter sauce over the ravioli and sprinkle it with grated cheese and the cooked prosciutto.  Then enjoy!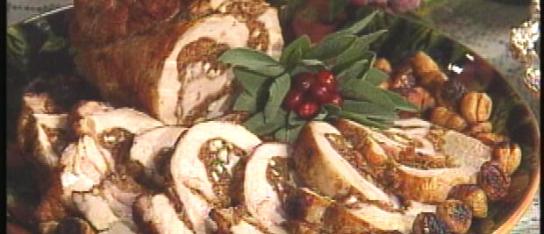 The Rolled Turkey Breast is the perfect meat to serve with the ravioli.  It is a totally satisfying dish that appeals to the eye as well as the palette. I've made this recipe at Thanksgiving along with a traditional turkey, and the Rolled Turkey Breast was gone in a flash! What a delicious meal.  The ingredients for this dish are:
1 onion
1 clove of garlic
3 ½ tablespoon of butter
¾ teaspoon of basil
salt and pepper
1 cup of bread crumbs
1 tablespoon of chopped fresh parsley
4 pounds of boneless turkey breast
¾ cups of water.
To make this meal, purchase a deboned turkey breast.  Heat the oven to 425 degrees.  Chop your onion and garlic finely.  Heat the 3 tablespoons of butter in a pan.  Add onion, garlic and basil.  Remove from the heat.  Add salt, pepper, bread crumbs and parsley.  Lay the turkey skin side down on a work surface.  Pound to an even thickness.  Spread bread crumb mixture over the turkey.  Roll up the breast and tie with string in several places and rub with 1 ½ tablespoons of butter.  Place in the oven and reduce temperature to 350 degrees.  Roast for about 2 hours or until 180 degrees internal temperature.  Skim fat from pan juices and make gravy accordingly.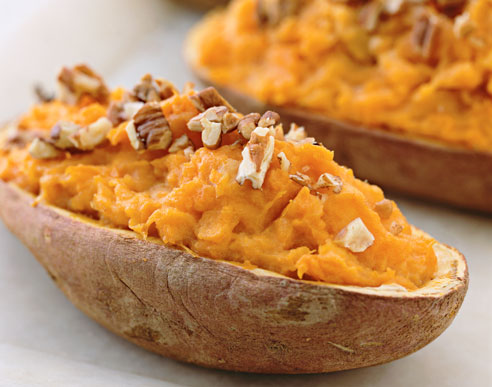 The perfect side dish is the Candied Sweet Potatoes.  This recipe goes perfectly with the Turkey and it is so yummy your guests will beg for more.
6 large sweet potatoes
1/2 cup butter
½- 1 c. of honey
1 teaspoon ground cinnamon
1 teaspoon ground nutmeg
1 tablespoon vanilla extract
salt to taste
First, feel the sweet potatoes and cut them into slices.  Next, melt the butter in a heavy skillet and add the sliced sweet potatoes.  Mix the cinnamon, nutmeg and salt.  Drizzle the honey on the sweet potatoes and then the cinnamon mixture.  Cover skillet, reduce heat to low and cook for about 1 hour or until potatoes are "candied."  They should be tender but a little hard around the edges.  Also the sauce will turn dark.  You will need to stir occasionally during the cooking.  Stir in the vanilla just before serving.  Serve hot and enjoy!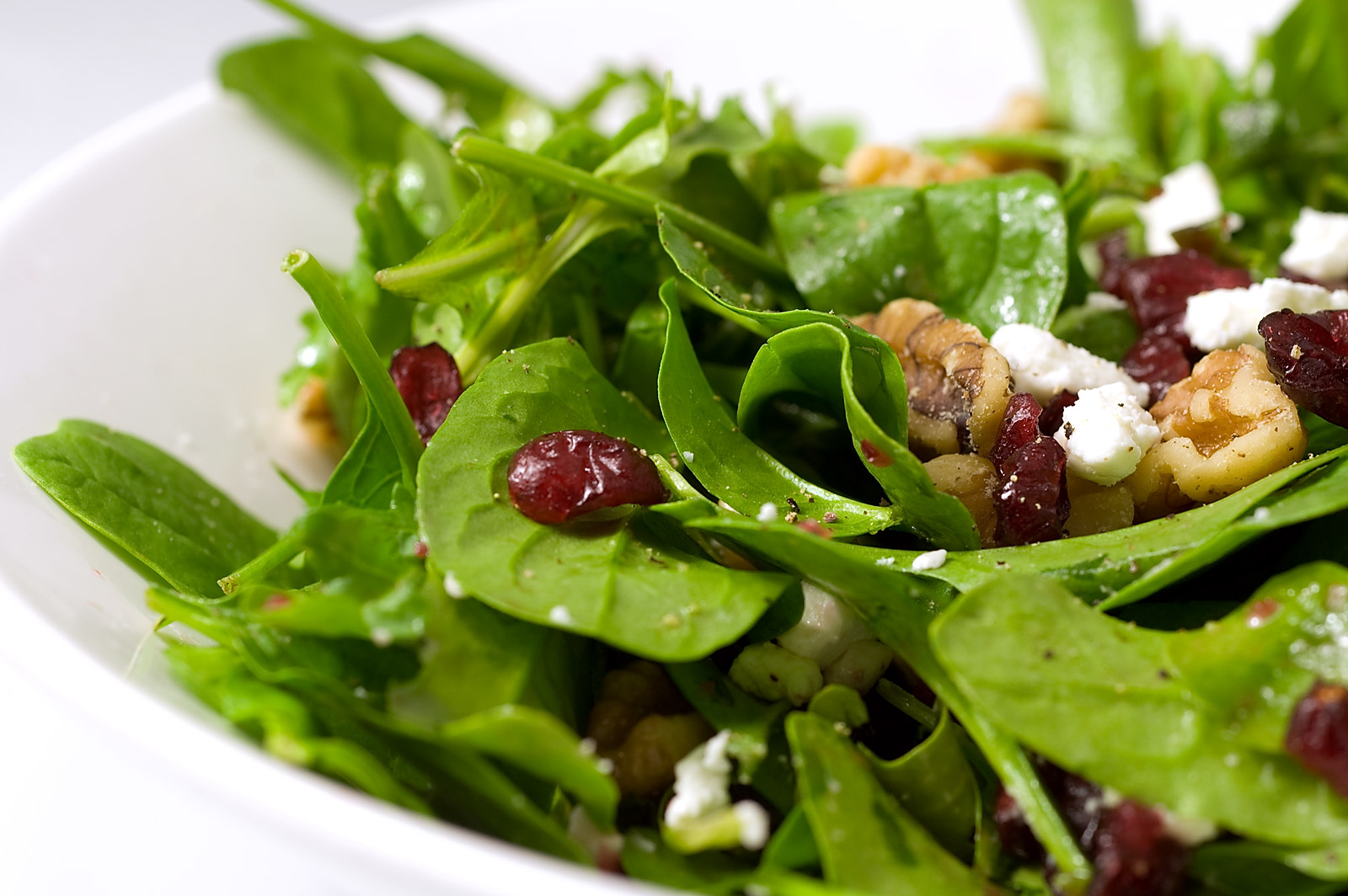 This dish is both delicious and easy!  Mix together walnuts, cranberries and spinach with a raspberry vingarette dressing and you have your salad!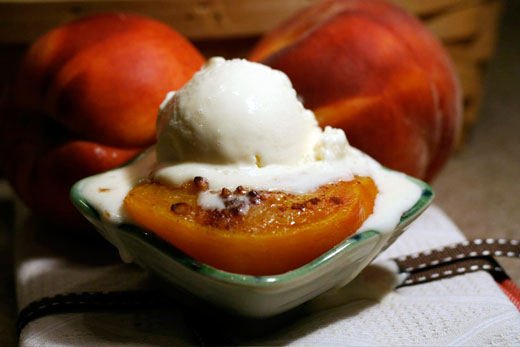 The Baked Harvest Peaches in an Amaretto Drizzle will dazzle your guests.  It is simple to prepare yet it tastes is as if you worked all day to prepare this dessert.  To make this dish, choose large, ripe peaches and cut in half and remove the pit.  Place in a greased baking dish and pat with butter, drizzle with amaretto and sprinkle with cinnamon and nutmeg. Bake at 350 degrees for a half hour or until the peaches are soft.
The Baked Apples are the ultimate fall dessert.  They also are warm and inviting and so delicious.  Core the apples before placing them in a shallow baking dish.  Fill the core with butter, cinnamon, nutmeg and add either  apple juice or honey.  These also can be baked at 350 degrees for a half hour or until the apple is soft.  I serve the apple with Vanilla Bean Ice Cream on top while it is still warm.  It is the perfect end to a wonderful autumn dinner.