If you are a fan of The Bachelor and Bachelor Pad franchise, then you probably remember the sweet, artistic New Yorker Jackie Gordon, 27.   Celebrating her newly founded single status, an abundance of new opportunities and an amazing art career, there isn't anything stoppin' this smokin' reality star.
emme:  I once read that you had never seen an episode of The Bachelor before becoming a cast member. If this was the case, why did you apply to go on the show? 
Jackie Gordon:  Yup! I had never watched The Bachelor before! But, that changed when I had heard that a guy I knew from back home was going to be on Ali's season. I started watching the first episode, and when they advertised for applying to be on the next season during commercial breaks, I figured hey, why not? I'll give it a chance!
emme:  What was the process like to be selected to be on Bachelor Pad? 
JG:  The Bachelor Pad casting is much different obviously than The Bachelor. The producers I think kind of put their feelers out there for who may be interested in coming on the show. As for me, it all happened kind of quickly, I guess.
emme:  You are such a talented artist! I read that you were a preschool teacher and also an artist before doing reality TV. Has that changed? Also, tell me about your art! 
JG:  Yes, I am an artist (a realist oil painter) for life!  But was also working as a preschool teacher at the time that I left for The Bachelor. I have since left my school job (I had to go on Bachelor Pad), but am still painting and pursuing art as I was before. As for my "day job," we shall see. NYC is an expensive city to live in!
emme:  Do you like the way you were portrayed on both shows?
JG:  Yes- I think that the way I was portrayed on both shows was luckily very accurate. I tried to be true to myself as best as I could, and also to not forget that my grandma was watching!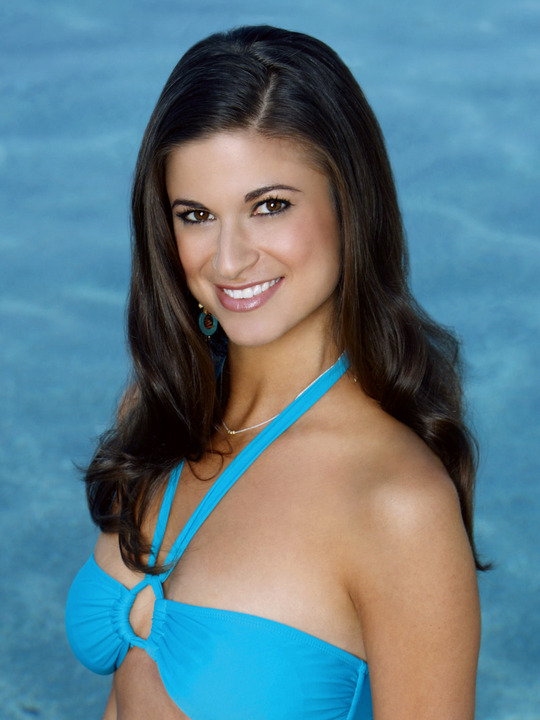 emme:  Has the show opened any doors for you for acting? Are you interested in going into the entertainment business?
JG:  The show has opened so many doors in so many ways- even in terms of my art and selling some pieces! As for acting, that is not something that I am interested in pursuing as a career, although I'm sure being on The Bachelor can certainly help get one's foot in the door.
emme:  Have you remained friends with the other cast members? Do you keep in touch with Brad Womack?
JG:  I don't keep in touch with Brad, actually, I'm not even sure who does at this point? He's a great guy, but I think he values his privacy and was happy to go back to a somewhat "normal" life. As for the girls, yes I can happily say that we are all friends! I've made some of the greatest friendships from my time on both shows- I think the unusual experience of being on these shows really does bond people together. We had such a great, dynamic group of girls.
emme:  Was hanging upside down on Bachelor Pad really as painful as it looked? (See picture above) 
JG:  Yes- omg! Hanging upside down was BRUTAL! I still can't believe that Jake and I were able to hang on for that long. It was 40 minutes! Just think of poor Jake, having to hold up all my dead weight against that much gravity. Yikes! We had major bruises for weeks.
emme:  How have people responded to you since you've done the show?
JG:  People have been great since the show towards me. What's cool about this kind of show is that we are all just normal people- and I think people really like to be able to relate to us as we fall in love… or out of love, or whatever common human experience we go through on tv. I've had many people tell me that I gave them strength when they were going through breakups themselves! It's all a very humbling experience…
emme:  I know a lot of people want to do reality TV but are paranoid that they will be portrayed in a negative light. What advice would you give those people? Do you think it's a good idea to do reality TV if you are "thin-skinned"?
JG:  If you are afraid to be portrayed in a negative light, my advice would be to not give producers anything to make that happen. You can't control the editing, but you can control how you conduct yourself. That being said, if someone is too "thinned- skinned" and can't take criticism, negative feedback or poor editing, then maybe going on reality tv may not be the best thing for them. It takes a whole lot of confidence and self assuredness to put yourself out there as we have. I can attest to that!
emme:  Your one-on-one date with Brad had to be best date in 'Bachelor' history! It is every girls fantasy to get the "pretty woman" treatment!  
JG:  I got to pick out a beautiful dress, be adorned in diamonds, and watch Train perform at the Hollywood Bowl. Now THAT date was fabulous and so me!!!
emme:  Sometimes it can be tough to make money as a creative person (ex: writers, musicians, artists). As a creative person, what advice would you give those people? Do you think it is possible to make money doing what you're passionate about?
JG:  I realize that making a living off one's passion is not always easy- (they don't call us starving artists for nothing!) But my advice would be to just do what you love, regardless. Life is too short, and you should at least like what you do! I'm a firm believer of, "when there's a will, there's a way." If you really want something badly enough, you'll find a way to make that dream a reality. Even if you must have a different "day job" to pay the bills, at least you can balance that by doing what you love to do!
To learn more about Jackie Gordon and her artwork, visit: www.jackiegordonart.com