Not only is The Bachelor and Bachelor Pad's Jamie Otis completely adorable and gorgeous, she also has a heart of gold.  Otis, 26, joined Bachelor Pad for the sole reason of winning the money to help those less fortunate.  Otis chatted with emme about her turbulent upbringing, love, and being a contestant on America's favorite reality show.
emme:  You have an amazing back story.  Can you describe your pre- Bachelor life?
Jamie Otis:  Well as you probably know, I grew up in immense poverty.  I grew up in broken down apartments and trailer parks.  I didn't have  a dad, and my mom unfortunately had five kids, and she had a real tough time taking care of us being a single mother.  She ended up becoming mixed up with drugs.  She'd come and go, she would leave and we would never be able to get a hold of her, and this was when I was in school.  Right after I graduated high school, I got a job at a restaurant and I was making pretty decent money, so I got my own two bedroom trailer.  It had leaky ceilings, holes in the drawers, but it was fine.  I was excited for that.  We didn't have electricity so we had a kerosene heater in the living room, then we had a generator in the bathroom.  It was terrible, smelly and loud, it was terrible.  I decided to make a life for myself.  So, I left my siblings there with my mom, which to this day I regret.  She was evicted, and had to leave.  She came over to my trailer and asked if my younger siblings could get off the bus at my place that night.  That's kind of how it all started.  She wrote a note for them to get off the bus at my trailer, and pretty much never came back for them.  Honestly, it's terrible.  And, looking back I've always been in denial on how hard it was because I love my siblings.  Especially on The Bachelor, to   have the world think I had a terrible mother.  She has her own issues, but she's not alone.  There are so many kids that have similar situations.  And my goal is to reach these children and tell them I was there and now I'm a professional.  You have to help each other and you can get through it.  You can break that poverty cycle and drug addiction lifestyle.  You can pursue your dreams and become someone.
 And my goal is to reach these children and tell them I was there and now I'm a professional.  You have to help each other and you can get through it.  You can break that poverty cycle and drug addiction lifestyle.  You can pursue your dreams and become someone.  
emme:  Did you share your story with Bachelor producers?
I'm sure if you watched The Bachelor, I monitored my behavior immensely.  I didn't want anyone to know where I came from or how I grew up.  I was scared that was going to impact my experience there.  You go there to fall in love, and then say, "I come from a trailer park and my mom is a drug addict!"  That's not a way to impress a guy.  I was very quiet and never told the girls.  I never told Ben.  This is really my own insecurity about who I am.  I wish now I had been very open about it.  Things would be very different if I did it now.
Why did you decide to go on The Bachelor?
You know what's funny, I was quiet about the intensity of gaining custody [of my siblings.]  If something happened in your past, you don't really want to talk about it.  I want to start talking about it, so I'm glad you asked.  Anyone that is neglected for attention as a child, wants attention.  I've always wanted to find the perfect man and marry into the perfect family.  A loving, warm family.  My biggest dream is to be a great mother and have good grandparents for my children.  And you're not going to get that on my side of the family.  So I always wanted to search for that guy who just supports me, accepts me from where I'm from, and someone I can trust.  I was hoping to find that on The Bachelor.  The thing about Ben is I never completely trusted him, so I never told him my story.  He seemed very into girls who were really outgoing, and that's not who I am.  I don't open myself up so lightly.  Even though I was there for six weeks, so I tried to be seductive, and clearly that didn't work!
Was the "kissing tutorial" hard to watch back?  How did your friends and family react to it?
Well the truth is I am very, very sensitive about who I let into my life.  I just don't kiss any guy.  I've probably kissed only 4 guys in my life.  I thought there was a future with us, but I wasn't sure about Ben.  Every time he kissed me, the sparks didn't fly.  There was no chemistry.  I wanted it so bad.  I think he was very excited to kiss me!  To me, it was really funny to watch back.  It wasn't as awkward as it seemed.  If you can't have a good kiss, it's not meant to be.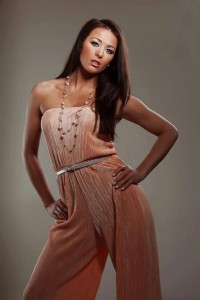 So you just thought it was funny?
Yeah, I thought it was really funny.  I think everyone has a moment, maybe not teaching someone how to kiss.  (laughs)  There's always a time exploring someone, and it's not what you anticipated.  But, it's time to move on and find someone who is!
What was your experience with applying to be on The Bachelor?
The process is really long.  It takes about 6-9 months.  Basically, you apply online like anybody else.  I personally made mine silly.  My friends encouraged me to try out since I've had bad luck with guys.  I'm crazy, I'll try out for anything.  Then they e-mailed me and said they wanted a video of me.  It was really a short video, because I didn't want them to know my back story and that my siblings were living with me.  I just said I was 23 and sang for them.  Then they wanted pictures, and then I met with then in New York, then I met with them in L.A.  And that was the process for me.
I heard they have to do psych and blood tests.
Oh yeah!
That's so funny.
It's smart.  One thing to know for sure about all the Bachelor boys and girls is that we all test negative.
What is like being on this show?  Pulling up to the mansion, meeting all the girls, meeting Ben, what is that like?
Everyone experiences it very differently.  Some people are very extroverted, and some love it!  It seems to me at least that those who are open, they tend to be very chatty.  They tend to be very judgmental.  They tend to have it easier because they overpower those who are introverted.  Some tend to sit back and observe more.  For myself, I was definitely very inferior and insignificant.  I knew where I came from and when you're hiding something, it's like you're living a lie.  It was really tough for me.  I think for the other girls who are comfortable with themselves, they had a great time!  There will always be cat fights and I wasn't involved with them.  It's different for everyone.  There is a lot of , "I cared for him, and they didn't!"  It's difficult because it's essentially a game.  But, it's about love.  He's a human being trying to fall in love.  So if you're not falling for him, then you shouldn't be there.  Some girls consider it a game and just want to win.  It's just so complicated.  It's a unique, unique, plot and that's why it does so well to see how different people handle it.
So did you like Ben?  What did you think of Courtney?
I wanted to like Ben.  I want to find the perfect guy for me.  I want to fall in love and be happy.  I want to love their family and I want that sense of connection with a family because I don't have that in my own.  And I think that's what I liked about Ben, but I didn't know him enough to see if I liked him.  I never gave him a chance.  I told him in the beginning, which didn't air, that I didn't want a one-on-one.  I told him that because I was scared of it.  He asked me "why are you here then?"  For me, it was so surreal, and I didn't feel comfortable.  As far as Ben, I think he's a good guy, and everyone has their flaws.  The truth about Courtney, she is who she is.  Where some girls on that show were fake.  They say negative things and then say something nice in front of their face.  If you do [Courtney] wrong, she'll say it.  Why would she want to be your friend?  It's a big game in the house and with Ben.  Constant lying and manipulating.  Courtney just didn't.  She's like, "I like Ben, and I know I do."  Girls would feel inferior of her maybe because she was so confident with her relationship.  And that's not wrong.  She didn't lie, and she was a nice person to people who were nice to her.  And I don't think there's anything wrong with that.
Did you volunteer for Bachelor Pad?
No, I actually never watched Bachelor Pad, which was silly.  Probably a month of two before starting filming and they approached me. I told them I can't fall in love on television.  I didn't feel real or right.  So, at first I wasn't sure if I wanted to do that.  But, then I could raise money for this organization.  My whole goal for being on Bachelor Pad was to the win money so I could go to a third world country and create documentaries based upon the living situations there.   There are so many hundreds of thousands of children and families that are starving to death.  They are literally dying of hunger.  That is completely unjust.  I want to make a documentary of the raw details about what these families are going through.  I want to help these families.  That was my goal for going on the show.
Did you know the twins were from Jersey Shore?
None of us knew!  They told me and I thought it was interesting.  They're young, they're blonde, they were there to have a good time, and they did.
Are you currently dating Chris?
I can't comment about Chris because it's still happening.  But, stay tuned!
I know some of the girls from Ben's season were ganging up on you in the beginning.  How did that make you feel?
This time around, I'm not hiding who I am and where I come from.  With Ben, I would've let girls go in front of me.  I didn't feel like I belonged there and I felt inferior.  But this time around, I felt like I did belong there.  I wanted to raise money for people dying of starvation.  It wasn't about me, it was about them.  I was definitely more open.  The very first night Chris told me I was his favorite girl from Ben's season.  He said his sister loved me and he knew I was a nurse.  He really flattered me.  It was clear we liked each other from the beginning.  We had some time together and then Jaclyn and Blakely came in and yelled at me.  Very, very childish. I kind of had enough of girls being so rude to me.  Say what you want to say to me because I'm not going to let you yell at me.
What are your plans for the future?
I want to have a positive impact for the future.  I want to help people.  I saw this documentary on the living environment for these children that are here one day and gone the next.  Not because they have AIDS, it's nothing besides they don't have food.  My goal is to raise awareness and help these children and families who are starving to death.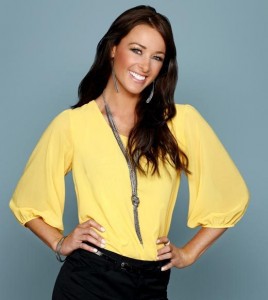 Jamie's Top 4:
Favorite Movie:  Sex and the City
Ice Cream Flavor:  Frozen Yogurt Tart
Starbucks Order:  Mocha Frap Light
Favorite Musical Artist:  COUNTRY!  Carrie Underwood, Tim McGraw, Faith Hill, Taylor Swift, Lady Antebellum, Martina McBride.