emme:  What is the best and worst part about being on TV?  
Tamra Barney:  They're so many wonderful things about being on TV I don't even know where to start. First off you can't beat getting paid for being yourself. Reality TV is a fabulous thing, you are able to show others that life isn't easy for anyone, we all share all the same struggles in life. I love that I can reach out to others and talk about divorce, raising children, fitness, friendship and new business adventures. The part I probably hate is everyone knowing who I am when I go out. I am not big into the 'celebrity thing' I would rather no one notice me, but it comes with the territory so I can't complain.
Why did you decide to do the show?
It was a freak thing and I still don't understand why I was picked. I jokingly filled out an online application that my friend sent to me, not thinking for one second they would call me. I was totally obnoxious (mocking the show) we were both were laughing at my answers, I didn't send any pictures and didn't show up to the casting call in Newport. So when they called me a few days later I almost dropped the phone. After a month of interviews, they called me to tell me they wanted me and I thought "Everything happens for a reason…here goes another chapter in my life." The rest is history.
What was your life like pre-RHOC?
Pretty normal! Mother of 4, part time Realtor, married for 10 years. I was struggling to keep my marriage together and raise kids, just like a lot of people.
Describe a typical day filming.
Stressing about doing my hair and makeup, finding the right outfit and getting the kids off to school all at once. Every filming day is different and once all that stuff is done, the rest is usually pretty easy.
I love your clothes on the show! Where are your favorite places to shop?  
I love clothes! I shop anywhere from Nordstrom to Forever 21. I love Bebe because their clothes fit me well and they are not expensive. We have to buy so many outfits and it gets expensive, so I'm always looking for a great deal.
What are your favorite makeup products?
Lip gloss and foundation. Normally (when not filming) I will wear "Makeup Forever" foundation with a little Mac power and lip gloss.
What's the secret? How do you stay so fit?
Genetics and a lot of hard work. My mother and grandmother are very petite, so I have that advantage. Working out is my passion. I have worked out my whole life. When I hit 40 I noticed a big change in my body and how the weight was shifting to the wrong areas. Last year I changed my diet. I increased my protein and reduced my carbs. At 45 its much harder to keep the weight off. I am very excited to be opening my fitness studio this fall, it's called C.U.T FIT (Cardio-Unique-Training) it will not be your typical gym. It will be unique group fitness class for woman, men and kids. We will offer classes like BodyPump, BodyCombat, TRX, Zumba and Spin, to name a few.
Have you ever regretted anything you've said or done on TV?
I am not a person that lives my life in regret. I try to learn from my mistakes and move on. There are always things that the camera catches that you think "Oh Sh%t" but at the end of the day no one is perfect and we all make mistakes.
It seems as if you love to travel! Where is your favorite destination and why?
That is a hard one, kind of like asking who's your favorite kid. In the past two years I have been to Panama, Costa Rica, Bora Bora, Italy and Spain and all over Mexico. I loved them all but if I had to pick I would say Sevilla in Spain. There was so much culture and the people were so nice. However, Bora Bora will always be the most special place to me.
What are your plans for the future?
My plans are to rebuild my life for me and my kids. To continue to help my kids heal from the divorce and keep them headed in a positive direction. Last but not least, to marry the man of my dreams!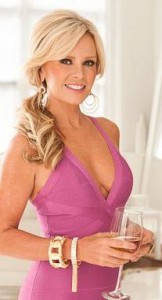 Tamra's Top 5:
Favorite Movie:  Under the Tuscan Sun
Favorite TV Show:  I don't watch TV
Favorite Ice Cream Flavor:  Neapolitan
Starbucks Order: Vanilla latte
Favorite Recording Artist: Fleetwood Mac
To learn more about Tamra, visit these sites:  
www.Tamra-Barney.com
http://www.facebook.com/CutFitnessOc
http://www.winesbywives.com/
https://twitter.com/TamraBarney