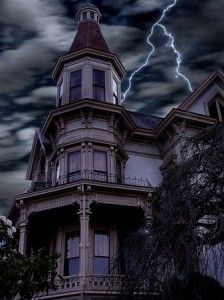 Are you ready for Halloween?  Scary Perry's and Fables Studios (8412 W. Grand Ave., River Grove, IL) is the perfect place to go for a scare.  Owner Tony Perry has a Halloween store filled with Halloween masks, décor, and costumes.  After you're done shopping for Halloween, you can live your biggest fears!  Peter Tomeczko is the owner of Fables Studios, a haunted house, located two doors down from Perry's store.  Fables Studios is an interactive haunted house where customers are in control of what happens while inside.
"This is not your typical haunted house," Perry said.  "This one, you have to make your own decisions, push buttons to decide where to go."  Perry suggests young children should not enter, but ages 8-10 and up are welcome.  Entry is only $10 per person, which is an extremely reasonable price.  It will be open every weekend in October and the entire week leading up to Halloween.  The doors open at 7 p.m. and will stay open until 11:30 p.m.
According to Perry, the house is built like a maze with 13 rooms.  The whole haunted house has a theme of an old traveling circus.  The "monsters" inside include clowns.  "For every scene there will be a scare," Perry said.  "It's going to be what you least expect.  It's not going to be bloody but creepy.  It'll stick with you."
Acting students, actors and people within the neighborhood work in Fables Studios. Fables Studios provides them all with costumes and makeup.  Like a regular play, the actors rehearsed beforehand.  "It's very organized," Perry said.  The whole concept and theme of the attraction has been in the works for the past 6 years. This year, Tomeczko is working together with Scary Perry's. Once customers exit the haunted house, they will enter Perry's Halloween store.
Perry's love for Halloween began when he was a child.  His mom used to take him to the pumpkin patch every year, and one year she bought him a mask.  "I became infatuated with it," he said.  "Now, I'm able to buy masks from California, Florida and Chicago."  He wanted to create a business that is both fun and teach his children about responsibility.  A Halloween theme store just seemed appropriate because it is his favorite holiday.  "I'm just a big kid," he said.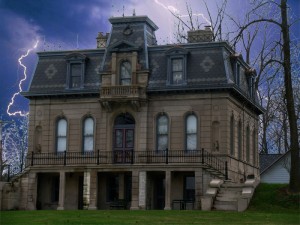 Other Chicagoland Haunted Houses:
Dream Reapers
Oct. 5-7, 12-14, 18-21, 25-31
$20 General Admission
1945 Cornell Ave., Melrose Park, IL