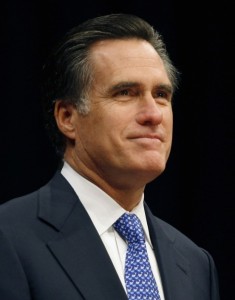 **VOTE FOR MITT NOVEMBER 6!**
Mitt Romney loves anything containing peanut butter and is especially fond of peanut butter and honey sandwiches, but the GOP nominee has a soft spot for the meal his wife cooks to celebrate his birthday. These diminutive cakes are both darling and delicious. Ann Romney's recipe calls for a healthy dose of punchy lemon juice. If you worry Mitt's dish will leave a sour taste in your mouth, don't — the sweet brown sugar glaze brings much needed balance to the plate.
Romney Inspired Meatloaf Cakes
1 cup of seasoned croutons
1 egg
1/2 cup onion, chopped
1/4 cup Italian parsley, chopped
1/4 cup fresh lemon juice
1 teaspoon Worcestershire sauce
1 tablespoon BBQ Sauce
1 teaspoon salt
1/2 teaspoon pepper
1 1/2 pounds ground chuck
1/4 cup ketchup
1 tablespoon brown sugar
1 teaspoon dried mustard
1/4 teaspoon cinnamon
1/8 teaspoon cloves
Preheat the oven to 375 degrees.
Crush the croutons with a rolling pin or in the food processor. Transfer 1 cup of the crushed croutons to the bowl of a stand mixer fitted with the paddle. Add the egg, chopped onion, parsley, lemon juice, Worcestershire sauce, BBQ sauce, salt and pepper. Turn the machine on low and gradually begin adding the meat until incorporated, but take care not to over mix.
Divide the meat mixture into 6 equal portions and form into tiny loaves. Keeping hands wet as you do this will ensure your loaves do not crack while baking. Place the meat loaf cakes on a parchment lined sheet pan and bake at 375 degrees for 25 minutes.
While the cakes are baking, mix the ketchup, sugar, mustard, cinnamon and cloves. After 25 minutes, increase the oven temp to 425. Brush the cakes with the sweet ketchup glaze and return them to the oven for 10 minutes. Serves 6.
Source:  Melissa Elsmo, Elm Leaves