My Grandma Antoinette loves Christmastime.  Being the youngest of 10 siblings, it was the one time of year she was really able to connect with her massive family.
Growing up, my Grandma always reminded me to eat my carrots because they're good for my eyes.  That's why carrots are one of her favorite dishes to prepare… her heart is as big as her eyes!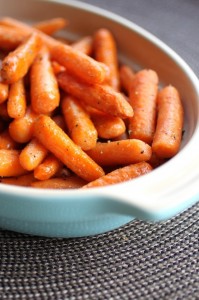 1 pound of baby carrots
1/4 cup butter
1/4 teaspoon salt
1/3 cup of light brown sugar
Cook the carrots in a large pot of boiling water for 8 minutes or until tender.  Drain off liquids.  Leave bottom of pan covered with water.