Do you have a brigade of little kids coming to your house for the holidays?  Keep them occupied with these Christmas crafts that your little cousins will love!
Salt Dough Ornaments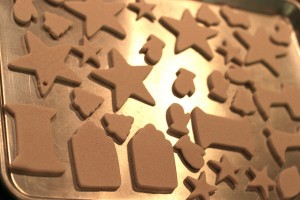 2 cups plus a pinch of flour
1 cup salt
3/4 cups warm water Holiday cookie cutters
Drinking Straw
Baking Spray
Paints, glue and glitter to decorate
Ribbon or twine
1.  Preheat oven to 225 degrees.  Mix flour and salt.  Add water.  Knead until soft.  (If dry, add more water.)
2.  Roll dough on floured surface to 1/4- inch thick.  Cut with cutters.  Add hole at top with straw.  Place shapes on sprayed cookie sheet and bake 2 to 4 hours until hard, flipping every 45 minutes.  Let cool.
3.  Decorate.  Tie ribbon through hole.
Source:  Us Weekly 
Frosty Lightbulbs
Old lightbulbs
White and black acrylic paint and brushes
Glue, glitter, pom-poms, rhinestones, and sequins
Paint pens
Floral wire or twine
1.  Paint bulb white.  Brush on glue and sprinkle with glitter if desired.  Let dry.
2.  Paint the silver top of the bulb black.  Add glue and glitter if desired.  Let dry.
3.  Draw snowman's face with paint pens.
4.  Embellish if desired.  Wrap wire or twine on the black top to hang.
Source:  Us Weekly 
Felt Holly Corsage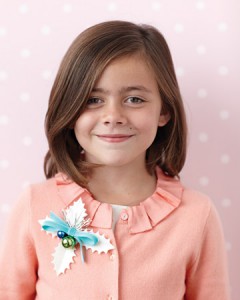 Wool felt, 18 by 18 inches, in assorted colors
Holly template
Iron
Hot-glue gun
Ribbon, such as satin-backed velvet ribbons
Assorted embellishments
Barrettes or brooch pins
1. Print the template, and cut out. From a piece of felt, cut one 2 1/2-by-5-inch rectangle for each pair of leaves. Fold rectangle in half lengthwise.
2. Crease with an iron set to "wool." With the rectangle still folded, trace the template and cut out the shape using scissors. Unfold. To make the 4-leaf design, cross 2 felt shapes; using a low-temperature glue gun, attach at the center. For the 2-leaf version, dab glue at the center of 1 felt shape, and fold, angling the leaves.
3. Glue desired trimmings to the front and a bar pin or a barrette to the back.
4. To prepare as a gift: Cut a 4-by-5-inch piece of card stock. Punch 2 small holes, about 1 inch apart, into the center of the card. Attach the pin or barrette. Using a rubber stamp and a white ink pad, stamp a "tag." Write the recipient's name and a greeting.
Source:  marthastewart.com