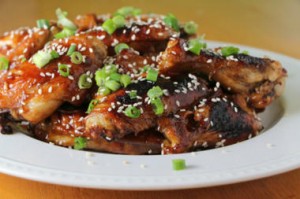 Sticky Soy Chicken Wings
Makes 12 wingettes, Serves 2 as an entree
1 tsp vegetable oil

1 garlic clove, peeled

1/2 tsp kosher salt

3 tbsp hoisin sauce

2 tbsp clover honey

2 tbsp soy sauce

3/4 tsp sesame oil

1/2 tsp chili oil

1/8 tsp cayenne pepper

6 drumettes and 6 wingettes (see Notes), about 1.4 lbs

1/2 tbsp sesame seeds

2-3 scallions, green part only, thinly sliced
1. Heat oven to 425ºF. Line a baking sheet with foil and spread oil around. Using a pestle and mortar, crush the garlic and salt together to form a thick paste. Place in a large bowl, add the hoisin, honey, soy, sesame oil, chili oil and cayenne. Combine well. Reserve 1/3 of the sauce in a separate container.
2. Add chicken wings to the large bowl and toss to coat well. Place chicken pieces skin side up on the oiled baking sheet.
3. Place in oven and bake for 15-17 minutes. Turn the pieces over and drizzle with the reserved marinade. Return to oven. Begin to check on the wings after 15 minutes, making sure they are browned, beginning to crisp and cooked through. Remove from oven and sprinkle with sesame seeds and sliced scallion greens. Serve to the hungry masses!
Recipe:  tinytestkitchen.com
****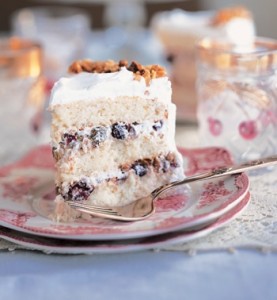 Lady Baltimore Cake
1 1/3 Carnation n/f Dry Milk Powder

1 cup cold water

1 tabl. white vinegar

1 1/2 cups all purpose flour

1/2 cup pourable Sugar Twin or Sprinkle Sweet

1 tsp. baking powder

1 tsp. baking soda

1/2 cup Kraft f/f mayonnaise

1 tabl. vanilla extract (divided)

2 1/2 cups Cool Whip Free

1/4 cup (1 oz) choppeed pecans

8 maraschino cherries, quartered

1/4 cup raisins

1/4 cup chopped figs
Preheat oven to 350 degrees. Spray two 9 x 9 cake pans with butter flavored cooking spray. In a small bowl, combine dry milk powder, water and vinegar. Set aside. In a large bowl, combine flour, Sugar Twin, baking powder, and baking soda. Stir mayonnaise and 2 tsp vanilla extract into milk mixture. Add milk mixture to flour mixture. Mix gently to combine. Pour batter into prepared pans. Bake for 18 – 22 minutes or until toothpick inserted in center comes out clean. Place cake pans on wire racks and cool for 10 min. Remove cakes from pans and continue to cool completely on wire racks. In a large bowl, combine Cool Whip Free and remaining 1 tsp. vanilla extract. Add pecans, maraschino cherries, raisins, and figs. Mix gently to combine. To assemble cake, place 1 cake layer on serving plate, spread 1 cup topping mixture over top, arrange remaining cake layer on top and frost sides and top with remaining topping. Cut into 12 servings. Refrigerate leftovers.
Recipe:  sparkpeople.com
****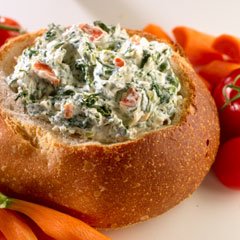 Healthy Spinach Dip
1 packet of Knorr Vegetable Recipe Mix (If you can't find Knorr where you live, any 40g vegetable dry soup packet will work.)
16 oz (454 g) non-fat Greek yogurt
1/2 cup reduced fat real mayo
10 oz (283 g) chopped fresh or frozen spinach
8 oz (227 g) can of water chestnuts drained and chopped
4 green onions chopped
Combine Greek yogurt, mayo, and Knorr soup packet.
Cook, cool, and drain the spinach. Squeeze of excess water. I usually put it in a strainer and press it down with my fingers until little water remains. Cheese cloth works too.
Add water chestnuts, green onions, and spinach. Stir until the spinach is uniform throughout.
Refrigerate for 2 hours.
Serve. This dip makes about 4 cups and is great as a veggie dip or on healthy crackers, whole grain pita chips, or baked tortilla chips.
Recipe:  diet-blog.com