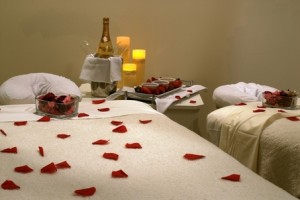 MARIO TRICOCI HAIR SALONS & DAY SPAS
SUGGESTS THE GIFT OF MASSAGE THIS VALENTINE'S DAY 
Announcing NEW MEN'S Massage and Massage Oil Candle with Purchase
This Valentine's Day, just as Chicagoans are gearing up for a New Year with healthy resolutions, Mario Tricoci Hair Salons & Day Spas suggests the gift of massage with a unique new men's massage and an enticing candle gift with purchase.
Men's Massage
Mario Tricoci Hair Salons & Day Spas now offers a massage that concentrates on areas where most men experience tightness, muscle pain or impaired mobility.  According to Massage Director Cassandra Stratton, "This is not your wife's or girlfriend's massage.  We have tailored a massage that gives special attention to the lower back, shoulders, neck and legs. This massage is great for men who stand on their feet a long time, spend long hours on the computer, do heavy lifting, drive long distances or engage in such sports as golf, running, or weight training."
Advanced massage techniques release large muscle groups to open up hips, loosen the hamstrings and calf muscles, and address a tight lower back.
The massage oil used for the Men's massage is a therapeutic sports oil with cinnamon, sandalwood and arnica which relieves muscle pain.
Finishing the massage is a warm face towel across the jaw and beard area to increase circulation and relax the facial muscles.
The towel is left on while the therapist completes a fingertip scalp massage using peppermint extract, which encourages healthy hair growth.
The 50-minute massage is $95 and an 80-minute session is $142.  Mario PLUS member prices are $70 and $115.
Massage Oil Candle Gift with Purchase
This month, when a guest enrolls in the MarioPLUS program, they will receive a 7 oz. Tasha & Co. Candle with Mario's signature fragrance of Pomegranate Orange Tea.  The candle is made with organic coconut oil that can be used as massage oil on the skin as the candle melts down.  It burns clean and without residue.
The candle, valued at $25, helps MarioPLUS pay for itself.  At the time of purchase a guest receives $25 off their first massage plus the candle valued at $25.
ABOUT MarioPLUS
Guests can enroll in MarioPLUS for an annual fee of $50 to receive $25 off every full service massage of 50 minutes or longer duration every time for 12 months.  The program includes all massages from a classic Swedish to the more advanced Deep Tissue, Hot Stone, 80 Minute Therapeutic or even the popular Bamboo Fusion.
The health benefits of regular massage are widely known including:
●      Aid in lowering heart rate
●      Decrease respiratory rates
●      Prevent future stress-related illness including heart disease, diabetes and depression
●      Increase endorphins
●      Aid in weight loss
Gift Card Bonus
This Valentine's Day Mario Tricoci offers gift givers a special treat of their own.  For every $100 spent on gift cards or gift certificates, the purchaser receives a $15 bonus coupon, up to $45.  The offer is valid both in salon and online at tricoci.com