Titanic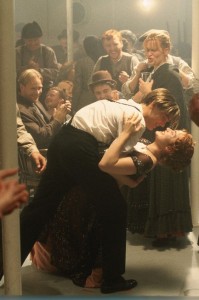 1997
Jack and Rose's epic love makes Titanic Emme's favorite Valentine's Day movie. Leo, our hearts will go on!
Moonstruck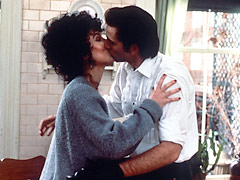 1987
Loretta Castorini has a big decision to make when her fiance, Johnny, visits Sicily to see his dying mother. You will laugh and cry with the big personalities of these Italian-American characters.
Romeo and Juliet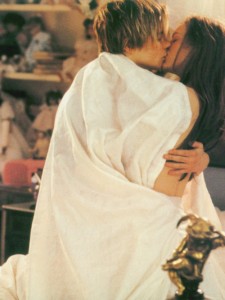 1996
Shakespeare's Romeo and Juliet is the most romantic piece of literature known to date. The 1996 version is a modern twist on the tale, but uses the same dialogue. Leonardo DiCaprio isn't too bad to look at either.
Letters to Juliet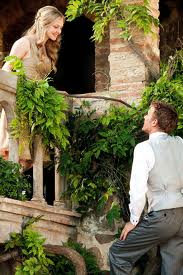 2010
This film possesses all of Emme's favorite things: Romeo and Juliet, writing, love, and Italy! Cue beautiful Italian scenery and a story that tells us that true love never dies.
Tristan and Isolde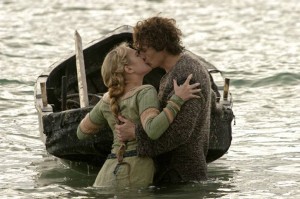 2006
Irish Princess Isolde secretly nurses Englishman Tristan back to health. The two fall in love, but Isolde is betrothed to another man. This film has forbidden love, battles, and oh yeah, James Franco. *swoon*
Return to Me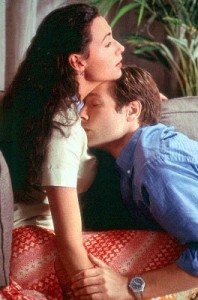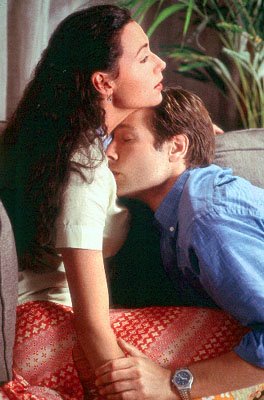 1999
Bob's, (David Duchovny) wife passes away, leaving her heart to transplant recipient Grace. Years later, Bob and Grace fall in love and come to realize the phenomenon. This romantic story is directed by another fabulous Chicagoan, Bonnie Hunt.
The Notebook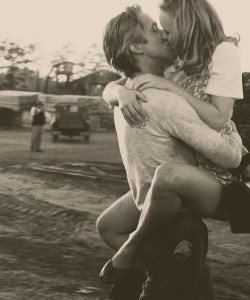 2004
Allie and Noah fall in love, but are encouraged to break up due to being from different economic backgrounds. But, Allie and Noah's paths cross again later on in life. Don't forget to grab the tissues!
The Wedding Singer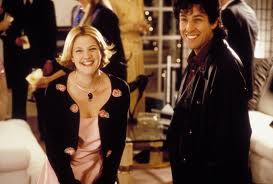 1998
Robbie, (Adam Sandler) a wedding singer, has been dumped by his fiance Linda. Bubbly waitress Julia helps him get over his broken heart. This movie is both fun and funny, and audiences will love the 1980's attire.
Ever After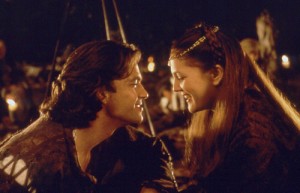 1998
Ever After sheds life to the classic Disney film. Barrymore, as Cinderella, is locked away as a servant for her stepmother and step sisters after her father's death. Like the classic tale, she meets dreamy Prince Henry who doesn't know she's a servant. Emme loves Leonardo da Vinci as Cinderella's fairy godmother.
Cinderella, Sleeping Beauty, Snow White, Aladdin, Beauty and the Beast, The Little Mermaid, Tangled, The Princess and the Frog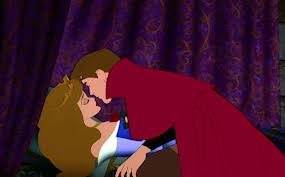 1950, 1959, 1937, 1992, 1991, 1989, 2010, 2009
What's better than a classic Disney love story? From battles, magical kisses, to singing in the forest, Disney love stories are bewitching!
Twilight Saga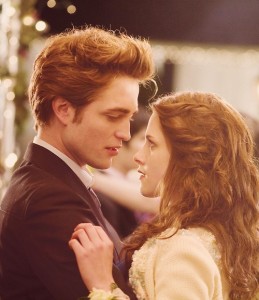 2008-2012
A vampire, a girl, a werewolf, a love triangle. Based off of the very popular series from Stephanie Meyer, Twilight is a modern-day love story with a twist.
The Princess Diaries 1 & 2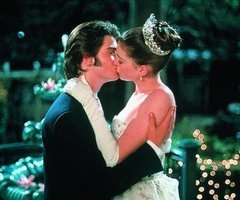 2001, 2004
Mia Thermopolis (Anne Hathaway) is just a normal girl living in a normal world– until her grandmother shows up and tells her that she's a princess. "Shut up!" Not only is this movie filled with Garry Marshall, Disney, princess-y fun, it also has two great love stories.
A Walk to Remember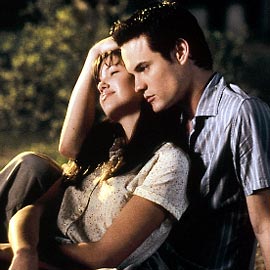 2002
Sweet and innocent Jamie Sullivan falls for bad boy Landon Carter. Like every epic love, it must come to an abrupt halt when Landon realizes Jamie has cancer. This movie will tug on your heart-strings.
Dirty Dancing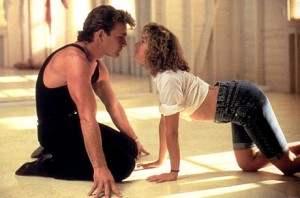 1987
"Nobody puts baby in the corner!" Baby goes on vacation one summer with her family at an affluent resort in the Catskill Mountains. There, she meets sexy dancer Johnny who turns her world upside down.
Becoming Jane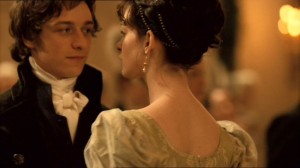 2007
Before Jane Austen penned classic romance novels, she had her own steamy love. Becoming Jane tells the story of Austen's first love and how she became a writer.
How to Lose a Guy in 10 Days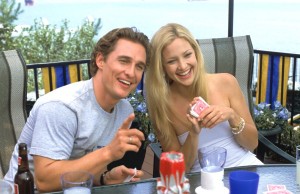 2003
Andie Anderson makes a bet that she can lose a guy in 10 days. Benjamin Barry makes a bet that he can make any girl fall in love with him in 10 days. Crazy antics and a beautiful yellow gown will ensue.
Serendipity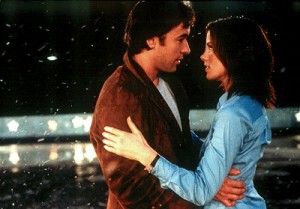 2001
Sara Thomas visits America from England and meets Jonathan in a busy New York City department store. Sara convinces Jonathan that serendipity will bring them together. The New York attractions are just as sweet.
**
Dear John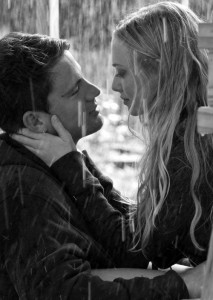 2010
John Tyree and Savannah meet during Savannah's college spring break. The romantic kiss in the rain and Channing Tatum eye candy is more than enough to satisfy female viewers.
She's All That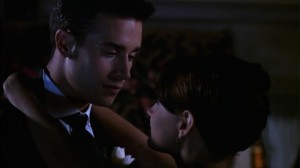 1999
Zach (Prinze, Jr.) makes a bet that he can turn Laney Boggs from dweeb to prom queen. Of course, he falls for her in the process.
Maid in Manhattan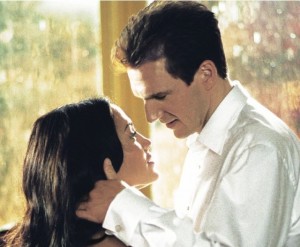 2002
Marisa Ventura is a single mom working as a maid in a fancy hotel. Her son, Ty, befriends senatorial candidate Christopher Marshall. Christopher Marshall falls for Marisa but doesn't know that she's a maid.
He's Just Not That Into You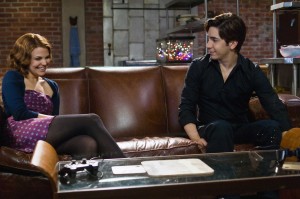 2009
This flick has all of Emme's favorite actors: Jennifer Aniston, Bradley Cooper, Ben Affleck and Drew Barrymore. First rule when it comes to dating… never do anything Gigi does!
My Big Fat Greek Wedding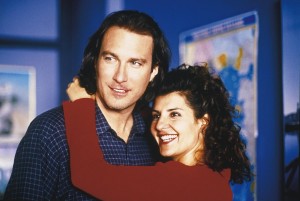 2002
Everyone loves a Greek girl! Toula's large, Greek family has trouble accepting her boyfriend, Ian. But, nothing will break them apart.