Taken from the Elm Leaves: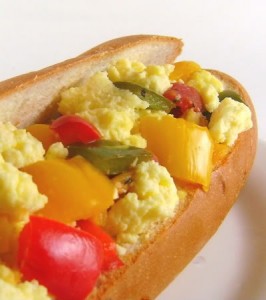 For area Catholics during Lent, abstaining from meat on Fridays just means another excuse to head to their local sandwich shop for an annual tradition.
That's right — in Elmwood Park, River Grove and elsewhere, Lent means the glorious pepper-and-egg sandwich is back in season.
Connie's Beef, at 7501 W. Grand Ave. in Elmwood Park, is one of the many restaurants in the area that serves the popular sandwich.
Though many offer it year-round, sales this time of year are especially brisk.
Connie's owner — and Elmwood Park resident — John Scalzitti opened Connie's Beef on Grand on March 31, 2009 after closing the original on Harlem in 1997.
"When we took over the business in 1979, that's when I learned" the recipe, Scalzitti said. "The recipe goes back to 1962."
That recipe varies a bit from restaurant to restaurant, but the basic ingredients remain eggs, usually scrambled, and green peppers.
"Usually" scrambled, because at Connie's, the sandwich is prepared omelet style, which is different than most pepper-and-egg sandwiches.
Scalzitti's father was a butcher and would put his own spin on the sandwich by adding a piece of sausage. Scalzitti still sells the sandwiches like this today, but during Lent most customers prefer it meatless.
"We sell the sandwich all year round only on Fridays, but during Lent, we sell a lot," Scalzitti said. Scalzitti sells about 150 pepper and egg sandwiches each Friday during Lent. On Ash Wednesday, 90 percent of his sales went to pepper-and-egg. Scalzitti must order 20-25 loaves of bread and 25-30 dozen eggs just for the pepper-and-egg sandwiches. Scalzitti purchases all of his ingredients on Friday morning.
"I love Connie's pepper and egg," Angela Rago of Elmwood Park said. "It's an authentic Italian pepper and egg sandwich. It tastes homemade."
Another residential favorite is Johnnie's Beef, located at 7500 W. North Ave. in Elmwood Park.
"The [pepper and egg] recipe originated from Johnnie," Frank Stompanato, manager of Johnnie's Beef, said. "It was handed down from generation to generation." Johnnie's serves its pepper and egg sandwiches year round, but only on Fridays.
"We have a very consistent sandwich," Stompanato explained. "It's a very simple, consistent sandwich."
According to Stompanato, Johnnie's sells a lot of sandwiches on Fridays during Lent. Customers will call in for 20 to 30 sandwiches at a time.
"People really take advantage of it. They know it's out there during Lent."
According to Stompanato, all ingredients are brought in on Friday morning and are made fresh for the day.
Other local restaurants that serve pepper-and-egg include: Jim and Pete's (7806 W. North Ave., Elmwood Park), Caputo's (2400 N. Harlem Ave., Elmwood Park), Frannie's (4304 River Rd., Schiller Park), Luke's (3130 N. Harlem Ave, Chicago), and Romano's (9785 W. Higgins Rd., Rosemont).