I'm sure your life has been really crazy since the show ended!
It's been nuts!
What was your life like before going on The Bachelor?
It's crazy because I don't feel like my life was much different.  I'm very social, I'm always traveling with my business.  It keeps me in different markets.  I've always been such a go-getter with things that I've wanted.  I'm always busy!  But everyone is busy, I guess.  It's been a journey.  It just added to the excitement.
Tell me about your business.
I run a 90-day health and fitness challenge.  Pretty much what it is is it helps people from all walks of life get healthy and fit without having them feel like a big gym guru.  It's a protein blend of an amazing shake that I could eat for the rest of my life.  It's two shakes a day along with sensible meals and sensible snacks.  So I work with distributors across the U.S. and customers– I'm just making the world a healthier place!
Aren't you also a model?
Yeah, I've been modeling with Ford for seven years.  I got signed with Ford when I was a sophomore in college at University of Wisconsin Madison.  It's been great.  Being in the Midwest I haven't broke through with anything high fashion yet, but I've done some lifestyle stuff.  I've been really busy being here.  It's been just awesome.  I want to get a new manager because I'm looking to split my time between Chicago and L.A. this year.  I'm looking to branch out a little bit more.
What part of Chicago are you from?
I was born in Melrose Park.  I grew up in the Lake Geneva area.  I was back and forth growing up.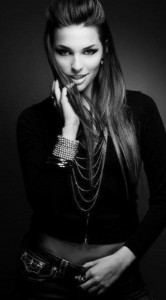 Why did you decide to go on The Bachelor?
I wasn't a fan of the show before.  I had a lot of people in my life that were.  I ended up getting anonymously submitted to the show.  They called me back.  I initially said no to do it.  Then I was back and forth.  I knew it would open some doors being out there in the public.  I was a little bummed that it was Sean.  We were polar opposites!
Why weren't you attracted to Sean?
He's quiet and dry humored.  He's blonde, and I really only like dark guys!  My family is super outgoing, loud, and funny, and he's not really outgoing.  I didn't think he was the one for me.  The girls were fabulous, though.  Watching it back, I didn't like how he was in love with everybody.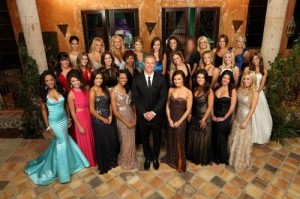 What girls do you keep in touch with?
I still keep in touch with Lesley H., Lindsay, Sara, Taryn, Daniella.  We stay in touch through social media and when I go out to L.A.  It was great meeting the girls and we all stayed fairly close.
Give Emme the Tierra scoop!
I kind of take people like that with a grain of salt.  She got the first impression rose so she had a target on her back.  But, at the same time I think that she made it clear to the girls that she's not a peppy person and she didn't want to meet anybody.  She was very nice to me.  I didn't have any problems with her.  The air conditioner upstairs broke, and I ended up sleeping in the spare bedroom closet because I was so hot, and she came in the room and made me a little bed next to her bed.  She didn't want me to sleep on the floor in the closet. That they didn't show.  I think what I respect about her is the way she is.  She said, "I'm not an outgoing person.  It takes me a while to warm up to people."  She was there for Sean, and not trying to be friends with people.  I just tried to work with her as much as I could.  I didn't have any problems with her.  I don't have anything bad to say about her.
At the Women Tell All, they were only going to show the drama.  They wouldn't show what I just told you. I know for a fact she really fell down the stairs.  I was standing at the top of the stairs and could see below me.  She really did fall.  She missed the third stair.  That really did happen.  She was completely knocked out!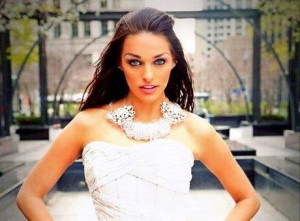 Is it intense living in the house?
You kind of forget that the cameras are there, but they are there.  When the season aired, a tweet that I tweeted a long time ago was leaked that said I didn't like the show.
Tell me about that tweet.
I watched the finale with my mom and I thought, "this is so stupid!"  Out of all seasons, only a few couples have lasted.  Not every girl in this house is going to fall in love with this guy.  My philosophy was to just enjoy my time.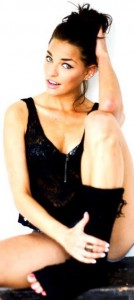 Do you think Sean and Catherine will last?
I think Sean is a little different from most of the previous bachelors.  I think he's a really genuine person.  I don't think fame is something that he's looking for.  His intentions were strong.  I think he's a Southern, classy guy.  There's no question about that.  Catherine is really funny, carefree, no drama type of girl.  I think it could work.  She wasn't like a Courtney who won and started drama and had problems with the girls.
You won the romance novel covers!  Have you received the books yet?
No!  I have another photo shoot [for another cover] this summer.  [The shoot] was a very long day, but it was fun.
Did you know Catherine was going to win the show?
I knew because of the spoilers.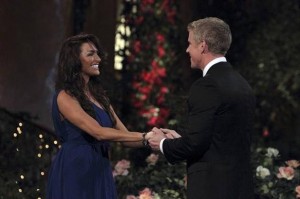 Do contestants read the spoilers?
I definitely did!  I wanted to know where they were traveling!  I had no idea after I left.  Reality Steve had everything to a tee!
Has the show opened up any future acting or modeling projects for you?
I'm kind of trying to sort all of that out.  I'm trying to figure out what kind of direction I want to go.  I've been so busy with my business.  I guess one day at a time.  I'm just hoping to just keep going and meet new people.
Follow Kristy!
Facebook:  https://www.facebook.com/ktwicelifechallenge?fref=ts
Twitter:  @KristyKaminski