Why did you decide to go on The Bachelor?
I never really watched The Bachelor, but I saw the last episode on Emily's season.  I saw Arie and Jef and I said, 'God, they are so cute!'  My best friend is a huge fan, and she said, 'they're always cute!  I've been telling you, you need to do The Bachelor!'  I had been single for about a year at that point, so I thought, why not?  I've fixed up three of my friends and it worked out for them.  So I thought maybe if somebody else fixed me up, it would be okay.  I thought, I would either get a vacation out of it, or a husband.
So you got a pretty nice vacation?  (laughs)
Yeah, it turned out to be a vacation.  (laughs)
What was your life like before The Bachelor?
My life was the same as it is now.  It was very adventurous.  I travel a lot.  I work with my sister and her husband.  We own a business.  We have a lot of freedom to do what we want.  So, we do a lot of traveling together with friends.  I'm very into fitness.  That's a huge part of my life.  I'm always at the gym.  It's an adventure.
What kind of business do you own?
I own a real estate business.  We flip homes.
When you were on the group date in Canada, do you think you were voted off because you refused to jump in Lake Louise?  
It seems that it wasn't because of that.  When he asked me why I didn't do it, I said my body couldn't handle something like that.  Instead of making a fool of myself, I just wanted to save everyone the headache and the trouble, and not do it.  And he said, 'when I told you to give it a chance, you said no.'  I said to him, 'listen, I'm not going to get peer pressured into something I know I can't handle.  When I say no, it's because I know I can't handle something like that.'  So he took that as me being somebody who doesn't compromise.  At least that's what he said in an article.  So I think at the end of the day, it was more him thinking I wasn't someone who could compromise.  But, to me, it wasn't like that at all.  I didn't want to be peer pressured into something I knew I couldn't do.
I definitely think that Sean was scared of women who called him out on anything or willing to stand up to him.  Anytime a girl called him out, or did say something to him that he knew he couldn't handle, he would automatically send them home.  I called him out on a couple of things which I knew was pissing him off.  Our connection was great.  We had a really good connection.  I think at the end of the day I was just too much for him.
Do you think you would've had that attraction to Sean if you weren't on a reality TV show?
No, not typically.  Sean's not someone I would typically date.  But again, that's what attracted me to him.  I needed to get away from guys I typically dated, because that never ended up working out for me!
What type of guys do you date?
I can't say I have a type, but I sort of date the really confident, manly men.  Which in the end  are not confident at all.  It's all just for show.
I would think Sean would be super confident.  He seems like he was on TV.
He wasn't raised to be the player type.  He's a very good, sweet, Southern boy.  I think he's shy when it comes to women.  It stops him from being too confident with women.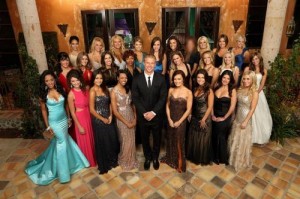 I know you come from a very strict family and you weren't able to kiss on TV.  Were your parents upset you even went on the show at all?
Yeah.  My mom wasn't very happy about it.  She thinks the show is sort of sleazy.  Sorry to say, but it kind of is.  It's one guy making out with 26 women.  To her, she's, 'Bleh!'  In reality, men probably do that anyway, but not being public about it.  She did think the show was a little bit crazy.  She was very upset that I did the show.  When she saw it and saw that I didn't do anything bad or embarrass her in our culture, she kind of forgave me and was over it.
What nationality are you?
I'm Iraqi and Lebanese.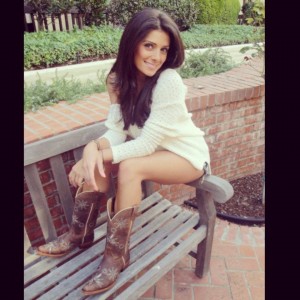 I know at first you were friendly with Tierra.  What changed in your friendship?  
It's not that we were ever friends.  It's just that I always tried to be friends with her and I tried to help her.  When Tierra came on the show and she showed me that she was so afraid of these women, and being apart of this experience, I really felt bad for her.  My heart went out to her.  I thought, if this was my little sister, what would I do?  I got along with all the girls.  I was the mother hen, I guess I can say.  I would always protect [Tierra] and tell people to leave her alone.  I tried to steer drama away from her.  As the season went on, she became more and more rude to me.  I had to keep trying harder with her.  I said to myself, 'why am I trying so hard with this girl when clearly she's flat-out being rude to me?'  She would pick and choose her moments when she wanted to be nice to me or give  me a dirty look.  It's so disrespectful to someone who's trying to be nice to her.  At the end of the day, I thought, I give up on you.  I don't even care.  I never caused drama with her or argued with her, we never got into a fight, I just started to ignore her.
What girls have you remained friends with?
On a daily basis, I actually talk to Lindsay, Diana, and then AshLee and Kacie B are also my girls.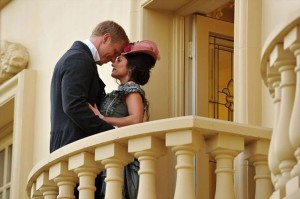 For the future, do you want to do any acting or modeling?
No acting, I'm no actress!  I wouldn't mind hosting something.  I wouldn't mind being back on television if life handed that to me.  But, I'm definitely not going after it.  If it came to me, I would do it, if not, I'm happy where I am in life.
What are your future plans?
My future plans are to continue to grow my business.  We've been doing it for four years and it's doing so good.  Hopefully, get married and have babies.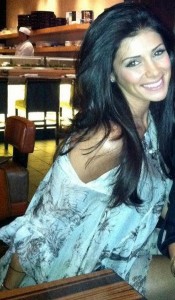 Have you found love after The Bachelor?
I have not found love, but I'm looking for love.
Follow Selma:
Twitter:  @SelmaAlameri
Facebook:  https://www.facebook.com/selmaalamerifanpage?fref=ts