What was your life like before going on The Bachelorette?
I was actually working for an entertainment company.  I also had a my own company called Making Memories Productions.  MMP is a party planning company where we set up the whole wedding for [customers] and we do the entertainment for them, as well.  I'm basically the MC.  When I was 16 I started dancing for this entertainment company and was a party motivator.  I got into hosting weddings.  I started doing weddings, talent shows, and hosting fashion events.  And then I started doing Bah Mitzvahs.  We started doing a lot of things like that.  In the summer, we would do a lot of weddings.  I've been doing this for 10 years, and I opened up my own entertainment company.  I also was a choreographer for a number of years.  I go to people's houses and teach them how to dance.  I also teach them a [specific] dance that they want to do at their event, like if they want to do an entrance or do a final dance.  So, that's what I've been doing since I was 16.
Since you were so busy, why did you decide to apply for The Bachelorette?
I actually didn't apply.  I had two girls actually thought it would be an interesting idea.  I've dated a couple of their friends and I've always been the flirt.  So they decided to nominate me.  They did it online.  I wound up getting an e-mail that said these two girls nominated me and one of them was the casting producers for The Bachelorette.  I thought it was a joke at first.  It turned out to be real.  They wanted to meet me in New York City for pictures.  I went to NYC and then they casted me in L.A.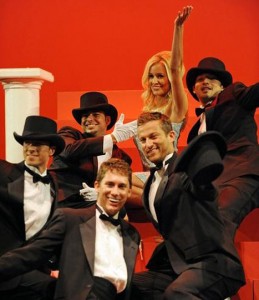 Tell me about the casting process.  
The casting weekend was three days.  We had to fill out [a lot] of paperwork.  There were psychological questions too.  I felt like I should be laying down for that.  (laughs)  
Is it intense living in the mansion?
Being in the mansion is a lot of fun.  It's weird because you get to know the guys a lot better than you get to know Emily.  You spend a lot of time with them.  You're in the mansion the whole part of the day.  When Emily is out on her date with another guy, or on a group date, either way you're either out with Emily or you're in the mansion.  We made everything a sport.  We even did the Limbo one time.  We played soccer outside.  We went to the pool a lot.  We had so much time to talk.  We learned a lot from each other because we were all people from different worlds and different personalities.  That was a lot of fun hanging out with the guys.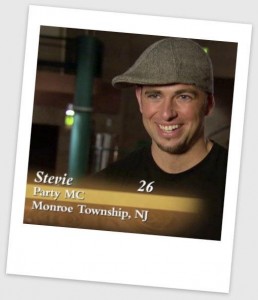 Emily seems like the all-around girl who every guy would want to date.  
Emily was really sweet.  She had that something that every guy looks for.  She has a personality that you just want to be around her and spend more time with her.
Is it awkward kissing on camera?  Do you hold back at all knowing a camera is watching you?
So here's the thing with that.  Kissing, I actually said to every guy on there, I would not do that.  There's 15 of us left, then it was down to 13.  I said, we have so much time, I've been kissing for 27 years, so has she.  It's not going to be perfect.  I don't have to kiss her to know if I like her or not.  But I know if I kiss her, the next guy is going to come in and he's going to kiss her.  I knew that wasn't realistic but the first time she kisses me, I want it to be the last time she kisses someone.  I said, that would be the only time I kiss her, if I'm the last one standing up here.
Once you have about 5-10 minutes on camera, you forget that they're there.  You still see them moving around, but you get used to it.  You really have to experience it to know how that is.  It's day in and day out.  You're in the mansion, you're waking up in the morning, you're at the pool, there are cameras all over the place.  There's actually people walking around with cameras.  You get used to it.  You stop monitoring what you say.  You try to monitor what you say, but then you really don't care anymore.  You really open up a lot.  After a few glasses of wine, you're more talkative and more free.  After the first day or two, everything lets loose.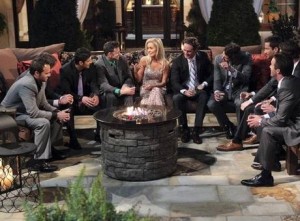 What happened with you and Kalon [McMahon]?  
Kalon and I did not like each other and we had it out.  And they took it and ran with it.
Were you happy that Sean became the bachelor?  
So happy.  I thought Sean was a stand up guy.  He's a great Christian.  He loves God, he has great morals, great family background.  He's saving himself for marriage.  He didn't kiss Emily right away when he could have.  He's a really good-looking, built guy.  He didn't have any cockiness what so ever.  Some guys were cocky.  They were built, they played sports, they act like they can get any girl.  But, Sean was a really cool, nice guy.  When he opened up, he really opened up.  He's very quiet.  You have to really talk to him for him to open up.  He was probably one of my best friends on the show.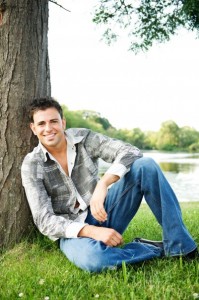 Do you still keep in touch with Sean and the other guys?
Some of them.  Some of them through social networks.  Besides that, not as much. Emily tweeted to someone that the DJ from Jersey with the boom box stole her heart.
What did you think of The Bachelor this season?
I have them all taped, but I haven't watched them yet.  It sounds like a pretty good season from what people are telling me.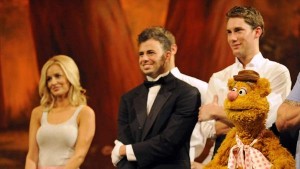 Did you find love after The Bachelorette?
I did!  There was a girl that I was interested in before the show.  I wanted to give Emily my full attention.  I told [my current girlfriend that] I was going on this show so I couldn't date her right now.  I really wanted to give Emily a lot.  When I got back, I asked her out on a date.  We went on a few dates, and we started dating from there.  I've definitely noticed that she will be the girl I will marry.  Yeah, I fell in love.
Follow Stevie!
Twitter:  @StevieBach8