I met author Brent Crawford, 37, at Lit Works, A Teen Read Workshop in Norridge, IL back in April.  It was my first time attending, and was really excited to meet fellow authors in the biz.  I sat in on Crawford's Q and A with students and was intrigued by his series of Carter books.  The Carter novels focus around a teenage boy trying to make it in the world of high school.
I never pass up an opportunity to network, so I approached Crawford afterwards and asked him a few questions.
Tell me about your childhood.  How did you become interested in writing?
Well, I'm from Kansas City, the burbs.  I wasn't a very good student.  But, I always liked writing.  I was intimidated by the rules.  That's what took a lot of the enjoyment out of it for me.  I went to a college for performing arts.
Like Carter, were you in football, swimming, a total sports guy growing up?
Yep.
How did you get into acting?
That was something I always liked to do.  The high school I went to was really big into it.  I took the classes, but I hadn't auditioned for a play until my junior year.  I loved it.  My senior year, I was still playing football and I quit football after that season and tried out for another play.  I was going to go to a traditional college, but I wasn't a very good student.  I was kind of assuming that I would fail.  My plan was to go for a year and a half to a regular school, and once it was obvious I was going to flunk out, I was going to go to L.A. and try to be an actor.  So my drama teacher was really influential, her name was Ms. McClatchy, (she's Ms. McDougle in the book) was like, 'that's the stupidest plan ever!'  She recommended I go audition for this [performing arts] school.  They were auditioning in Kansas City, and they offered me a spot. And I was like, what?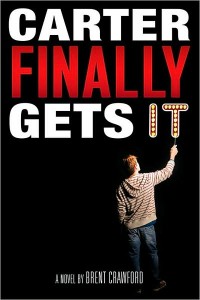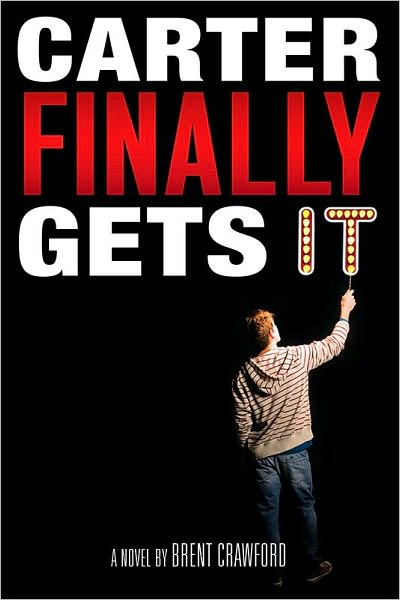 How is your life similar to Carter's?
I'd say about 85% of the book is true me.  The rest, is shaped and twisted a little bit to make it a readable narrative.
What were your favorite books growing up?
The Outsiders.  The first one made an impact.  It was cool and I liked that.  I didn't read for pleasure.  I read for assignments.  I started reading after college for pleasure, and I loved it.  And I thought, 'why didn't I ever do this?'
What sparked your idea for the Carter books?  
My sister is a reading specialist, and she said, why don't you write a book?  I thought, how will I do that?  She said, it's my job to recommend books for kids.  There's a lot of books for girls, but not that much for boys.  Can you just use stories from you and your dumb ass friends doing what you did?  I said, sure!  It was really my sister's idea.  I wrote about the first time a girl rejected me, which is the scene in the arcade.  That was just word for word what I was thinking and feeling when I asked a girl out for the first  time.  People thought that it was really funny.
When I wrote it, I kept thinking Carter and Amber Lee would eventually get together.  But then as I was writing it, I kept thinking, no she's a bitch!  I don't want to get together with her!  The Abby character kind of bubbled up from a girl that I knew and a bunch of girls in my life.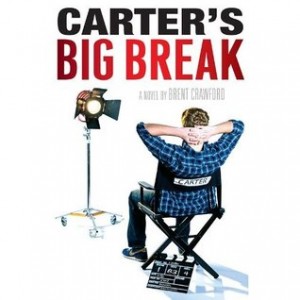 Who would you want to play Abby in a movie?
There was a show on Disney called Drake and Josh.  Did Josh have a sister?  [The actress is Miranda Cosgrove.]  I thought about her for Lynn or Abby.  But, the actors have to be kids.  Ideally, it would be a bunch of unknowns that are just really cool and talented.
Do you think the book will become a movie in the future?
I'd like to think so.  There was some talk of it, and some people wanted to option it, but it just didn't happen.  There's this window where it's going to happen, or not.  My hope for it is that it would be a TV series, a really honest TV series, maybe on HBO.  I would love to see it as a super honest high school experience.  Real language, real situations.  Fairly risqué.  That was my pitch for it.
Speaking of HBO, Sex and the City is my favorite show.  I almost died when I realized that you were the guy sitting on the couch with Cynthia Nixon.  [In the episode "The Post-It Always Sticks Twice".  Crawford plays Peter, a man Miranda meets while at a club called Bed.]  What was it like filming?
She's super fun and she's really nice.  They were all really nice.  I was only on the show for one day.  I originally auditioned for Smith Jerrod.  It was between me and  [Jason Lewis] and obviously I'm a different type than that guy.  Initially, [the role of Smith Jerrod] was going to be a hippy type.  They decided to go with [Lewis.]  He did a great job.  After that, they called me two weeks later [to play Peter.]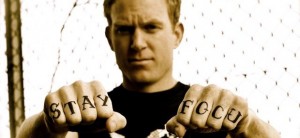 How did you get published?
I got an agent and she submitted my manuscript to a publishing company that originally rejected me.  Then they liked the first one, and asked for a second one, and asked for a third one.  Hopefully, I can do another Carter book someday.
Are you going to continue this series?  Are you working on anything else?
I'm working on a modern-day Oliver Twist.  It's about an artist kid who runs away to New York City.  He kind of falls into the graffiti crew.  It's much edgier too.  It's about art, friendship, and non traditional families.  It's a little darker.  I just submitted it yesterday to my agent.  Hopefully, it will go forward.  I don't know if it will or not.
Are you still an actor?
A little bit.  I live in Kansas City again because it's a much easier place to live and write.  It's much cheaper and there's a much more supportive art community here than there is in L.A. and New York.  I just shot a commercial the other day.  I still do a little bit, but it's not my main thing.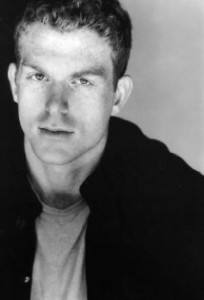 What advice would you give young people who want to be writers like you?
The bottom line is confidence in your abilities and what you have to say.  It's really easy to doubt yourself especially when people are saying no.  With Carter Finally Gets It, so many people said no to it.  If I had stopped at 150, it wouldn't be a book.  It's perseverance.  You want to believe it's something unique, and something people need or want.  It's just this inner confidence.  You kind of have to be an inner idiot and be willing to fail.  The willingness to fail– that's the sort of the thing that separates the pack.
To learn more about Brent Crawford, visit:
brent-crawford.com