Chocolate Avocado Pudding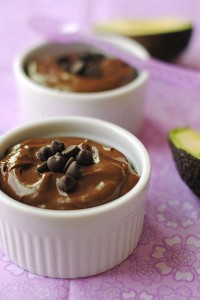 1 large ripe avocado, pitted and sliced
1/4 cup cacao powder
1/4 cup almond milk
1 tsp vanilla extract
1 tsp coconut oil
1 tbsp coconut butter
2 droppers chocolate stevia, plus more as desired
2 tsp xylitol sweetener
4 strawberries, sliced
1.  Combine the avocado, cacao powder, almond milk, vanilla, coconut oil, coconut butter, chocolate stevia and xylitol in a blender.  Blend on high for 1 minute or until smooth.  Add more chocolate stevia as desired.
2.  Place half of the strawberry slices in the bottom of two glass dessert bowls; top with the pudding.  Refrigerate for 30 minutes.
3.  Top chilled pudding with remaining strawberry slices and serve cold.  Serves 2.
Recipe:  UsWeekly