Sangria Recipe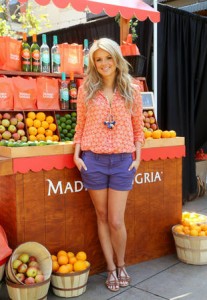 Madria Sangria Mexi-Coconut Paradise
The fruity flavors of Madria Sangria are both sweet and refreshing.
Ingredients:
3 oz Madria Sangria Moscato
1 oz coconut water
1 oz pineapple juice
1 oz orange juice
Preparation:
1. Combine Madria Sangria Moscato, coconut water, pineapple juice, and orange juice.
2. Pour over ice and garnish with pineapple and orange slices.
Yield
1 drink.
Source:  wetpaint.com