September is National Yoga Month, so grab a mat and let's go!
About Yoga
"The word yoga means 'unity' and is derived from the Sanskirt word 'yui' which means to join.  The goal of yoga is to join, balance and harmonize the body, mind and emotions."  Yoga helps you know your body even better with deep breathing and movements.  It also allows you to reflect and escape daily pressures.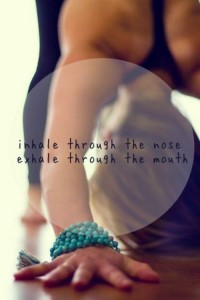 Benefits of Yoga:
Nervous System
Increases neurotransmitters
Stabilizes response of nervous system to stress
Reduces anxiety and tension
Emotions
 Brings a calmness
Generates an awareness of one's emotional being
Provides an inner strength and an ability to manage difficult situations with more confidence, clarity and grace
Immune System
Removes toxins
Balances and strengths the effectiveness of cells
Increases ability to fight infections
Stimulates glands and lymph nodes
Mind
Increases clarity and concentration
Helps memory
Increases intuition
increases self-awareness
Relaxation
Between that hour commute, deadlines, and driving the kids to soccer, the world in which we live in is extremely stressful.  When we slow down, we are able to enjoy the rewards of life.  Awakening your body to relaxation will open up your world!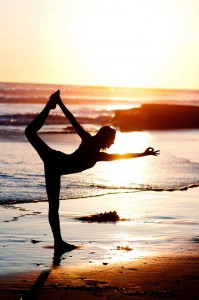 Yoga Warm Ups: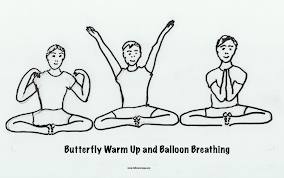 Butterfly Hands:
With hands interlocked, breathe in and watch your hands as they lift past your eyes and then upwards, lengthening your entire front torso.
Allow your eyes to follow the path of your hands as you breathe out, lowering your arms back down to your body.
Allow your arms to soften, hands still interlocked, before you repeat twice more.
Elephant:
Standing in Mountain posture, allow your body to drift downwards, folding from your hips-head, and arms relaxed.
Walk your legs out wider than your hips.  Take one hand into the other hand, holding gently.  Image your arms are the trunk of an elephant and, very slowly, move from hip to hip releasing tension from your body as you breathe evenly.
Release your arms as you return to centre.  Walk your legs back into alignment with your hips and then, pressing into your feet, move your body upwards one vertebrae at a time until your head is the last to life.
Other Poses: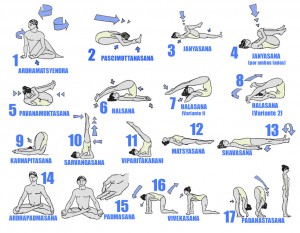 Source:  The Gift of Yoga by Gena Kenny