Hi Ryan!  Can you tell me about your childhood and where you grew up?
I grew up in Southern California.  I'm a twin.  I'm 8 minutes older than my brother.  My parents divorced when I was very young, but I had both parents around.  My uncle fought Sugar Ray Leonard.  My dad is a hockey player.  I grew up in a really athletic household from a very young age.
Why did you decide to pursue a career in journalism and not sports?
I played hockey, I played football.  I played until I got into college.  I went to the University of Colorado.  I played football there with my twin brother.  I wasn't good enough to play in the NFL.  My brother got drafted professionally.  I thought if I can't make it to the pros, the next best thing is to be a sportscaster.  The first 11 years of my career I did sports.  I really enjoyed it but at the same time I always eventually wanted to make the transition into entertainment.
Where did that interest come from?
I'm not sure.  I think I always liked the entertainment shows.  There was something so chic and fascinating about Hollywood to me.  At one point I wanted to be an actor.  I studied theater in college.  It's a rare mix to be a jock and take theater classes.  I always enjoyed both.  As for reporting, it's impossible to start your career in entertainment.  Nobody really does.  Everybody kind of takes a different route and works their way up.  I enjoyed being a sportscaster but I felt like there's only so many baseball games and football games.  There's only so many stadiums you can see.  Eventually you want to challenge yourself.  In entertainment, you meet people from all walks of life.  In the past week, I've gone from interviewing Marc Anthony, to Michael Buble, to Joseph Gordon Levitt.  I mean, it's a pretty wide range.  The pond is always stocked with someone with a different talent or incredible gift.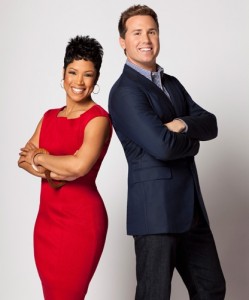 What has been your best interview?
My best interview– I did get to hang out with Jenny McCarthy once!  (laughs)
Well you did get to kiss her!
Yeah! (laughs) I really admire Jimmy Kimmel.  I really admire his sense of humor and wit.  When he came on the show it was easy to see why he has his own late night talk show, which is an incredible dream job.  He's very talented.  Mike Tyson is one of my favorite interviews because he's so honest.  He's so forthcoming with his past.  He was really, really likable.  He was a very sweet guy, which sounds funny to say.
Do you see yourself moving to LA and working for E! News or something like that?
I really love Chicago.  I love the show I get to do.  Our show in a lot of ways, it's very unique.  Chicago hasn't had an entertainment show in 25 years.  Even when Oprah did her show, it was different.  Right now, I really like where our show is at.  We have an unique opportunity to do something that hasn't been done here and become a staple in Chicago.  I'm proud of that!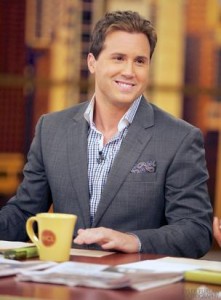 Did you have to audition for Windy City Live?  Did you have to read lines with Val?
I was working as a sportscaster at ABC7.  I had to audition and there were hundreds of people that wanted this job.  Because I had to cover Bears practice, they would get my audition out of the way first.  I would go in the office around 7:30 or 8:00 a.m. and do five auditions and do an 8-minute set.  There was a lot of ad-libbing and talking about current events and talking about pop culture.  This was to see how you vibed with the other person and how you carried yourself on camera.  They kept calling to do another round of auditions.  This went on for a while.  [Auditions began] in October and it wasn't until February [that auditions were finished].  My phone rang [at Spring training] and it was my general manager.  She asked me if I had a second to talk in confidence.  I stepped outside and she offered me the job.
How do you deal with criticism and jealousy?
I don't have a Google alert on my phone.  There's going to be really good press and there's going to be critics.  You can't get too high when you read the positive, and you can't believe all the negative.  You can't do this job for a living if you don't have thick skin.  Over the course of your career, there's going to be things written about you.  When I got my first negative e-mail when I was young sportscaster, it was detrimental.  It's hard to not read things online.
What has been your best moment on Windy City Live?
Besides the fact that we're still on, (laughs) I would say when my staff surprised me by flying my mother in on Mother's Day.  I've never been choked up on the air in my life.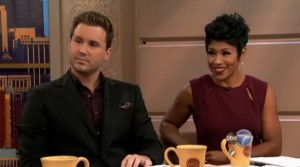 Are you close with your family?  Do you get to see them a lot?
When I did sports, I only saw my family maybe twice a year and I worked 11 straight Christmases in a row.  With this job, I have weekends off and have some down time in the summer.  I really get to see my family on the west coat, and they come to Chicago.  They love it here.  I tried to convince them to move here, but they're not too keen on winter. (laughs)
Are you Italian?
My dad is full-blood Italian.  My dad sings in Italian.  My family is from Abruzzi.
Is that Northern Italian?  
I believe it's in the middle, from what I've been told.  I was planning a trip to Italy and it had to get canceled because of our show.  I'm planning a trip next summer.  I told my friends, I'm going.  Whether my friends want to go or not, I'm going!  I know someone will jump on board.
To be on camera, how do you stay in shape?  
I was an athlete, and I like to work out.  You're definitely more aware of your weight and your looks because you're on camera.  The camera really does add 10 pounds, but I swear it's 15!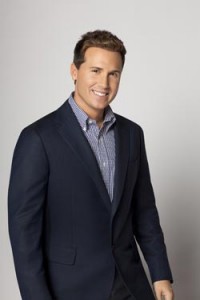 Ryan's Guide to Chicago:  
What's your favorite sports team?
I'm all Chicago.  I think the Hawks are my favorite team.  I would say the Bears and the Hawks.
What do you like to do in the Fall in Chicago?
I'm going to rejoin my men's hockey league.
Favorite Pizza:  Giordano's.  I go to the one on Rush Street
Favorite Pasta:  Ignotz.
Favorite Dessert:  I don't have a huge sweet tooth!  When I am going to splurge I like any place with a hot fudge brownie sundae.
Favorite Date Spot: Typically somewhere in River North.  In the summer, any place that has a balcony or roof top and I love live music.  Live music in the city is probably my favorite hobby.  I'm a musician too.