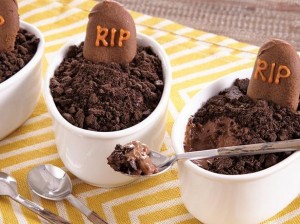 Ingredients:  
1 box chocolate pudding and pie filling mix (not instant)
2 1/2 cups milk
1 teaspoon instant espresso coffee powder or granules
1 teaspoon vanilla
1/2 cup bittersweet or semisweet chocolate chips
Betty Crocker Decorating Cooking Icing orange icing
6 chocolate cookies with vanilla creme centers
8 thin chocolate wafer cookies, crushed
Directions:
In 2-quart saucepan, stir together pudding mix, milk and coffee powder. Cook 5 minutes over medium heat, stirring frequently, until mixture boils and thickens. Remove from heat; stir in vanilla and chocolate chips with whisk until chocolate chips are melted. Divide mixture among 6 (4-oz) ramekins or custard cups. Cover with plastic wrap; refrigerate 2 hours.
With cookie icing, write RIP on each chocolate cookie for tombstone.
Just before serving, sprinkle tops of puddings with crushed wafer cookies; insert 1 tombstone cookie in each.
Source:  bettycrocker.com