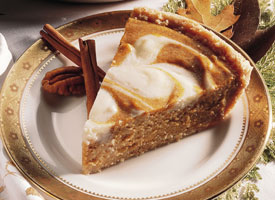 Graham Cracker Crust
1 cup packaged graham cracker crumbs
1/4 cup butter or regular margarine, melted
Pumpkin-Cheese Filling
4 pkg soft cream cheese
3/4 cup sugar
1 1/2 tablespoons flour
3/4 teaspoon grated lemon peel
3/4 teaspoon grated orange peel
1/4 teaspoon vanilla extract
2 eggs
2 egg yolks
1 cup canned or cooked pumpkin
Sour Cream Topping
1 1/2 cups dairy sour cream
2 tablespoons sugar
1/2 teaspoon vanilla extract
Make Graham Cracker Crust:  In Medium bowl, with fork, lightly toss crumbs with butter, to mix well.  With back of metal spoon, press to bottom and sides (not rim) of 9-inch pie plate.  Refrigerate.
Preheat oven to 350F
Make Pumpkin-Cheese Filling:  In large bowl of electric mixer, combine cheese, 3/4 cup sugar, flour, peels, 1/4 teaspoon vanilla, eggs, egg yolks, and pumpkin; beat at medium speed until smooth.
Turn into crust.  Bake 35 to 40 minutes, or until center or pie seems firm when pie is gently shaken.
Meanwhile, make Sour Cream Topping:  In small bowl, combine sour cream with sugar and vanilla; mix well.
Spread topping evenly over pie.  Bake 10 minutes longer.
Let pie cool completely on wire rack– about 1 hour.
Refrigerate, overnight.
Makes 8 servings!
Recipe:  McCall's Great American Recipe Card Collection