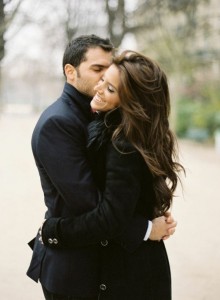 It was the day before Christmas Eve, and I was doing my Christmas shopping at Macy's in downtown Chicago.  Talk about last minute!  My arms ached from carrying around all of my packages and bags.  I had finally finished after a whopping nine hours of shopping.  I vowed to never wait until last minute again!  Macy's was going to be closing soon.
As I passed the men's shoe department on my way out of the store, I spotted the most gorgeous man I've ever seen in my life.  The first thing I thought of was that he resembled John F. Kennedy, Jr.  He had thick, dark hair, dark eyes, a sexy smile, and an amazing body.  He was also dressed to the nines.  I was completely drooling!  I tried not to stare, but I couldn't help it!  He looked up from the shoe he had in his hands and noticed me starring at him.  I quickly pulled my eyes away and briskly began walking away.  Talk about embarrassing myself!  I got on the nearest escalator to get to the first floor.  I noticed he was riding the escalator right behind me.
 "Excuse me, miss," he said.  I tried to act casual.
"Yes?"
"Would you like me to help you with your bags?"  My heart nearly exploded.
"Sure, that would be great," I replied.
When we got off the escalator, I handed him some of my bags.
"Geez, you must be shopping for an army," he laughed.  "Your boyfriend must be one lucky guy."
"I don't have a boyfriend," I said quickly.  Was this reality?
The sexy mystery man helped me bring my bags to my car.  After it was loaded up, I thanked him.
"I know it's getting kind of late," he said.  "But would you like to grab a cup of coffee?"  Yes, yes, yes, I would!
We walked to a Starbucks, ordered coffees and decided to look at the Christmas lights around downtown.  We walked around and talked for what seemed like hours.  The cold weather, the coffee, the lights, the city, was just all so romantic.
Coincidentally, he told me his name was John.  John was 35, single, never married, lived downtown, and owned his own business.  I told him my name was Melissa, I was 33, never married, single, and worked in public relations.  I, on the other hand, lived in the suburbs.
By the time John walked me back to my car, snow began to fall.
"I need to see you again, Melissa," he said.  "The sooner, the better."
John took my face in his hands.  His thumb brushed my lips, sending chills down my spine.  He leaned into me, kissing me passionately.  I wrapped my arms around his neck, taking him in.  The smell of his cologne danced around me leaving me dizzy.  He pulled away leaving me breathless.
"How about dinner, tomorrow night?"  I asked, trying to collect my thoughts.
"Melissa, tomorrow is Christmas Eve," he said.
"I don't want to wait…" I said.  "To see you."
"We will see each other on December 26," he said brushing my cheek.  "After our Christmas and family obligations are over."
John and I exchanged phone numbers, and decided to get dinner the day after Christmas.  I gave him the address to my apartment because he wanted to pick me up.  I know giving my information to a man I just met wasn't exactly safe, but for some reason I trusted him.
I got into my car and drove home.  I could't even keep my mind on the road!  Visions of John and his sexiness danced in my head.  When I finally did get home, I brought all of my gifts into my apartment.  I made myself a cup of hot chocolate, put on a Christmas special on TV, and began to wrap my presents.
My cell phone began to ring.  It was John.
"I can't stop thinking about you," he said.
"I can't stop thinking of you," I said.
"What do you do for Christmas Eve and Christmas Day?" he asked.  I explained to him that for Christmas Eve my mom has a big party, and Christmas Day my cousin and her husband have a party.
"I won't tell anyone about you, yet," I said.  "You'll be my little secret."  That made John laugh.  John said he celebrated Christmas with his parents and extended family that live out in Naperville.
After getting off the phone with John, (which lasted another 45 minutes,) I put all of my gifts under my tree, and snuggled in my bed.
The next morning I woke up and looked out my window.  The snow was coming down in heaps, turning every nook and cranny a glittery, powdery, white.  Maybe it was because I was groggy from sleep, but I could have sworn that I saw John outside.  I rubbed my eyes.
John was outside my apartment with a dozen red roses.  He was smiling at me.  I put on my boots and coat and dashed outside.  I ran into his arms and we kissed passionately in the snow.
"I couldn't stand being away from you for another two days," he said.
John came inside and we made a big breakfast of eggs, bacon, toast, and drank mimosas.
We clinked our glasses together and kissed.
"Merry Christmas," he said.  "Here's to many more Christmases."