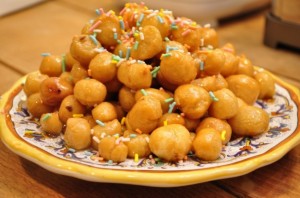 4 cups all-purpose flour
8 eggs
2 egg yolks
Pinch of salt
4 tablespoons softened butter
Grated rind of 1/2 lemon
Grated rind of 1/2 orange
Oil for frying
3/4 cup honey
4 tablespoons sugar
3/4 cup diced candied orange peel (optional)
Multi-colored candy shots for decoration
Sift the flour into a bowl.  Make a well in the middle and add the whole eggs and the grated lemon and orange rind.  Mix to a smooth dough, knead thoroughly and leave to rest for one hour, covered with a damp cloth.
Heat plenty of oil in a deep pan.  Break off pieces of the dough, roll into ropes roughly 1/2- inch thick and then break off pieces 1/4-inch long.  In other words, make small pieces of dough 1/2- inch thick by 1/4-inch long.  When the oil is very hot, add the pieces of dough a few at a time and fry them until golden.  Drain on paper towels.
Put the honey, sugar, and a few tablespoons of water into a pan, bring to a boil and simmer until the foam disappears and the mixture is yellow and clear.  Lower the heat and immerse the struffoli in the mixture.  Stir quickly and pour onto a round plate.  Wet your hands with cold water and quickly shape the struffoli into a ring or a round dome.  Sprinkle with the colored candies and optional orange peel.  Serve after several hours or, better yet, the next day.  Struffoli will keep for a week or more if carefully wrapped in a wax paper or foil.
Recipe:  Fra Noi