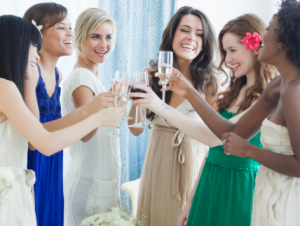 Were you feeling bummed that you had to ring in 2014 alone?  Have no fear, because being single in 2014 will be freakin' awesome!
1.  You Refuse to Settle
If you haven't met the man of your dreams, why should you settle for some loser?  Everything happens for a reason.
2.  Live the Life You Want
Do you want to spend your summer days at the pool?  The library?  Take that art class?  Eat chocolates on the couch while watching Girls?  Of course you do!  When you're unattached, you can do whatever you want, when you want!  You don't have to collaborate with anyone else's schedule.
3.  You Can Text Any Guy You Want
Do you want to grab lunch with an old guy friend from high school or send a flirty text to a co-worker?  If you're single, you can do all of that and more.
4.  Real Life Love is Not Like the Movies
If you're a lover of literature and film (like me!) you're failed for relationships.  Watching or reading about beautiful love stories, stolen kisses, and star-crossed lovers we begin to believe that our relationships will be whirl-wind romances.  The truth is, real love is nothing like the movies.  Being in love isn't as much fun as it looks in flicks like The Notebook and Titanic.  After a while, your "romance" becomes ordering Chinese food and watching Modern Family reruns.  That doesn't sound too fun to us!
5.  Divorce, Divorce, Divorce
Most of your girlfriends in relationships will be divorced 15 years down the road.  I know this sounds morbid, but it's the sad truth.  Taking your time to find the right guy will be well worth it in the future.
6.  The Dreaded Mother-in-Law
No boyfriend, no in-laws!  Enjoy it, girlfriend!
7.  Some of the Most Kick-Ass Women are Single!
Carrie Bradshaw didn't make her mark on the world by being a committed house wife.  She went out there and lived her dream!  Sandra Bullock is single– case and point!
8.  You Have Time To Work on You
Do you want to work your way up the corporate latter?  If you do, then a relationship could tie you down.  By remaining single, you have time to breath and accomplish everything YOU want.  We have our whole lives to be married– let's take this time to LIVE!
Source:  Glamour.com