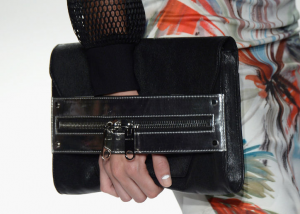 After a long, exhausting winter, Chicagoans are more than ready for spring!  So with spring, comes all new fashions and trends.  So why not change our nails for spring?  According to Glamour.com, there were several new nail trends rocking the red carpet at fashion week.  Let's let those nails shine!
French Mani with a Twist

A classic French manicure always consists of horizontal lines.  The modern French manicure is with diagonal lines.  Let's be bold and daring and try it!
Half Moon

The half moon trend has been popular since 2010, but in 2014 it was huge on the red carpet.  Just a simple "moon" on your nail gives it a dressy look, even with a little bit of polish.
3D Nails

Hello Kitty, anyone?  3D nail add-ons have become really popular within the last year.  Girls are opting for all different designs such as bows, flowers, or rhinestones.
Subtle Ombre

Zac Posen used ombre nails this season, and we fell in love with them all over again.
Sparkle On

Too much glitter on the nail can be overwhelming, so this season designers used hints of glitter on the models.  Most of them wore it on the edges of the models' nails.
Stay Sheer

"Open the bottle up and look at the brush," Julie Kandalec from Essie said.  "If you can see the bristle through the polish, it's sheer."
Source:  glamour.com