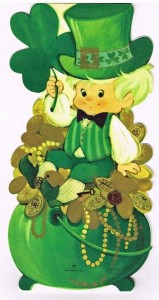 It's almost March 17!  People all over the world celebrate St. Patrick's Day.  This day is to honor the patron saint of Ireland.  In Chicago, we dye the river green, have parades, and enjoy some adult beverages. 

But, who was St. Patrick?  Born in Britain during the 4th century St. Patrick was kidnapped and enslaved by Irish raiders when he was a teen.  He later became a priest in Britain.  He returned to Ireland as a missionary, so he could spread Christianity.
Irish folklore said that he used the shamrock to explain the Christian concept of the Trinity to the Irish.  During his time in Ireland, he baptized and converted several people to Christianity and established monasteries, churches, and schools.  He died on March 17th.
Today, people around the world celebrate St. Patrick's Day.  It first was celebrated in 1737 when Irish immigrants came to Boston.  The Irish government promotes tourism by having celebrations around Ireland on March 17.
Source:  spoonful.com