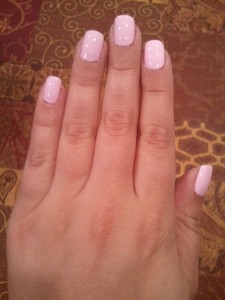 A no chip mani can add up, and a weekly manicure can get pricey.  So how can we make our own manicures last?  According to Jin Soon Choi for Glamour Magazine, there are a few things we can do:
1.  Don't Soak Your Hands
If you let you hands soak in water, this may reduce the chance of your polish sticking to your nails.  Instead, use a remover-soaked pad.
2.  Base Coat
Use a strong base coat such as Jin Soon Power Coat, $18.
3.  Topcoat
Finish off your mani with a great top coat.  Choi recommends a gel topcoat.
4.  Easy On the Edges
After using a topcoat, run the brush along the edges of your nails.  This prevents chips.  Your thumb and your index finger tend to chip the fastest, so apply more to those fingers.
5.  Be Kind to Your Cuticles
Moisturize your cuticles whenever you have a chance.  If it's convenient, keep a bottle in your purse.  Choi recommends Orly Argan Cuticle Oil Drops, $15.