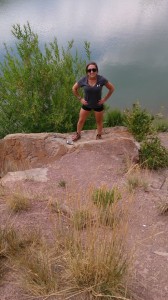 Chair Dips
Hands-down, these are the best moves I know to work the entire backs of my arms. Confession: I have done them in airports to burn off nervous travel energy, at home to prep for a no-good phone call, and once in my cubicle. (Chair had wheels: Bad scene.)
Do it:
Sit on the edge of the chair with your feet together.
Place your hands on the seat on either side of your thighs and keep your feet flat on the floor.
Bend your elbows 90 degrees and lower yourself toward the floor.
Straighten your arms, raising your body back to the start position.
Do 8 reps.
***
The Cobra    
If you carry your stress between your shoulder blades like I do, this move may feel tweaky and, well, unpleasant for the first two reps or so. By the fifth, though, I always feel wrung out — and by the 10th, the space between my shoulder blades feels wide open (and I'm less snarly).
Do it:
Lie facedown on the floor with your palms near your chest.
Lift your head, shoulders, and chest off the floor, pulling your shoulder blades down and together. Stay here for two counts and then lower down.
Repeat 8-10 times. (Need more? Try lifting your thighs and hips off the floor.)
***
Forearm Plank    
I do a set of these between every other machine on the circuit (and, um, while waiting for my super-slow podcasts to download at home).
Do it:
Get into a push-up position.
With your weight on your forearms and toes, align your elbows on the floor under your shoulders.
Make a straight line from your head to your heels, then hold this position for 20 seconds while breathing gently.
Rest for 30 seconds by placing your knees on the floor.
Repeat 3 times, working your way up to a total of 6 reps.
Exercises Taken From:  fitnessmagazine.com
*
Emme Readers Like Working Out To:
1.  Dance/ Techno Music
2.  Top 40
3.  Rap
4.  Rock
5.  Disco