Deerfield
June 22, 2013
In the summer of 2010, my friend Sarah and I went out to celebrate the Blackhawks winning the playoffs.  We went to a bar and spotted Eric and his friend.  Sarah immediately summoned them over.
At first I thought Eric was too young for me– I was 28 and he was 23!  But, I went on a date with him.  We had our first date at a bar/ restaurant near my house.  I knew something was special when Eric and I sat there talking for what seemed like hours after dinner.  I knew Eric was the one when he came with me to my brother's wedding.  I really enjoyed having him there and wanted him to be around more often.
Eric tricked me into thinking we were going engagement ring shopping.  Before we left, he proposed to me in my apartment.  After that, he had a full day filled with a couples massage, lunch, and an engagement party to celebrate.  Talk about a great guy!
The negatives to planning a wedding is trying to make everyone happy.  It can be financially stressful and everyone has their own idea of what they want.  The positives is trying to have fun with it and planning your special day.
My advice for young women is to have fun now.  Being single is just as much fun as being in a relationship.  You will meet somebody when you're ready.  Meeting the wrong person is a bad idea!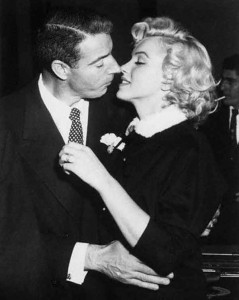 Abby and Jon
Forest Park
May 29, 2011
I met Jon when I was 19 at Northern Illinois University.  For our first date, we went to Johnny's Steakhouse in DeKalb.  We've been together ever since!
I knew Jon was the one when he came with me to my uncle's house for Passover.  On the way to my uncle's house, Jon got really sick.  He had a horrible migraine.  When we finally got to my uncle's house, he fell asleep in my aunt's bed.  I was taking care of him and going in to check on him.  It was then I knew that he was the one and that I loved him.
On my 24th birthday, we went out to dinner to my favorite restaurant.  On the dessert menu it read, "Abby, will you marry me?"  I was floored!
When planning my wedding, I loved being with my family to prep for my special day.  Of course, sometimes you feel like you're walking on eggshells to make everyone happy.
My biggest advice to young girls on their wedding day is to just enjoy it.  It poured on my wedding, but I didn't let that bother me.  I'm Irish, and for Irish-Americans rain is a blessing!  The reception goes by so fast, so have fun!
My husband and I have a wonderful bond.  This past year I had surgery, and he was there for me everyday.  He's an amazing and wonderful guy, and I'm so lucky to have him!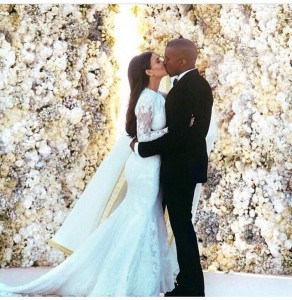 Rosanna and Giuseppe
Addison
December 5, 2009
I met Giuseppe at a club through his best friend and DJ partner, Jojo.  Our first date was opening weekend at Millennium Park.
After we started dating, he went to Italy.  He called me everyday, sent me e-mails, and bought me gifts.  I broke it off because he scared me away!  He wrote me an e-mail saying how upset he was and that he wanted to write me off.  Of course, that's when I knew I wanted to be with him. 

  That's when we got back together for good.
One night, Giuseppe and I were planning on going downtown with friends.  We were out to dinner, and Giuseppe told me we had to go back to his house to find his ID.  He led me upstairs, and to my surprise, it was filled with candles.  He got down on one knee and proposed!  All of our friends and family were in the back yard!
The most amazing part about having a wedding is having one elaborate day you will never forget.  We both have huge Italian families, so it was hard trying to make everyone happy.  The truth is, you can't make Italians happy.  (hehe)
Single girls, do NOT forget about the nice guys!  Those are the guys you want to be with.  Giuseppe was so nice that I freaked out, but I thank God that I stayed with him.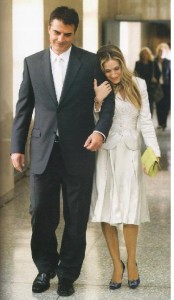 Francesca and Philip
October 5, 2013
Bloomingdale
Philip and I met at an Italian fest.  I was working a snow cone machine, and Philip was there with his brother, Joey.  I already knew Joey, but didn't know he had an attractive brother!  About a month later, Philip sent me a friend request on Facebook.  From there, we started talking.  Our first date was to Starbucks at the Streets of Woodfield.  Our next date was at the Museum of Science and Industry.
Six months later, it was Easter.  After Mass, we went to Casa Italia where he proposed.  The rest of the day was spent with family and friends celebrating Easter and our engagement!
Planning a wedding is a lot of work, but the outcome is getting to marry someone you love.  If you're a control freak like me, you want everything to be perfect.
I always tell my sister, who's single, that the right guy will come along.  The right guy will want to be with you, and they will make time for you.  I promise!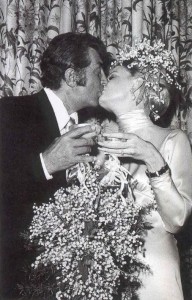 Stephanie and Scott
September 8, 2012
Rosemont
Scott and I went to high school together.  My sophomore year, he asked me to go roller skating.  However, I didn't start liking him until two weeks after our high school graduation.  We went to Great America and he kissed me on the carousel.  We started going out and broke up due to the distance of our universities.  But, on my 21st birthday, Scott was there and told me he never stopped loving me.  We've been together ever since!
On my 25th birthday, Scott planned a surprise party for me.  About 75 of our family and friends were there.  A singing group called Suspended was there from Illinois Wesleyan.  Scott started singing "Bless the Broken Road" with them.  At the end of the song, he got down on one knee and proposed!  It was magical!
Of course, weddings are a lot of money, and a lot of stress.  But, it's exciting visiting places and trying some new things during planning.  Scott actually did most of the planning!
One thing I've noticed about relationships is just to roll with it.  Don't force anything to happen and don't be so focused on it.  If you put that much stress on yourself, it won't happen.  You have to be open minded with your future boyfriend.  Sometimes the person you didn't imagine ending up with becomes the one!