The Silkworm
Robert Galbraith
(J.K. Rowling)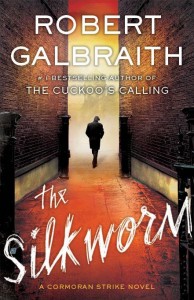 "Private investigator Cormoran Strike returns in a new mystery from Robert Galbraith, author of the #1 international bestseller The Cuckoo's Calling. When novelist Owen Quine goes missing, his wife calls in private detective Cormoran Strike. At first, Mrs. Quine just thinks her husband has gone off by himself for a few days–as he has done before–and she wants Strike to find him and bring him home. But as Strike investigates, it becomes clear that there is more to Quine's disappearance than his wife realizes. The novelist has just completed a manuscript featuring poisonous pen-portraits of almost everyone he knows. If the novel were to be published, it would ruin lives–meaning that there are a lot of people who might want him silenced. When Quine is found brutally murdered under bizarre circumstances, it becomes a race against time to understand the motivation of a ruthless killer, a killer unlike any Strike has encountered before… A compulsively readable crime novel with twists at every turn, THE SILKWORM is the second in the highly acclaimed series featuring Cormoran Strike and his determined young assistant, Robin Ellacott."
***
Insurgency
Kurt Schuett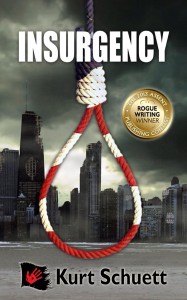 "OCD afflicted Alan, a Generation-X do-gooder turned serial killer, is the only thing standing between the President and his assassination at the G20 Summit."
***
All Fall Down
Jennifer Weiner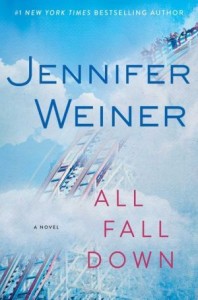 "Allison Weiss is a typical working mother, trying to balance a business, aging parents, a demanding daughter, and a marriage. But when the website she develops takes off, she finds herself challenged to the point of being completely overwhelmed. Her husband's becoming distant, her daughter's acting spoiled, her father is dealing with early Alzheimer's, and her mother's barely dealing at all. As she struggles to hold her home and work life together, and meet all of the needs of the people around her, Allison finds that the painkillers she was prescribed for a back injury help her deal with more than just physical discomfort—they help her feel calm and get her through her increasingly hectic days. Sure, she worries a bit that the bottles seem to empty a bit faster each week, but it's not like she's some Hollywood starlet partying all night, or a homeless person who's lost everything. It's not as if she has an actual problem.
However, when Allison's use gets to the point that she can no longer control—or hide—it, she ends up in a world she never thought she'd experience outside of a movie theater: rehab. Amid the teenage heroin addicts, the alcoholic grandmothers, the barely-trained "recovery coaches," and the counselors who seem to believe that one mode of recovery fits all, Allison struggles to get her life back on track, even as she's convincing herself that she's not as bad off as the women around her.
With a sparkling comedic touch and tender, true-to-life characterizations, All Fall Down is a tale of empowerment and redemption and Jennifer Weiner's richest, most absorbing and timely story yet."
***
Mr. Mercedes
Stephen King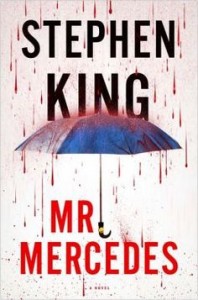 "In a mega-stakes, high-suspense race against time, three of the most unlikely and winning heroes Stephen King has ever created try to stop a lone killer from blowing up thousands."
***
The Truth About Alice
Jennifer Mathieu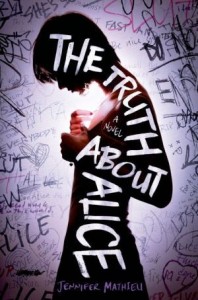 "Everyone has a lot to say about Alice Franklin, and it's stopped mattering whether it's true. The rumors started at a party when Alice supposedly had sex with two guys in one night. When school starts everyone almost forgets about Alice until one of those guys, super-popular Brandon, dies in a car wreck that was allegedly all Alice's fault. Now the only friend she has is a boy who may be the only other person who knows the truth, but is too afraid to admit it. Told from the perspectives of popular girl Elaine, football star Josh, former outcast Kelsie, and shy genius Kurt, we see how everyone has a motive to bring – and keep – Alice down."
***
The Matchmaker
Elin Hilderbrand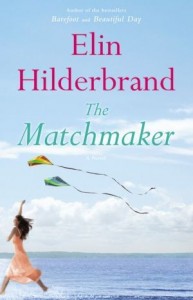 "A touching new novel from Elin Hilderbrand in which a dying woman sets out to find love for those closest to her – before it's too late."
***
Lies My Girlfriend Told Me
Julie Anne Peters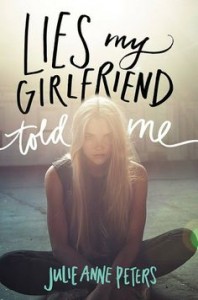 "When Alix's charismatic girlfriend, Swanee, dies from sudden cardiac arrest, Alix is overcome with despair. As she searches Swanee's room for mementos of their relationship, she finds Swanee's cell phone, pinging with dozens of texts sent from a mysterious contact, L.T. The most recent text reads: "Please tell me what I did. Please, Swan. Te amo. I love you."
Shocked and betrayed, Alix learns that Swanee has been leading a double life–secretly dating a girl named Liana the entire time she's been with Alix. Alix texts Liana from Swanee's phone, pretending to be Swanee in order to gather information before finally meeting face-to-face to break the news.
Brought together by Swanee's lies, Alix and Liana become closer than they'd thought possible. But Alix is still hiding the truth from Liana. Alix knows what it feels like to be lied to–but will coming clean to Liana mean losing her, too?"
Reviews by Goodreads