My little cousin is getting married!  Her bachelorette party was held this past weekend in downtown Chicago.  I helped make the favors and games.  Hope you can use my ideas to make your bachelorette party just as special!
Favors:
I purchased red nail polish and decorated them with red ribbon and rhinestones.  I then used a tag and wrote 'Let's paint the town red!'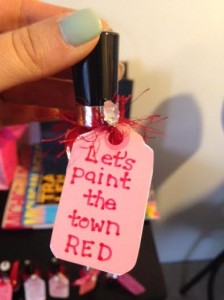 Games:
Game 1:  Wrap the Chocolate
What you will need:  Condoms and Hersey's Chocolate Bars
Depending on how many girls are at your bachelorette party, each girl can have their own chocolate bar, or you can break the girls into teams.  Whoever can put the condom on the square chocolate bar the fastest without breaking it, wins.
Game 2:  Panty Party
What you will need:  A gift bag and panties
Have each girl purchase a pair of panties for the bride.  Put all of the panties in a gift bag, and have the bride guess which panty belongs to who.  If the bride guesses wrong, she takes  shot.  At the end of the game, the bride keeps all of the panties.
Game 3:  Kiss His Pecker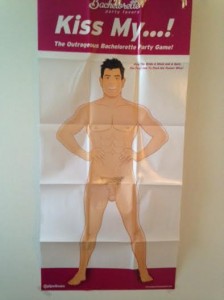 What you will need:  A poster of a naked guy (Hehe)
Remember pin the tail on the donkey?  Well, this is kind of like that!  Have each girl put on lipstick and try to kiss his pecker!  Whoever kisses the closest wins.
Game 4:  How well do you know the bride?
What you will need:  Paper
On computer paper, type up questions about the bride.  Pass them out to the girls at the bachelorette party and have them answer the questions.  Whoever gets the most right, wins.  Here were Emme's questions:
Who was her first kiss?

What is her favorite drink?

What is her hangover cure?

What is her biggest pet peeve?

What type of athlete would she date?

What is her favorite feature on her body?

What is her shoe size?

What is her favorite movie?

What month did she meet the groom?

What is her favorite restaurant?

What's her favorite TV show?

What's her favorite nail polish color?

What was her major in college?

What would her superpower be?

What's her favorite store?

What's her favorite dessert?
Game 4:  Crazy Things To Do On the Town
What you will need:  Pieces of paper
Write down and pass out crazy things for each girl at the bachelorette party to do that night on the town.  Here are a few suggestions:
Hug a bald man
Use a pick up line on a stranger
Score the group a round of shots
Twerk!
Find a cute guy and ask him to practice walking down the aisle with you
Announce who's getting married on a chair