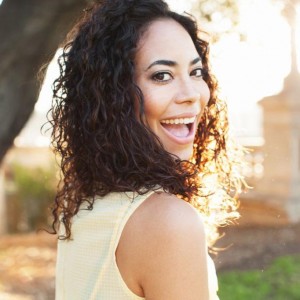 (Emme called Leslie from Iowa)
Leslie:  Hi!  How are you?  I'm just sitting here in a cornfield.  (laughs)
Emme:  That's amazing.  How did you end up in L.A. if you're from Iowa?
I'm from Iowa originally.  I grew up between here and Tampa, Fla.  I went to school there.  I got involved in modeling in Fla.  That led to Dillard's and different jobs in Fla.  I started doing commercials and I lived in Miami for two years.  I started doing TV shows and everyone [on set] was from L.A.  They said if I really wanted to do this I needed to move to L.A.  I sold everything at a garage sale and went out to L.A.
You moved by yourself?
Yes, it was my dog and I.
What kind of acting jobs did you get when you first got to L.A.?
I did waitressing and bartending and managed a restaurant for six months.  At that time I found a life coach.  You get side tracked to your everyday living.  Once I got [my life coach] in my life, everything started changing.  I didn't come out [to L.A. to] serve tables!  I quit the manager job, and stuff starting booking!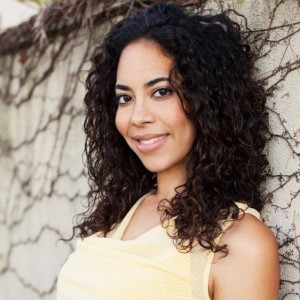 How did The Bachelor come up?
I watched The Bachelor since it first came out.  My mom and my best friend wanted to nominate me.  One of the girls I went to high school with was on one year.  [Lacey Garbelman from Brad's season]  My mom told me they were having auditions.  I went down to San Diego and auditioned.  The head casting lady pulled me to the other side of the hotel.  She interviewed me herself and gave me a packet right then and there.  After that, I was invited to producers week.  It's everything and anything.  Then I got chosen to be on!
Were you afraid it would hurt your acting career?
I was afraid of editing.  But they can't edit someone to say something.  I know who I am and what I wanted out of it.  There's no way they can turn me into something I'm not.  I was single for five years and I really wanted to find love.  You can have an amazing career but if you don't have anyone to share it with, what's the point?
Were you in love with Sean?
I was definitely beginning to fall in love with him.  I had a crush on him on Emily's season.  He had all the qualities that I wanted in a husband.  He's very hilarious and goofy.  America didn't get to see that!  If he didn't dump me on our date, I would've fallen for him!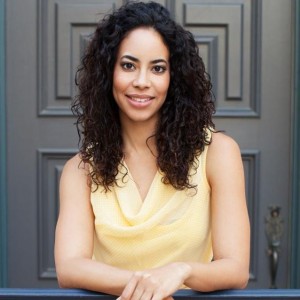 What do you think went wrong?
I don't know!  I would've rather had a picnic date.  I'm a giver.  I like to give things.  I didn't think he had fun on the date.  What guy wants to watch a girl try on clothes for a first date?  When we went to the store, there was no music.  It was a little awkward.  I might've talked my head off instead of enjoying the moment.
What do you think of Sean and Catherine?
I love them!  I love them together!  Their wedding was beautiful.  You can see how much he loves her.  It was very precious and sweet.  They're perfect for each other.  She's goofy and outgoing, and so is he.  They get each other.
Do you keep in touch with anyone else from your season?
Yeah!  There's about six or seven of us that keep in touch via text message.  I just saw AshLee Frazier.  She was in town for the Young Hollywood Awards.  It's seriously like a big family!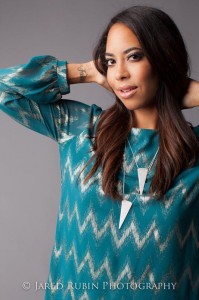 Has anyone kept in touch with Tierra?  How did she handle the back lash?
I don't think anyone really talks to her.  I have no idea.  I follow her on Instagram or Twitter, one or the other.  I hope that she's well and she's doing well.
After you got off of the show, what was your life like?
When I got back, I just went back to work.  I started auditioning again.  I booked a couple shows on ABC such as Happy Endings and something else.  And I met my boyfriend I have now after the show!
What kind of acting and modeling projects do you have coming up?
I work on Bones a lot.  And then, just auditioning.  If doors open, I just take the opportunity because you never know what's going to come your way.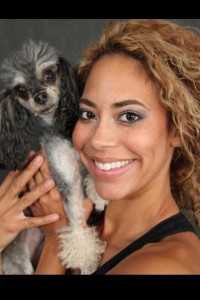 The Bachelor has been under fire in the past for having an all-white cast.  As an African American woman, how did you feel coming on the show?
Before my season, there was a law suit.  When I did get that phone call, I'm half black, half white, I called my dad right away.  I told him I was going to be the first mixed girl on the show.  When I got [on the show], there were six or seven [African American women] on my season.  Did they do this to cover their butts, or did they do it because that's what Sean wanted?  As time went on, I realized they casted us because that's what Sean wanted.
I remember Robyn Howard asked if he was attracted to black women, and he said that he didn't care.  The quality that mattered to him was everyone's personality. 
Yes, that's correct.  Watching the last few seasons there's been more ethnic people.  On Bachelor in Paradise, I think it's just Marquel [that's African American.]  I don't know why there isn't more of a mix.  Ultimately, the whole world is going to be a big mixing pot!
Eventually!
Sean was so open across the board, he didn't care.  Maybe other leads have a specific type.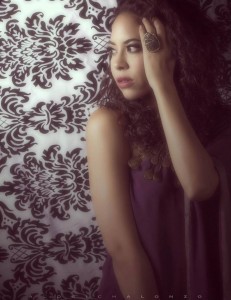 Before we end this interview, is there anything else you'd like to share?
It was the best experience of my life!  Ultimately, the franchise is trying to help people find love.  They're doing their job some way or another. [Leslie was referring to people within The Bachelor family who have gotten married.]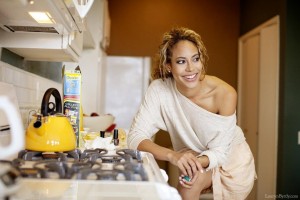 Leslie's Favorites:
Favorite Movie:  I have so many!  Pretty Woman which is so funny because I went on the pretty woman date!  I love Dirty Dancing, The Help, The Pink Cadillac, Million Dollar Baby.  Anything inspirational!
Favorite Ice Cream Flavor:  Cookies 'n' Cream
Starbucks Order:  I'm not a Starbucks girl!  If I went there, it would be tea.  I'm not a coffee drinker.  I would rather get a pressed juiced drink or a wheat grass smoothie!
Favorite Singer/Band:  Right now I'm in love with Sam Smith.  Whitney Houston, of course.  One Republic, Carrie Underwood, and Michael Jackson, of course.
Favorite TV Show:  True Blood, Game of Thrones, Homeland, Breaking Bad, Orange is the New Black