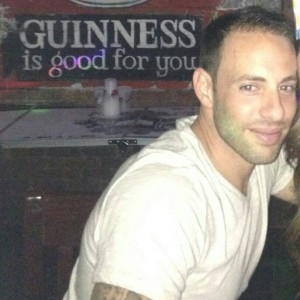 Emme:  Tell me about yourself and where you grew up. 
Sal:  I grew up in Staten Island.  I've lived here my whole life.  I was born in Brooklyn, but grew up in Staten Island.  I have a younger brother and a younger sister.
How did you become interested in becoming a fire fighter? 
In 2001 I got on the New York City sanitation department and witnessed the Twin Towers go down.  I had a couple friends pass away.  One person I grew up with and other one I played sports with.  That inspired me to take the fire department test and transfer.  I made it in 2003.  That's when I started my fire department career.
How did you start painting? 
To supplement my income, I've been painting since I was 16.  I opened up a painting business on the side.  That pretty much grew.  From painting, that's where I came up with the idea for the paint brush cover.

How did the other two guys get involved?
John is my cousin.  John and I always talked about creating something.  We wanted to become a success.  There were problems that people faced and we had a way to solve them.  We just finally came to a point where we said let's stop talking about it and we decided to do it.  I was very passionate about the paint brush cover.  He loved it too.  I knew Anthony growing up.  John was close to Anthony's father.  John thought he would be a great asset to the company.  Anthony helped us out financially.  He owns his own brokerage firm and he's good with numbers.  The combination of the three of us worked.
How did you build your business?
We had a plan pretty much set.  We stuck by our plan.  Our plan was to go from door to door and go to hardware stores.  We were slowing getting into hardware stores.  In 2013 we went to a hardware trade show in Vegas.  From that, we made a lot of contacts.  From there, we decided to go on Shark Tank.
How do you get on Shark Tank?
They have open casting calls.  We went the unconventional way.  I found an e-mail address for someone on the show.  I sent them an e-mail for season four.  I explained myself and explained the company.  They sent me an e-mail back and they loved our story.  But, they we were too late because they were finishing up season four.  They said they would call us back for season five.  So, we were waiting around probably five or six months.  I sent them another e-mail.  I gave them a whole update of what we did in those six months.  Within a couple hours, we got a response.  They wanted to talk to us!  They were on the phone with us for almost an hour going over everything.  They loved us.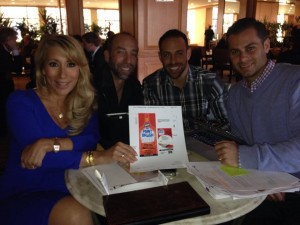 What do you think separated your business from the rest?
I think the New York thing.  We were very animated on the video we sent in.  When we got there, they were waiting for us.  They were like, "The New York guys are here!"  All the producers said that everyone was talking about us.  It was pretty wild.
So what's it like filming?  Is it what you see on TV?
It's definitely edited a lot.  We were only in for 45 minutes, usually they go longer than that.  We were all very very nervous going out to the pitch.  They know nothing about the product.  The first time you're seeing them, is when you go out to pitch to them.  Once we got through the pitch, they made a couple of jokes.  They were laughing.  They were talking to us and made all of us feel so comfortable.
Were you prepared? 
We were so prepared.  We went over every single question in our heads.  We were practicing for a good month.  We even had it down who would answer what question.  When they asked us a question, we had every answer right away.  They loved that!  We even had answers for all the negative things about our company.  (laughs)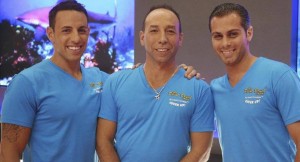 Did you know that they would pick your company?
We wanted Lori.  We told them we came there for Lori.  They moved us up a day.  We had a feeling that Lori would like us or the product.  I guess we were right.  (laughs)  That's why it was easy to turn down Barbara, because we knew we wanted Lori and we weren't going to pass up that opportunity.
So now that you've been on Shark Tank, what's next for your business?
Now, we're working with Lori and we are looking at getting into all the major retailers.  We're going to get into Loews.  We're going to the Ace Hardware trade show.  We're going to get into all of the big Canadian hardware stores.  We're getting requests worldwide.  We're a little overwhelmed right now.  Sherwin Williams is looking at us right now.  We met their buyers in Ohio.  We're getting involved with Home Depot.  We expect to be in Home Depot stores in January, and have a huge deal with them in the works. Everybody's coming to us now.
Congrats!  That's amazing! 
We also have other products on the line.  We're developing artist brush covers.  We have a wall paper product coming out soon.  We're going to keep on going.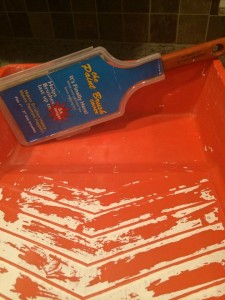 Are you still a firefighter?
Yes, I'm still firefighting.  I've been on TV shows.  I've won a cooking competition on Rachel Ray.  I've been on the show Chopped.  I'm trying to do a bunch of things with TV too.  I'm on the NYFD calendar.  I'm doing a little bit of everything.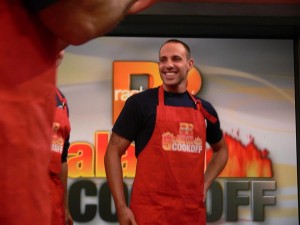 Favorite TV Show:  Walking Dead
Favorite Movie:  Braveheart, Zoolander, Old School
Ice Cream Flavor:  I don't eat ice cream!  I'm lactose intolerant.
Well, what's your favorite dessert:  Coconut Yogurt
Favorite Band/ Singer:  Red Hot Chili Peppers
Starbucks Order:  Café Americano Ice