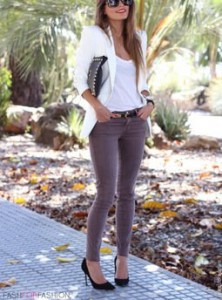 There are two types of people in Hollywood:  those who truly want to act, and those who want to be famous.  If you're chasing fame, you're never going to make it in this town.  There are a lot of people who want to go into acting for the wrong reasons.  It's easy to get famous.  All you have to do is go to clubs and just try to meet people.  But, if you want to be a true actor, you have to work really hard.  You can get caught up in the crazy party scene.  Sadly, there are people who sleep their way to the top.  If you're waitressing while trying to make it, you are obviously going to meet those who are into drugs and alcohol.  But, some people don't go down that route.  If you focus on your career, and keep your priorities straight, you can accomplish what you want.
L.A. consists of people who usually aren't from L.A.  They usually come here chasing some sort of dream.  It's easy to hook up with someone who you are working with on a project, because it's creative and it's not a regular job.  Sure, there have been directors who have flirted with me, but I have my head on straight.
When you're in this town, you have to know what you're doing.  You have to know it's an art, and your chances of making it are pretty low.  It's a hard, hard, road and you have to be strong enough.  You have to be around good, supportive people.
You have to know that you're your own business.  It's a business venture– that's strenuous in itself.  But, you have to love it.
-By Anonymous