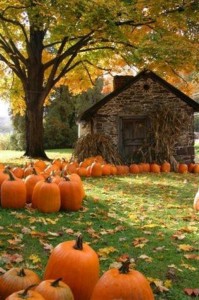 Choose a pumpkin that feels firm and heavy for its size.
Choose a pumpkin that has consistent coloring throughout.
Turn the pumpkin over and place pressure on the bottom with your thumbs. If it flexes or gives your pumpkin is not fresh.
Look for soft spots, mold, wrinkles or open cuts that would indicate damage or early spoilage.
Choose a pumpkin with a solidly attached stem.
A green stem indicates a freshly harvested pumpkin.
Place your pumpkin on a flat surface to check to see if it will sit flat after being carved.
Source:  allaboutpumpkins.com