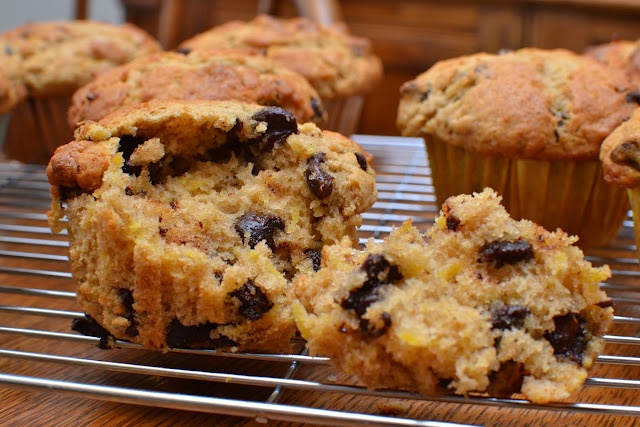 Cream Cheese Filling:
8 ounce package (227 grams) full fat cream cheese, room temperature
1/3 cup (65 grams) granulated white sugar
1large egg
Pumpkin Bread:
3 1/2 cups (450 grams) all purpose flour
1 teaspoon baking powder
1 teaspoon baking soda
1/2 teaspoon salt
1 1/2 teaspoons ground cinnamon 

1/4 teaspoon ground ginger
1/8 teaspoon ground cloves (optional)
1/2 cup (120 ml) chopped nuts (pecans or walnuts)
1/2 cup (120 ml) chocolate chips
4 large eggs, room temperature
2 cups (400 grams) granulated white sugar
1 cup (226 grams) unsalted butter, melted and cooled to room temperature
1 – 15 ounce can (425 grams) pure pumpkin
1/2 cup (120 ml) water
1 teaspoon pure vanilla extract
***
Pumpkin Bread:Preheat the oven to 350 degrees F (177 degrees C) and place rack in the center of the oven. Butter and lightly flour two – 9 x 5 x 3 inch (23 x 13 x 8 cm) loaf pans. 
Cream Cheese Filling: In your food processor or with a hand mixer, process or beat the cream cheese until smooth. Add the sugar and egg and process just until smooth and creamy. Do not over process. Set aside.
Pumpkin Bread: In a large bowl, sift or whisk together the flour, baking powder, baking soda, salt, and ground spices.  Stir in the chopped nuts and chocolate chips.   
In another large bowl, whisk the eggs until lightly beaten. Add the sugar and melted butter and whisk to combine.  Whisk or stir in the pumpkin, water, and vanilla extract.
Add the pumpkin mixture to the flour mixture and stir just until the ingredients are combined and moistened. Do not over mix as it will make the bread tough.
Divide the batter in half. Take one half and divide it evenly between the two prepared pans. Divide the cream cheese filling in half and place each half on top the two pans of batter, smoothing the tops. Top with the remaining half of batter (use two spoons to place small dollops of batter on top of the filling). Bake the breads for about 55 -65 minutes, or until a toothpick inserted into the center of the loaf comes out clean (a few moist crumbs is okay). 
Place pans on a wire rack and let cool for about 10 minutes before removing breads from pans. Can serve warm, cold, or at room temperature. Store leftovers in the refrigerator or else freeze for later use.
Makes 2 loaves.
Source:  joyofbaking.com