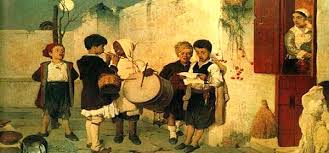 The Christmas season begins Dec. 6 and ends Jan. 7 with Christmas celebrated Dec. 25.  Our holiday kicks off on Dec. 6  because it is St. Nicholas Day.  St. Nicholas is the protector of sailors and boats.
In Greece, kids go house to house singing kalanda (carols).  For singing, they get a treat such as cookies, candy, money, or dried figs.  Many Greeks begin fasting for 40 days starting in the middle of November until Dec. 24.  The fast ends after midnight mass on Christmas Eve.
Foods
For a main meal, Greeks eat roasted lamb or roasted pork.  They eat a Greek lasagna called pastichio.  They also have a delicious cheese and spinach pie called spanakopita.  A egg lemon soup (avgolemono) can be eaten as a first meal after the Christmas Eve service or first meal on Christmas Day.  Christopsomo (Christ bread) is the bread of Christmas.
Sweets
Pour some sugar on me!  Melomakarona cookies are the best Christmas cookies!  They are made with cinnamon, cloves, and oranges.  They are dipped in syrup after baking.  They are sprinkled with crushed nuts.  #Yum!  Sugar short bread cookies, called kourabiedes, just melt in your mouth!  Karythopita, a walnut spice cake, is soaked in syrup, and is also just amazing.  Kala Christougenna!
Greek- American Tina Diamond Prevas talked to Emme about Greek Christmas traditions.  Both of her parents were born in Greece.  She wants to wish all Emme readers Kala Christougenna!