**CAUTION:  SPOILERS!**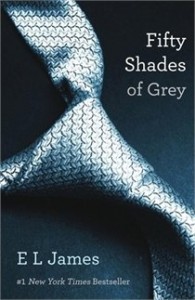 After reading Fifty Shades of Grey a few summers ago, I had to see the movie.  I wasn't really sure what to expect.  From what I had heard, the acting was pretty terrible.  But, tickets in hand, I went to see the movie anyway to get a taste for myself.
The theater was completely packed.  There wasn't one available seat in the whole movie!  I was very entertained throughout the movie considering there was a funny couple sitting next to me.  The guy- let's call him Sam- had a comedic comment for EVERYTHING.  So to say the least I was entertained.
A main story line in 50 Shades of Grey is the erotic sex that Christian and Ana have throughout the book.  Christian takes her on a sexual "adventure" that Ana has never dreamed about.  In the movie, the sex scenes were very watered down.  The most detailed sex scene is in the beginning when Ana loses her virginity to Christian.
Enter Sam's commentary:  "That must be some kind of a miracle that she's still a virgin!"
The part where Christian explores his fetishes with Ana was about a four minute montage.  In the book, these fetishes were explained in great detail.
Enter Sam's commentary:  "Aw, shit, it's going down!"
The director of the film obviously couldn't "show" all the details of their romps due to ratings.  The film would get a XXX!  So, the scenes that they had were able to get a rated "R."
I know Ana is supposed to be awkward and shy, but Ana was SO unbelievably awkward and shy in this film.  I didn't picture her to be that socially awkward.  The part where she says to Christian:  "Are you going to make love to me now?"  she sounds so unbelievably naive.
I think the movie adaptation of the book was supposed to focus more on Ana and Christian's relationship rather than their physical relationship.  You feel as if you're living in a fantasy when Christian takes her on his jets and buys her a car.  Some of their scenes together were very sweet.
Unless you read the book, you will be very unhappy with the ending.  Readers already know that all of the unanswered questions are answered in the second book.
Enter Sam's commentary:  "If this movie ends like this, I'm throwing my popcorn at the screen!"
This movie is a little corny, but it's a fun escape.  It's a perfect flick to catch with girlfriends for a great girl's night out.