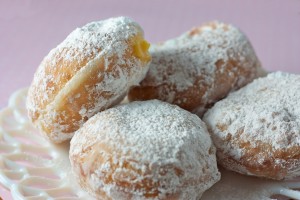 If you didn't know, a paczki (pronounced poonch-kee) is a Polish doughnut.  The doughnut is dusted in sugar and filled with custard, chocolate, or fruit filling.  They can be a caloric bomb of 400 calories.  (Yikes!)  But, Catholics see Fat Tuesday as a day where they can binge on calories if they are giving up sweets or fatty foods for Lent.
According to Polish- American Anna K., the best place in Chicago to purchase paczki for Fat Tuesday is… Old Warsaw!  Old Warsaw in Harwood Heights is selling paczki from 5:00 a.m. to 9:00 p.m on Tues., Feb. 17.
"Paczki from Old Warsaw are to die for, because of their freshness, delicious filling, and out of this world zesty orange peel that tops it along with vanilla coating," she said.
Anna said that these doughnuts sell fast, so make sure to get there early in order to get some.  Old Warsaw is a restaurant, so it also serves traditional Polish cuisine.  It was voted the no. 1 Polish buffet by Time Out Magazine.  #Yum!