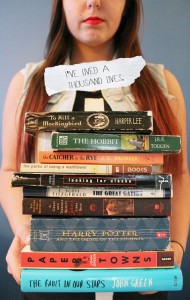 Oh, the joy of writing.  It can be wonderful or torturous.  If you have writer's block, here are a few things you can do to help yourself get back on the writing horse.
1.  Get Out
If you're suffering from writer's block, get out and do something.  Work out, drive around the block, or meet with a friend. When you return to your computer, you'll feel rejuvenated and happy.
2.  Coffee
There's nothing like a little caffeine to get you going.  A little coffee can go a long way.  It will wake you and your brain up.
3.  Read a Book
Reading a good in your genre will inspire you.  If you're writing a young adult or adult novel, Emme suggests John Green, Rainbow Rowell, Adriana Trigiani, or Jenny Han.
4.  Eat
In the novel Lucia Lucia, Adriana Trigiani writes that eating and writing are the husband and wife of creativity.  Something sweet or satisfying always does the trick.
5.  Don't Give Up
Even if you are experiencing writer's block, don't give up on your story.  Keep at it!  "I hate to write, but I love to have written," is a great quote to live by for all writers.