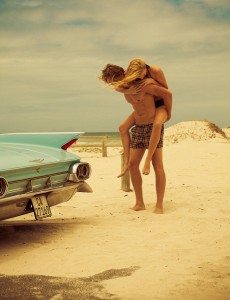 I'm in a new relationship, but I'm going to Europe for a month.  What should I do?
Just because you're going to be gone for a month doesn't mean your relationship has to end.  Try to chat at least once a day via Facebook, texting, or even a short phone call.  The distance will make your heart grow fonder!  Also, if your feelings have changed by the time you get home, understand that the relationship wasn't meant to be.
Should I go on vacation with my new boyfriend?
Everybody is different when it comes to traveling with a boyfriend.  If you think that it will make your relationship better/ stronger/ more romantic, then go for it!  However, if you feel that it will mess with your bond, than just wait until next summer to take a trip.
My guy loves PDA when we go concerts, festivals, amusement parks, or picnics in the summertime.  I'm not into it.  how can I tell him to stop without hurting his feelings?
The next time you're at a Cubs game with your man and see two people making out, casually say, Ugh!  That is so tacky!  Then later on tell him that you feel that PDA is gross and distasteful.  Refer to the raunchy couple at the Cubs game, (or anywhere!) so he can see where you're coming from.  If he's a good guy, he'll take the hint.
What's a first summertime date idea?
In downtown Chicago, there are a million things that couples can do.  You can go to the beach, walk around, window shop, sight see, go to outdoor concerts, all for free!  The ideas are endless!