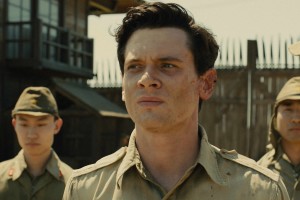 I didn't really know much background information about the movie Unbroken except that Angelina Jolie had directed it.  On the Fourth of July, no less,  I rented it.  And, the film definitely did not disappoint.
**CAUTION:  SPOILERS!**
The movie is about a young Italian immigrant, Louis Zamperini.  Lou, or Louie, as he is referred to throughout the film, is bullied because he is an Italian immigrant.  He steals, runs away from the police, and smokes cigarettes.  His brother notices that he's a good runner, so he trains him.  Running has helped Louie stay out of trouble, and has motivated him.  Since he began running, Louie has been breaking high school records, leading him to the Olympics.  At the Germany Olympics, he beats a record.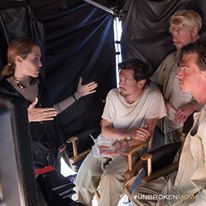 After the Olympics, Louie joins the military, and is stationed in Hawaii during World War II.  While in a jet trying to find lost men, the plane crashes.  Himself, Mac, and Phil are the only men who survive the crash.  They use their emergency raft and stay at sea for 47 days.  During their time at sea, Mac passes away, the Japanese attack them, and they battle sharks.
After the 47 days, Louie and Phil are captured by the Japanese.  For the next two years, Louie is a prisoner of war. Because he's an Olympic athlete, he is singled out and brutally abused.  After refusing to give into Japanese propaganda for a radio station, he is punished by having each POW punch him in the face.
Eventually, the war ends, leaving Louie to finally return home to his family.
The crazy thing about this movie is that it's A TRUE STORY!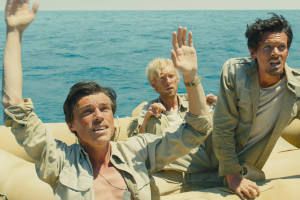 I loved this movie for so many reasons.  First of all, Italian Americans have been discriminated against for many, many years when they were first immigrants in America.  Movies, books, and film rarely show Italian discrimination.  I liked how Jolie showed a true look at what it was like to be an Italian immigrant.  Instead of showing Louie as a stereotype, the family is shown as being hard-working, trying, and family and religion oriented.
This movie has to be one of the most inspirational movies that I've ever seen.  Louie not only was stuck at sea for 47 days, but he kept going even after being beaten and treated poorly as a POW.
Even when Louie is tempted to turn his back on America for Japanese propaganda for better living conditions, he refuses.  Louis Zamperini is a true American hero.  He finds the will to survive, no matter what the conditions.  If you're looking for a film to motivate you and lift you up, you've found it.
Also, Jack O'Connell is one sexy actor.  Ladies, his blue eyes will not disappoint.