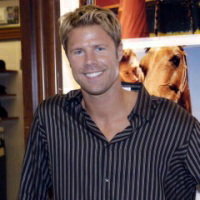 Where did you grow up and go to school?
I grew up in Hinsdale.  I went to high school there.  I was probably one of the only blue collar kids there.  I had a regular, normal upbringing in a very wealthy town.
What season were you on The Bachelorette?
The first season.  Trista's season.
Why did you want to go on the show?  Reality TV didn't really exist back then as it does today.
I was in Los Angeles.  I was playing pro basketball in Europe.  I was sitting in a restaurant, and sitting next to me was the executive producer of the show.  We ended up shooting the shit a little bit, and for whatever reason, she liked me.  She wanted me to be the bachelor.  I ended up doing some of the interviews, and did pretty well.  I was going back to Germany to play basketball, and she e-mailed me and asked me be on The Bachelorette.
What was connection like with Trista?
She was very nice.  I didn't go on to meet a girl.  I went on to get on TV.  I didn't care about the relationship part of it.
Do you currently watch the show?
I don't.
Since the show, have you found love?
Yeah.  I've been engaged and I have a baby boy, Jackson.  Life is good.
What's your life like today?
It's great!  I'm trying to raise my baby, I have great friends, a great social life, I can't complain!
Jamie's Favorite Chicago Pizza and Hot Dogs:
Favorite Pizza:  Coalfire, 1321 W Grand Ave, Chicago; Pizzeria Serio, 1708 W Belmont Ave, Chicago; Marcello's Father and Sons, 2475 N Milwaukee Ave.,Chicago
Favorite Hot Dog:  Portillo's