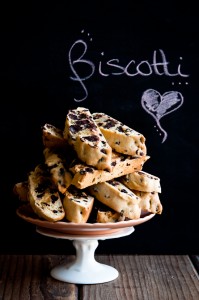 5 cups flour (sifted)
3 teas. baking powder (sifted)
1 1/2 cups sugar
2 sticks butter (Cream butter, sugar well)
Add 6 eggs, 1 at a time
Add 1/4 teas. oil of anise or anise extract
Add 1 teas. of vanilla extract (you can vary the flavoring to what you like)
Add sifted flour mixture gradually
When the dough becomes thick, fold in remaining flour by hand.  Spoon dough out in a straight row.
Then, make loaves by smoothing out with the back of a spoon dipped in milk.  The loaves will look like long ovals.  They should be about 2 in. wide and 9 in. wide.
Bake at 350 degrees for 20 minutes or until golden brown.
Cool slightly and slice on a diagonal.