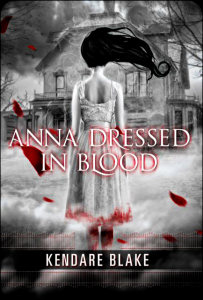 If you're looking for a creepy, ghoulish, scary as hell read this Halloween, you've found it in the book Anna Dressed in Blood by Kendare Blake.  The story is about Cas Lowood, a boy who travels around the country hunting ghosts that kill the living.  His ghost hunting job leads him to Thunder Bay, where a ghost named Anna Korlov is supposedly haunting her family's old home.
While trying to find Anna, Cas meets Carmel, his high school's queen bee.  According to him, befriending the popular kids will always lead him to the location of his hunts, since they are skilled in gossip and urban legends.
One night while partying, Carmel's boyfriend Mike and his friends lead Cas to Anna Korlov's house.   This is when Cas gets his first look at Anna– a girl who has killed so many.  She is terrifying, with long black hair, black veins, and wild eyes.
After Anna kills Mike, Cas finds himself alone in her home.  Her scary demeanor is gone, and Cas sees her as a little girl with a white dress, milky skin, and scared dark eyes.  After going back to visit Anna several times, Cas realizes that there is something about Anna that he can't explain.  And, after finding out a dark secret, Anna becomes not only his friend– but his life line.